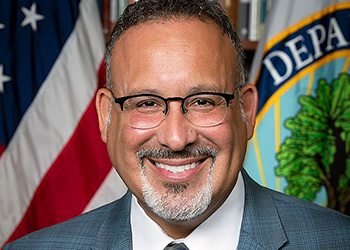 Credit: United States Department of Education, Public domain, via Wikimedia Commons
"Let's be honest — the pandemic may have turned higher education upside down, but the system was never completely right-side-up," said US Secretary of Education Miguel Cardona at the Raise the BAR (Bold + Action + Results) in College Excellence and Equity Summit hosted by the US Department of Education on Thursday.
The one-day summit brought together leaders in higher education — who have excelled at delivering inclusive student success and real upward mobility — to share their experiences and learn about Secretary Cardona's vision for the future of higher education.
In his opening remarks, Cardona commended the attendees for their work. He acknowledged the hardships brought on by the pandemic and applauded their tireless efforts to serve communities of color and low-income communities that were hit hardest.
"With the help of the American Rescue Plan, you stepped up like never before," he said. "You found new ways to keep students afloat financially, on track academically, and supported socially and emotionally."
He went on to acknowledge the many problems in higher education: state budget cuts, low completion rates for Black and Latino students, and a ranking system he called 'a joke.'
"We need a culture change in higher education, NOW!" Cardona stated. "We must stop conflating selectivity with excellence. We must stop correlating prestige with privilege. We must embrace a new vision of college excellence. And you, in this room, are bringing that into focus."
The secretary announced that the Education Department has created a new College Completion Fund for Postsecondary Student Success and has $5 million available for the grant program. The grants will support Historically Black Colleges and Universities (HBCUs), Tribal Colleges and Universities (TCUs), and Minority-Serving Institutions (MSIs) in order "to invest in data-driven and evidence-based reforms that encourage postsecondary retention, transfer, and completion," according to a press release from the department. Grantees will be eligible for up to $1 million.
Additionally, Cardona shared that the Department will be extending its Project Success initiative for three more years. The program provides resources and support services to HBCUs, TCUs, and MSIs to help improve student outcomes.
During the Summit, the secretary participated in a moderated discussion, during which he called on attendees to continue their efforts and to 'lift up' other educators and programs that are doing the hard work of building inclusive cultures and delivering inclusive success. He urged them not to go back to where we were in March of 2020.
"My fear is […] now that masks are off and things are looking like they were before March 2020, that we'll go back to the systems that served some students better than others," he disclosed.
"The system was disrupted for us — let's not build it back the way it was," he continued. "That didn't work […] For school superintendents, chiefs, and college presidents — if you're not using this moment in our country's history of disruption to build it back different and better for our students, should you be in that role? […] There's no point in American history where you have an opportunity to do more change than today."
When asked how schools can deliver on this charge, he spoke about the power of partnership and how looking out for the whole student can boost completion rates.
"The term that made its way through the hallways today was 'partner or perish,' right?" he said. "Intentional partnerships that were different are now the norm. We must make that the expectation now because we have students who are hungry. You have students who are housing insecure, you have students who suffer from mental health needs, and if you think college completion doesn't involve that, you're missing the point."
He called for "intentional collaboration with the village around you" to help address students' needs beyond academic support that might prevent them from obtaining their degrees. Access to food pantries, assistance with SNAP benefits, emergency funds and housing grants, and more can make all the difference.
Cardona closed out his session with a strong call to action. He reminded attendees about the American Rescue Plan and Biden's commitment to prioritizing our schools and educators, urging them to capitalize on this moment in time.
"Part of your leadership challenge is to ensure there is [also] state urgency and local urgency to fund education the way it should be funded or else we are going to go back to a system of inequities," he said. "We can't let that happen on our watch."