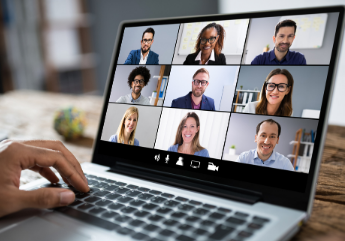 Andrey_Popov/Shuttershock
In the spring of 2020, working remotely was simply part of colleges and universities' temporary plans to mitigate the spread of COVID-19. It was never intended to be a permanent arrangement, but the shift was a welcome one for many higher education professionals, and today, a growing number of institutions are embracing hybrid or fully remote work environments.
We've come a long way from that initial scramble to work-from-home (WFH), when we were scraping by with makeshift offices and, for some, substandard equipment. We're no longer 'making do.' For some, these are now long-term arrangements. Even if you have made a full-time return to the office, some of your colleagues may be working remotely on a long-term basis, including new hires you may never have met before.
Now more than ever, we must be intentional about how we approach remote work. How can we sustain existing relationships with colleagues who are now primarily online and forge strong connections with new remote employees?
Remember, Human-First!
I can't tell you how many times I've fired off an instant message asking someone a work-related question only to follow it up with "oh, and good morning!"
The typical conversations about our weekend that happen organically around the coffee pot or water cooler require more effort when you're working remotely. So before rushing into a work conversation, it's important to consider your recipient on a personal level.
"As the move to remote work in the pandemic made clear, we don't always have all the context when working remotely," says Sally Anne Carroll of Whole Life Strategies Coaching. "Building and maintaining strong, trusting work relationships requires empathy as well as being professionally transparent with your co-workers. I recommend that clients practice the art of never assuming you know someone else's context or what they may be juggling as they balance working and living. in the same space. Instead, a kind, curious, collegial, human-first approach can be much more effective."
Take a few minutes before your next work-related instant message to ask about your colleague's weekend or how they're doing today. Not only will this show goodwill towards (and empathy for) your co-workers, but it also provides a chance for you to connect without a specific agenda.
"One of the things we lose when working remotely is the opportunity to connect with people organically and informally," says Alison Bell, regional vice president of Western Governors University. "Those interactions build trust and are the source of inspiration and new ideas."
She suggests colleagues, workgroups, and people who work together cross-functionally schedule weekly 'water cooler' time.
"Connect in an online meeting room with cameras on and no agenda," she recommends. "While this isn't an exact replacement for the natural connections that happen when working in an office together, it offers the opportunity for conversation without agenda, bonding over non-work topics, and open Q&A."
As a new mom, I can attest to the power of this small talk. I'm grateful to all the co-workers who take the time to check in with me, ask how I am doing, and express interest in hearing about my daughter. As humans, we tend to respond in kind. We're more apt to help out a co-worker who shows us the same kindness and compassion, so don't be afraid to make — and nurture — those personal connections.
Account for Gaps
Just as conversations don't happen organically in a remote work environment, there are other subtle yet undeniable differences from what you encounter in a face-to-face setting.
One of the most significant differences is that tone of voice can be hard to perceive, and unless you're on Zoom or another video conference tool, you can't rely on body language.
Karen Southall Watts, a career coach and higher education professional with over 20 years of experience, says remote employees must "work on their communication skills (written, phone, Zoom) because this is how they will convey their professionalism and enthusiasm."
"Remember, there is no tone of voice in written communication," she adds. "Those snarky, teasing comments that might have been well-received in a face-to-face meeting could come across very differently in an email or text."
Bell takes it a step further, recommending you "save potentially sensitive messages for a phone call or face-to-face (virtual or in-person) conversation."
If you do plan to send a passive message, she advises proofreading it before you send it and reading it aloud. "Proofreading is good practice to ensure clarity, but it is also important to evaluate the tone," she says. "When reviewing the message, practice putting yourself in the recipient's mindset and consider how this message might be received."
If you're on the receiving end of the message, Bell advises we save our assumptions about the sender's tone and, when in doubt, follow up with questions to clarify.
If there's a particular co-worker that you're struggling to communicate with, Watts recommends a direct but kind approach. "Remember that 'I language' training from the past," she says. 'I need more detail in your emails…' or 'I feel we aren't connecting effectively — what do you think we could do?'
(Get to) Know Your Audience
It's important to remember that no single rule applies to every conversation or work relationship. How you communicate with one colleague vs. another can vary drastically. Just make sure that the way you're communicating resonates with the person you're speaking to. If they regularly use emojis to express tone, follow suit. If you know they're not one for instant messages, don't be afraid to pick up the phone.
When it comes to new hires, ask their preferred method of communication and make the time for the aforementioned 'water cooler' talk.
What's in it for you?
Positive working relationships have obvious benefits in the workplace, but your efforts also play a part in your own career development. Showing up to and participating in meetings, responding appropriately to messages, and building trust with your colleagues are all ways in which you build your social capital.
"Whether we know it or not, when we network, mentor others, or are invited to participate and contribute, those opportunities are a result of the social capital we've built," Bell says.
There is truth in the saying that "you reap what you sow." The time and care you take in building positive working relationships can impact your career down the line.
The Take-A-Way
Working remotely is an excellent option for many, as long as we put in the extra effort required to address the gaps that come with it. Leadership should have a plan in place for this, but we, as employees, must also work to bridge the gaps to support healthy WFH relationships. What techniques have you employed to better connect with your colleagues remotely? We'd love to hear what's working for you – drop a comment below!

Disclaimer: HigherEdJobs encourages free discourse and expression of issues while striving for accurate presentation to our audience. A guest opinion serves as an avenue to address and explore important topics, for authors to impart their expertise to our higher education audience and to challenge readers to consider points of view that could be outside of their comfort zone. The viewpoints, beliefs, or opinions expressed in the above piece are those of the author(s) and do not imply endorsement by HigherEdJobs.