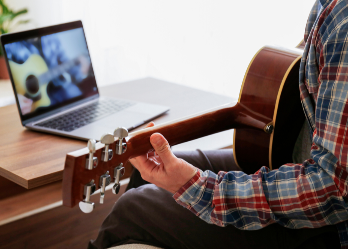 evrymmnt/Shutterstock
Residential life professionals are on the forefront of student health, happiness, and success. They have been in the trenches during the pandemic. Steven Couras, associate dean of residential life and off-campus housing at Curtis Institute of Music manages a lot in his role.
We caught up with Couras to learn how he's balancing safety for a student population whose high school and college experience has been anything but normal.
Eileen Hoenigman Meyer: How has this year been going for students at Curtis?
Steven Couras: I think we're finally getting to a new normalcy. Safety was one of the biggest concerns because Covid could spread so quickly at a music school where folks are singing and playing instruments.
In March 2020, when colleges and universities shut down during spring break, we went fully virtual. We wanted to make sure that our students, staff, and faculty were safe. This is something that I respect and appreciate about our president. A lot of great technology and innovation came from this decision.
Last August, we returned to campus. A lot of preparation had to be done to make sure that our residence halls and our students are safe. We did everything from turning doubles into singles and making sure that suites were not at full capacity so that people had a bit more space. Even though CDC and local regulations did not mandate it, we still wanted to be as safe as possible for our students and their parents.
Mayer: How has your res life team stayed connected to students during this difficult time?
Couras: When we were fully virtual, res life still had a lot of engagement and did a lot of virtual programming. Our resident assistance staff's full charge was to keep students engaged virtually. So, they hosted Zoom chats, meetings, games, and trivia nights.
We worked with colleagues at Juilliard and Berkeley School of Music. It was a way for all students to network, hang out in a virtual setting, play games, and use a chat room.
We have a huge international student population. Our other students are spread out around the US. There was not much for them to do at home other than practice and do the virtual classes. They really appreciated having a social virtual outlet.
My staff also appreciated it because we kept our training and professional development for them. It gave them an additional layer of work to do. I know that they were struggling with being stuck at home, not being able to play music. That's why they're here, that's their whole purpose.
2020-21 was a big challenge, and then 2021-2022 coming back into person. There were challenges. We had spikes here and there, but we had such a well-oiled machine. We had our quarantine spaces and weekly testing. Music was still being produced in a beautiful way. It was amazing.
Mayer: How has it been for you as a leader? How did you find clarity?
Couras: When we were fully virtual, there's an assumption that you're not as busy as you were when you were in person. Honestly, I think we were just as busy, if not busier. A lot of my colleagues felt that way. We were kind of pulling double duty to make sure that everything was still running smoothly in a virtual capacity.
Making time for myself to meditate, get away, talk to colleagues is key. Also, I have virtual meetings with colleagues at various conservatories. We check in, see how everyone is doing, and how everyone is making it work on their campuses. The other thing that helped was building a strong camaraderie through MACUHO (Mid-Atlantic Association of College and University Housing Officers). It's helpful to hear what each organization is doing and how it's all coming together.
Mayer: How would you say student needs changed during the pandemic?
Couras: Especially when we were virtual, students really needed a social outlet. They were all far away when they would normally be down the hall. They needed to vent, to be heard by peers, especially the younger students who missed their first or second year of college or who missed prom.
As this pandemic continues, I think students are going to need mental health support. I'm not trying to diagnose them, but I've seen students come in with a lot more anxiety, worry, panic, and depression.
I think a lot of support and guidance is needed for our students right now. This is going to be an area where resident life professionals, student life professionals, and folks in the counseling service areas can collaborate and do some holistic work around helping students.
Mayer: What ideas are you shaping to support students next year?
Couras: What we've found to be successful with high achieving students in the arts is that they're really looking for creative outlets to help them relax.
DIY arts and crafts activities have been our most successful programs–painting and gardening. Our RAs did a program where students planted their own succulent plants. Students really responded to that more than traditional events like video games or movie nights.
They enjoyed decorating and building things. Having a long table and a bunch of supplies and seeing what they can come up with; I call it a "make it and take it."
I think that's a good way for students to just breathe, be together, and focus on something that's not academic or career-related. I would call it art therapy programming. That's really popular right now.
Another program that I didn't think it was going to be that popular, but a bunch of people came, was make your own aromatherapy diffusers. We're going to continue doing more around food and healthy living, make your own nut milk or make your own energy bars out of granola, nuts, and almond flour.
I think these activities provide them with some sense of control and a way to just relax.
Mayer: What is your greatest hope?
Couras: That we can get to a place where students feel comfortable expressing themselves, asking for help when they need it, going to counselors, and speaking up. I think we're getting there. We want to find an issue or concern early on. Our goal in this field is to make sure that they're safe, healthy, happy, and having a good time on campus.
Mayer: What's your biggest worry?
Couras: I worry we might not be prepared for the amount of cases we're going to see continue to rise in the next year or two, especially with folks coming into institutions who have been in the pandemic during high school. Those years are so important. I know that here, and I imagine every institution, everyone has really great resources and has great offices of residence life, student life, and counseling services that will help and support these issues and concerns.
But I think it's going to be a bigger issue than anyone has seen in a while, and it keeps me up at night because I look at these students and my job is to protect them and keep them healthy, safe, and happy while they' re here.
I worry, too, for my colleagues and my field. I've had at least six colleagues who have gone into different industries: HR, tech, recruiting, or corporate work. It's kind of scary. A lot of us senior housing folks talk about how we can retain our entry, grad, and mid-level staff because they're leaving in even bigger droves.
We're in the business of making memories. We plan programs and events and trips. We make memories for these students outside of the classroom. And I hope that we're doing enough. I think that's always my biggest concern.