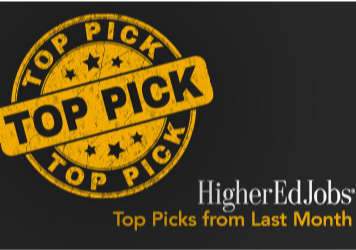 The month of March is closing and we are heading into April. In case you missed anything this month, here are some editor's picks highlighting issues, trends, and tips to help you in your academic career.
Best in Career Advice:
Professional Temptations and Opportunities
Should you apply for that open leadership position? Should you take a leap and just 'throw your hat in'? Author in Residence Marjorie Hass shares how to go about answering these career altering questions.
Best in Leadership:
Women in Leadership: Push Forward, Find Allies, and Do Your Best Work
Kelly Cherwin interviews Dr. Christine Himes, departing dean of the Lewis College of Science and Letters at Illinois Tech. Himes shares her advice for future female leaders.
Best in Interviewing:
Should You Be a Critic, or Even a Cynic, in a Job Interview?
There is a fine line between being critical enough to solve problems and being too critical with a potential employer. Justin Zackal offers keen advice on distinguishing between your critical and cynical thinking.
Best in Workplace Issues:
Deterring Passive Aggressive Behaviors in the Workplace
Workplace bullying includes more than overt behaviors that are immediately evident to the target of the bullying. Dan Griffith discusses the concept of triangulation and what to do if someone is being a bully at your workplace.
Disclaimer: HigherEdJobs encourages free discourse and expression of issues while striving for accurate presentation to our audience. A guest opinion serves as an avenue to address and explore important topics, for authors to impart their expertise to our higher education audience and to challenge readers to consider points of view that could be outside of their comfort zone. The viewpoints, beliefs, or opinions expressed in the above piece are those of the author(s) and do not imply endorsement by HigherEdJobs.