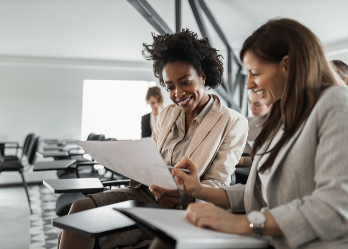 Branislav Nenin/Shutterstock
Happy Women's History Month! March presents an annual opportunity to recognize, study, and celebrate the many ways that women have shaped professional life and culture.
This awareness month invites leaders to take a routine pulse and evaluate equity measures on campus, ensuring that female professionals are earning fair opportunities for representation, pay, and career advancement.
While female professionals tend to appreciate posts, articles, and workshops that highlight trailblazers, what helps women more is purposeful efforts that help them succeed at work.
The "Power Gap"
According to the Eos Foundation's 2022 report The Women's Power Gap at Elite Universities, which examines 130 prestigious institutions, the past 40 years have seen women earning more bachelor's degrees than their male counterparts. Likewise, female scholars racked up more master's degrees than males for the last 35 years. According to Eos's study, women earned more doctoral degrees than men for the past 15 years.
While female scholars have claimed a prominent place in higher education, women still face obstacles when it comes to clinching high-paying leadership roles at elite institutions. "Only 22% of university presidents are women, and a mere 5% are women of color. Let's be clear: The power gap is not a 'pipeline' issue" notes the report's authors Andrea Silbert, Magdalena Punty, and Elizabeth Brodbine Ghoniem. "Our research found that women account for nearly 40% of all academic deans and provosts, from which 75% of all presidents are drawn. Their dramatic drop in the presidential ranks suggests that they still encounter systemic roadblocks one step from the top."
To earn these roles, female professionals need leaders to understand the challenges women face and to lend their support. Women need professional sponsorship. They need viable connections with leaders who will champion their candidacy. Women need opportunities that groom and prepare them for leadership work.
Women need a system that helps to foster their success because despite earning the credentials, they are not advancing to presidential roles or board positions at the same rate as their male peers. The Eos Foundation's report notes: "Boards, in collaboration with presidents, must make bold, long-term public commitments to reach equitable representation in top leadership and require each college, graduate school, and academic center within the university to do the same. Then, create annual benchmarks to achieve those goals and publicly report on progress annually."
The Pay Gap
Getting passed over for leadership roles directly impacts pay. According to the Institute for Women's Policy Research (IWPR), 2021 saw the gender wage gap persist: "Compared to the median weekly earnings of White men working full-time, Hispanic women's full-time earnings were just 58.4 percent, Black women's 63.1 percent, and White women's 79.6 percent." The gap exists across occupations and industries. "Women's full-time earnings are less than men's in almost all of the top 20 most common occupations for women and all of the top 20 most common occupations for men" IWPR further notes.
One practice that perpetuates the gap is asking job candidates to provide salary histories during job interviews. "Now, think about that. Why does that matter?" Vice President Kamala Harris remarked at the 2022 Equal Pay Day Summit. "Well, in effect, it's allowing how much an employee was paid in the past to impact how much they will be paid in the future. . . For many women, this practice can mean that inequitable pay from a previous job will follow them to the current job, and so on, and so on." Eliminating this practice is one easy way for an institution to reduce the salary gap.
Salary transparency is another key step. The Eos Foundation's report notes this example of the gender pay gap in higher education: "…we analyzed data from CUPA-HR with respect to the proportion of male and female deans in various fields and how that correlated with compensation. The most highly paid were medical school deans with an average salary of $645,000. Men hold 75% of these deanships. Women, in turn, dominate as deans of nursing schools, which provide an average pay of $319,000, less than half of the average pay for medical school deans. The other two male-dominated deanships are engineering and business management, while for women, they are social sciences and social work."
Seeing these disparities is eye-opening. It invites important conversations about compensation. These conversations should happen and they will when salary data is public. "Because pay transparency creates accountability. And accountability — well, that drives progress" Vice President Harris explained at the summit.
Who does it serve to obscure salary information? It certainly doesn't help unfairly paid employees. This March, considering making a commitment to salary transparency. It's a key step to equity.
The Eos Foundation recommends another bold step: "Well-endowed universities can lead by turning the occupational pay gap on its head. Why not increase the average pay for typically female fields? Pay reflects societal values, and instead of reinforcing these values, elite universities should lead society, not hide behind the notion that they must blindly follow the market compensation rates. Should we really be paying a medical school dean twice what we pay a nursing school dean? While it takes more years of study to become a doctor than a nurse, once in these positions, the roles are equally demanding."
Invite Female Leadership
The Times Higher Education World University Ranking notes that 2022 set a record for female leadership; 22 percent of the US's top 200 universities are being steered by women. The Eos report, which captures data from some of these same institutions reports: "White women comprise 17% of all permanent presidents, and women of color in aggregate total less than 5%. Of the 124 permanent presidents, there are only two (1.6%) each of Asian, Black, and Hispanic women. There are no East Asian or Indigenous women presidents."
It's striking that for many institutions, there is no history of female leadership. The Eos report notes: "…nearly one-half of the universities in our study have never had a woman leader. A total of 57% of private universities have never had a woman leader, as compared to 42% of public universities."
Female leadership matters. The pipeline is there. Talented professionals are waiting for their turn. It's time to include them. Doing so is not only important for that individual professional, it holds value for the entire campus community.
In their recent report by CUPA-HR, authors Dr. Melissa Fuesting, Dr. Jacqueline Bichsel, and Anthony Schmidt explain: "Institutions with female presidents have a higher representation of women in administrator positions and pay women in administrator positions more equitably. In addition, institutions with female provosts have a higher representation of women among deans and tenure-track faculty. In sum, higher ed institutions with female executives have better representation of women throughout their institutions in positions that: a) are paid higher salaries and b) serve as key points in the executive leadership pipeline."
Make history this March. Make it your year to chart a plan to measure where your campus is currently and to move the needle for current and future female professionals who comprise your academic community. It's time.