by Sydney Freeman, Jr. Ph.D. and Wendy Bruun, Ed.D.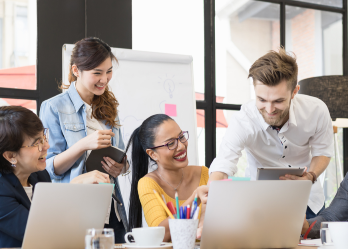 Chaay_Tee/Shutterstock
As American higher education has become more corporatized, many institutional boards have taken a student-as-customer philosophy. Particularly, approaching the enterprise as everything leads back to the student. The goal is to advance and support our core constituents, students. The approach that many college and university administrators have taken has been to create policies and practices that they believe will be appreciated and embraced by students, yet not accounting for the ways in which such approaches may impact faculty and staff. These strategies, while well-meaning, often contradict literature on best practices and approaches. Scholars such as Edward Hebert have found correlations between faculty and staff morale and student learning outcomes and perceptions of their overall experiences. He writes, "Morale influences faculty behavior, productivity, and quality of teaching; ultimately affects student learning and program quality."
So, this has caused us to continually ask ourselves why do higher education leaders not pay more attention to faculty and staff morale and satisfaction? Although some institutions engage in assessments such as the "Great Colleges to Work For" survey, it may not have wide enough adoption to serve as a catalyst for transformative change. How is that data utilized to alter policies and practices within actual institutions to increase student learning outcomes and co-curricular experiences? And is there a direct correlation between faculty satisfaction and student satisfaction?
In Kristin Kroncke's study Investigating this topic, she uncovered some interesting data. Her statistical analysis revealed "that students appreciate faculty members' social interactions with one another…university's efforts in developing social and professional relationships among faculty may not contribute to faculty members overall satisfaction, but success in this endeavor would translate into students being happier with their educational experience." So, her findings are counterintuitive to the common approach to increasing student satisfaction that just investing in student-centered practices is enough effort to increase student persistence and satisfaction.
We recognize that there is definitely a gap between students' and faculty perceptions in the need for student satisfaction. But we cannot ignore the context in which faculty and staff teach and work. Due to the twin pandemics of COVID-19 and racism in higher education, there has emerged an era of the Great Resignation or what many are calling the Great Reassessment, where in particular women and people of color are reconsidering what it means to be an employee in an industry that they may perceive their leaders view them as disposable and easily replaceable workers. This, along with attacks on earned benefits such as tenure and the diminishing quality of support for contingent faculty, does not lead to the morale of individuals key to ensuring quality student learning outcomes. And it has been our experience that when staff have felt they were in a stable and thriving team, students have been more satisfied. As we talk about staff morale, we have found that it is becoming more difficult to attract and retain quality staff for a myriad of reasons including resources for counteroffers, professional development, and poor leadership.
Another way higher education leaders may want to examine this phenomenon is to explore the impact of high staff turnover due to employee dissatisfaction on student learning and degree completion. Higher education research has often centered the problem of diminished student learning and stopping-out on students with a deficit lens: what does the student lack, what is the student not doing. But rarely do we examine the role and relationship between employee satisfaction and student outcomes. We may want to replicate Kronke's study to determine the degree to which faculty and staff satisfaction are impacting student learning and success.
We recognize that institutional leaders often find themselves in a unique conundrum, particularly tuition driven institutions, which often are trying to serve two masters. They are trying to increase research portfolio/prestige through institutional mission creep and satisfy outside constituencies who are most concerned about the overall quality of the student experience (academics, social, and athletics). It is often a difficult job for leaders to educate and convince constituencies about the correlation between faculty satisfaction (attracting and retaining top instructors and researchers) and the student educational experience. There is a continual decrease of respect for the field of education overall, and a particular challenge to the perception of the value of higher education overall. As higher education is being accessed by more and more women and people of color, the attainment of education credentials is being devalued by those who traditionally earned the most degrees and have the most power in this country, white men. It will take intentionality from institutional leadership in educating outside constituencies about the value of attracting and retaining high performing faculty and staff. People (not machines or computers) deliver the products (student education). If we only invest in the product, we fail to account for the influence of the people who make it happen.
As we conclude, we again are calling on higher education leaders to focus on faculty/staff in order to achieve desired student outcomes (learning, degree attainment). It will be important for more studies to be conducted to find direct correlations but what we are learning is that the indirect activities actually have a strong impact on student satisfaction (eg faculty collegial relationships and student positive experiences).