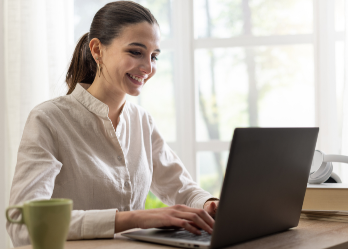 Stock-Asso/Shutterstock
"It's happening! I'm seeing people get forgiven! This is working!" exclaims Christine McDonough, director of student financial services at The Ohio State University College of Medicine.
Non-profit professionals are earning student loan forgiveness through the Public Service Loan Forgiveness (PSLF) Waiver. To qualify, borrowers need to be full-time employees of a federal, state, local, or tribal government employer or a non-profit organization. They also need to have direct federal loans; they can consolidate their loans to meet this stipulation.
"I'm very excited about this waiver because it's fixing what was wrong with this program. And it's getting people the forgiveness they've earned" McDonough says. "I hear it every day — people are 15 years into a ten-year forgiveness program. When does this end! This is as good as it's ever been, but it's temporary so you have to be proactive. You have to move on it."
I caught up with McDonough to learn more. This interview has been condensed and edited.
Eileen Hoenigman Meyer: What's the background on this program? It looks like the bulk of loan forgiveness applications were rejected in the past.
Christine McDonough: The program has been around since 2007. It's supposed to be a ten-year forgiveness program. We would expect that in 2017 and thereafter we would hear about people getting forgiven. But they weren't.
People were applying for forgiveness. You do what you're required to do for ten years. Then there's a final form to file to say you did everything. You're ready for forgiveness. It's not automatic. You have to claim it once you qualify. We saw over a 90% denial rate.
And the really terrible part is that people who got denied, they were correctly getting denied. They did not qualify. But nobody ever told them. So, once a year they're sending in their employment certification, thinking that they're racking up these qualifying payments. But they never did. It was awful. Because people would get denied at the end of the ten years. So not only would they not get their forgiveness, they would have to start all over again.
Hoenigman Meyer: What's different now?
McDonough: Between October 2021 and October 2022, borrowers who were in that specific cohort who were wronged by the confusion, they're essentially given a fast-track to become retroactively eligible for loan forgiveness.
This means that during the waiver window, if borrowers take the right steps, they can get credit for payments that did not qualify. Those are now considered qualifying payments.
Hoenigman Meyer: Who qualifies?
McDonough: You have to work full time for a qualifying employer. I'm going to stop short of saying all — but if you're on the full-time payroll at a non-profit college or university, you can probably check that box.
There's a way to find out if your employer counts. Use the PSLF help tool. If you're at an institution where other employees have already submitted your employer for consideration and gotten approval, you may get faster approval.
Hoenigman Meyer: To qualify, you also need to have direct federal loans?
McDonough: Yes. But if anyone does not have direct federal loans, that's part of the waiver too. If you consolidate now, in the direct loan program, you can retroactively get credit for the payments made even on loans that did not qualify before.
Hoenigman Meyer: How do borrowers find that out?
McDonough: Whoever they're currently making their student loan payments to/on that portal it should tell them what type of loans they have. It should say the word "direct" in front of it.
Hoenigman Meyer: And if it says "direct," then that would be a qualifying loan?
McDonough: Yes, and if they are not direct loans, they will have the acronym "FFEL" in front of them. Think of that as a federal student loan that is not direct. It should explicitly say: you have an FFEL loan of this amount or a direct loan of that amount.
It's possible to have a mix. They would need to be consolidated if they have even one FFEL loan.
Hoenigman Meyer: If they have applied in the past and their application was turned down, will their application be reviewed again or do borrowers need to resubmit?
McDonough: Borrowers who are getting reviewed by their loan servicer will get a letter in their electronic inbox. If you've been notified that they are reevaluating your application, you should not have to take any action. If you haven't heard anything, it might be worth your time to fill out the employment certification form and resubmit.
Hoenigman Meyer: Can you share any other steps borrowers should take?
McDonough: The online help tool is a good starting point.
Another thing to look at, if you're already in PSLF, and you think you might qualify for more payment credits, go to your fed loan servicing borrower account portal. You can see how many qualifying payments you've made. You can see if you have qualifying payments that only need employment certification. You can see a projection of, according to their records, when they think you're finished with these loans. That's a helpful snapshot of where you are, according to their records.
Another thing for higher ed professionals — you're already on campus. It might be a good idea to look at one of your graduate program schools. In the financial aid offices for those programs, they might have someone like me who can help you figure things out. It's a very specific type of expertise. You can't walk into a bank or pull your credit report and get guidance on this.
Those three things are my starting point advice: the online help tool, the portal through fed loan servicing, and resources on campus.
Hoenigman Meyer: Have a lot of people been coming to you for help?
McDonough: Oh yeah! People have been coming out of the woodwork, and I get it! I've heard from cousins ​​and friends of friends. I work with medical students, but I've heard from many resident physicians and even attending physicians who are many years out of school. This is not widely available help.
I have made myself available to help. I'm sure there's folks like me on other campuses who are willing to do the same. It's a lot to figure out and it's stressful because it's a limited time and you don't want to mess anything up and lose access to this waiver.
Hoenigman Meyer: What else do we need to know?
McDonough: This waiver even allows for missed payments. I did not expect it to go this far. Really what they're looking for is how many months have you worked in qualifying employment. If you've worked 120 months in qualifying employment, you are very likely to qualify for forgiveness. It's just a matter of figuring out what steps you need to do to get that retroactive credit. It's not overbearing. I don't mean to make it sound like a ton of work. You probably have to consolidate your loans and you probably have to turn in an employment certification form, but that's really it. There's a lot of flexibility in this waiver period.
The only thing that doesn't count is if you went back to school and you had in-school deferment. A lot of us higher ed folks do that. For those types of programs, you probably qualified for an in-school deferment on your loans. My understanding is if you took an in-school deferment, those months wouldn't count.
One thing to keep in mind: the processing time is long, so I am pushing people to move on this now. October comes fast, and if there's something that you're missing when you initially apply you want time to fix it before the waiver period ends.
I understand the frustration and the angst. But this is happening. This is for real. It's worth your time to do the leg work.