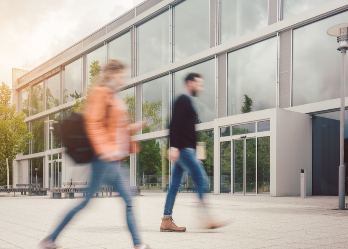 Kzenon/Shutterstock
Remote work is now an option in higher education, regardless of the pandemic status. Even if, and when, remote work becomes less of a safety measure, the home office or virtual classroom are more viable options for employers to retain workers, reduce overhead costs, and increase efficiencies.
Many higher education professionals desire the flexibility to work where and when they prefer, and institutions are adopting "hybrid" models that might give their employees the option to work remotely at least some of the time. And if workers don't get what they want, they have more leverage than ever to take their talents to another institution, or industry, that offers flexibility.
Trade-offs to consider
Some higher education professionals might be all in on one option or the other. Scientists who need to be in their laboratories to conduct research or women who provide elder or child care responsibilities have shown to be adversely affected by working from home during the pandemic. On the other hand, back-office staff, or a digitally savvy adjunct professor who teaches at multiple universities, might be more effective online and love the relative ease of remote work.
But for most higher education professionals, there are trade-offs to consider if you have the option to work from home: convenience versus social well-being, short-term financial benefit versus long-term career growth, and so on. There are too many variables to count, ranging from the length of your commute and family needs, to the levels that your academic discipline or functional area relies on in-person interaction.
Perhaps the most widely considered trade-off has to do with distractions and community. You need to invest your time and energy in projects and tasks that are at the core of your job description or path to promotion and tenure. But when you're on-campus, you become waylaid by somebody stopping your pursuits and asking, "Do you have a minute?," which never seems to be 60 seconds and zaps your cognitive energy beyond the seemingly innocuous pause.
Avoiding Distractions
Some would argue we do just fine distracting ourselves online with all the email notifications or instant messages, not to mention the distractions of working from home, be it from family members, non-work-related tasks, the television, or the refrigerator.
But on-campus work comes with its own set of unexpected interruptions. A colleague might be more likely to stop you in the hallway or a student might knock on your door to chat, as opposed to sending an email that is more transactional and specific.
Unless boundaries are established, these interruptions can lead to harmful switches between "working spheres" and attention fragmentation. The minute that you have to switch your attention to a coworker can cost an average of about 23 minutes to return to your same level of concentration, according to researchers at the University of California, Irvine.
Sense of Belonging
The interruptions of working on campus might be worth it when you consider the sense of belonging an employee develops at the workplace. A 2021 study published in the Journal of Applied Psychology explored the bright side of daily work interruptions and the effects they have on employee well-being. An interaction with an interrupter fulfills one's need for belongingness, which leads to job satisfaction.
This study would suggest that sense of belonging offsets or exceeds the harmful effects of disruptions. But it's difficult for people to experience this during their workday because they don't see units of belongingness increasing the way a higher education professional can count the number of term papers graded, applications processes, or data samples collected.
When considering your job satisfaction, belongingness is not something you see on your resume or CV. Career moves are often based on emotion instead of logic.
What's More Satisfying?
Just as everyone has their own variables for their remote work preference, you might derive job satisfaction differently than others. It's important to reflect on how much you truly value a sense of belonging from working on a college campus compared to uninterrupted work.
Not having any distractions doesn't always mean you are more productive on your own. Serendipitous conversations can lead to higher impact research collaboration and greater knowledge productionaccording to studies.
You are more than just a set of hands typing on a keyboard or a portrait on a videoconference gallery, and having a tidy email inbox and completed daily to-do list might seem satisfying in the short term, but it means little over the course of your career.
Higher education professionals might not have to choose between no distractions and belongingness. Hybrid models, where you do uninterrupted work at home and come to campus for meetings or classes, might be more accepted and an option since the start of the pandemic.
Just keep in mind which option gives you the most job satisfaction.