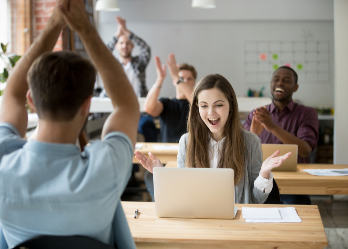 fizkes/Shutterstock
Competition focuses our attention, ignites our work ethic, and sparks our creativity. It also drives our anxiety, fear, stress, and self-doubt. Competition can bring out the best and the worst in us.
As we all know, institutions of higher education are extremely competitive environments. Students, employees, athletes, educators, researchers–we all feel that pressure to produce and succeed for ourselves and the institutions we represent.
How do we use that competitive energy to propel our work, without allowing it to devour us? What is healthy competition and how can we find balance in competitive professional environments?
Creating Community
It takes self-awareness, self-discipline, confidence, and an understanding of our competitive instincts to keep them from souring and becoming corrosive. Perhaps you've encountered "that professor" whose competitive instincts caused them to become a toxic tenure, contributing well to their own scholarship but horribly to culture. Maybe you've experienced the bully colleague who treats younger counterparts terribly to chase away competition.
Everyone on campus has an obligation to culture. It's part of everyone's job to understand and control their emotions so that their personal issues don't bleed toxicity into our shared emotional spaces.
"Competition in the workplace can be a good thing if colleagues work together to achieve a shared goal" writes Sam Nabil, CEO and lead therapist with Naya Clinics. "They can motivate and inspire one another to be more productive and creative. No matter the outcome of their efforts, they will still have that sense of goodwill and camaraderie."
While we all have our individual goals to further, we also share the communal goal of creating an academic community that fosters thriving. Success for one member of our community bolsters the caliber of our institution. That benefits all of us. It takes good leadership and healthy culture, though, to assure all stake holders of their place and their value.
"This is the positive kind of competition – the kind in which competing brings out the best in everyone involved. It allows employees to tap into their potential and do their best in order to succeed, in a healthy way. It's the kind of competition in which colleagues are not rooting for others to fail nor becoming obsessed with winning, regardless of the costs" Nabil adds.
Exploring our Hang Ups
We all struggle at times. Maintaining a healthy sense of self is hard. Success in higher education seems to keep getting harder to attain. Many high achievers tend to overvalue others' accomplishments while undervaluing their own. They see their own achievements as qualifying rather than outstanding, making them feel like overworked imposters. This is an exhausting way to exist. It's also fixable.
Competition should fuel us. It should not exhaust us or inspire our cruelty towards ourselves or others. If it feels like our competitive instincts are eating us alive, we have to pause and explore that. Working through an overactive competitive instinct with a therapist and finding balance can improve life and work. It can also help us guard against future burnout.
"It's important to pay attention to how you compete" Nabil writes. "People who compete because they are afraid of losing often become negative. They act like sore losers instead of learning from the experience. Competing to learn means regarding failure as lessons for becoming better in the future."
Just because higher education is competitive doesn't mean we don't get to have a healthy work environment. Our culture is competitive. We feel the need to prove ourselves, but we are also just professionals doing a job. We don't have to be perfect. If we're in a leadership role, we get to influence our professional culture and while competition is important, so is balance.
Nabil explains: "Competition should be embraced, with the mindset that you are always learning, whether you win or you lose." Our institutions are all about the importance of learning. Some lessons come from succeeding. Other lessons come from struggling. Our students need us to prepare them for the world they're stepping into. We've had to do so much more than just succeed to make sense of that reality.
Justice and Transparency
It's thrilling and validating to get published, get cited, and make a name for ourselves in the ultra-competitive, higher education industry. "Competition between faculty for limited resources can encourage innovation and productivity" writes Robert C. Birdprofessor of business law in the School of Business at the University of Connecticut.
In order to create a culture where educators are well-positioned to do this, it is important that they know what is expected of them; likewise, it's key that those expectations are fairly applied. Bird writes: "[C]Competition metrics should be implemented only with great care. The measures that reward competition should be objective and transparent. Furthermore, there should be full buy-in from the faculty that the competition-generating metrics encourage the appropriate incentives. Finally, competition encouraging measures should be carefully scrutinized to ensure they do not disproportionately disadvantage adjunct and non-tenure track faculty."
A healthy professional culture makes expectations clear and uniform for staff.
What is healthy competition?
For many high performers, their sense of who they are is tied to the notion of what they can deliver and how they can distinguish themselves from the pack. All of us have more to offer than just our best deliverables.
Campuses can offer robust professional growth opportunities for all employees. There are many directions in which we can grow and diversify our skills to build a broader professional self.
Branch out. Take courses. Join committees. Do volunteer work. Be a mentor. Find ways to feed your curiosity, your intellect, and your emotions. Earning accolades feels good, but so does helping. So much is needed on campus, especially now. Find meaningful ways of emotionally engaging there. Take some of the pressure off yourself by diversifying your means of engagement. It's good for your resume and it's good for your spirit.
It will give you the chance to meet people outside of your discipline and to engage in new work on campus.
It's always important to make strides in your discipline, but every institution offers a wealth of growth opportunities. Keep feeding your curiosity and building your resume. You're in the perfect place to do both.