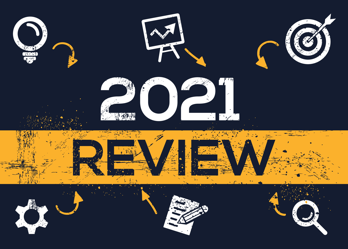 khaleddesigner/Shutterstock
Well, 2021 has been interesting. I don't know about your life in 2021, but there have been big changes in my life over the past year. My partner and I both work in higher education. After all the time we had to reflect on our lives and work in 2020, we both knew we needed a change. This year, one of us was a part of the 'great resignation' and resigned to take another position in an entirely different state. The other is loving the ability to work from home and remotely, which 2020 taught us was totally possible. All this to say, that if we thought 2020 changed higher education, 2021 was just as dramatic and changed how many of us work, live, and view the future of higher education.
At the end of each December, we take inventory of all the articles published on HigherEdJobs throughout the year. Here is a glimpse of what higher education in 2021 looked like from HigherEdJobs.
With a majority of us working remotely, we started 2021 worried about Keeping Your Virtual Workspace Professional. We realized that Remote Work Is More of a Possibility Beyond the Pandemic and, when it came to working remotely, we had to internalize that Working Remotely Doesn't Mean You Always Have to Be on the Clock.
We started the year with new presidential leadership and had to work on Tempering Expectations in Changing Higher Education Policy.
As we slowly returned to our on-campus offices and classrooms, we found ourselves having some trouble returning to 'normal' and had to learn How to Adjust Back to On-Campus Work.
Throughout the year, many in higher education were asking When is it Time to Quit Your Job? Some in the running for leadership roles were even contemplating the idea of Withdrawing Your Candidacy. This left leadership in higher education asking, Can Remote Work Options Help Higher Education Retain Employees? Others stressed that leadership must let current employees Craft a Better Job.
Mental health took a front row seat in higher education issues in 2021. We have learned Strategies for Reducing Unhealthy Conflict in Our Lives. We have focused more on Considering the Mental Health of Students on Campus and have been more intent on Making Wellness a Campus-Wide Effort.
With all the changes that 2021 brought, in 2022, let's keep positive change moving forward by Addressing STEM Gender Equity through Institutional Systemic Change, Establishing LGBTQ+ Community at Community Colleges, Recognizing Women Student Veterans and Service Members on Campusand Amplifying Black Student Voices.
As we head into the unknown of 2022 remember that, no matter which role you play in higher education, You Deserve Good Self-Care.
Disclaimer: HigherEdJobs encourages free discourse and expression of issues while striving for accurate presentation to our audience. A guest opinion serves as an avenue to address and explore important topics, for authors to impart their expertise to our higher education audience and to challenge readers to consider points of view that could be outside of their comfort zone. The viewpoints, beliefs, or opinions expressed in the above piece are those of the author(s) and do not imply endorsement by HigherEdJobs.