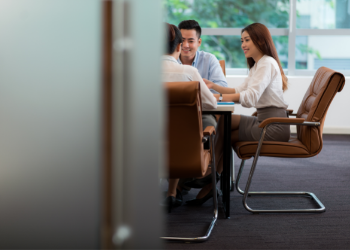 Dragon Images/Shutterstock
HR professionals and their companies will benefit from learning how to apply emotional intelligence (EI) research to create psychologically safe teams and environments that can lead to more inclusive workplaces.
To build truly inclusive workplace cultures, companies must start from a place of empathy and care, shared Bethany Adams, SHRM-SCP, associate director of marketing and strategy at Villanova University, during the SHRM INCLUSION 2021 conference, held in person and virtually, on Oct. 25.
Adams said professionals must first learn what EI is not.
"It's not something we all have. It's not the act of suppressing your feelings. And it's not just all the soft and mushy stuff," she said. "It's a skill you can learn. It's how to perceive and manage others' emotions, not suppress them."
This is more critical than ever today as companies strive to create more diverse and more inclusive workplaces.
"Initially, this will create more conflict, but that's good," she said. "We need to learn about each other."
Don't Hide Your Emotions
Adams said one of the most common workforce axioms is "when you come to work, check your emotions at the door."
She said this is "simply impossible. Maybe an employee can hold it in for a day or a week, but eventually, it's all going to come out. What that phrase really means is to be more reasonable about your emotions."
EI presents two models:
The Ability-based Model includes the ability to:
Perceive emotions.
Reason with emotions.
Understand emotions.
Manage emotions.
The Competency-based Model by Daniel Goleman includes five realms:
Know your emotions.
Manage your emotions.
Motivate yourself.
Recognize and understand other people's emotions.
Manage relationships (others' emotions).
These five realms are spread over four quadrants:
Self-Awareness.
Social Awareness.
Self-Management.
Relationship Management.
Adams pointed out a few keys that will make gaining and applying emotional intelligence easier for employees and their supervisors.
Establish Emotional Team Norms
She said it's important for the leader to establish emotional team norms during collaboration. If team members know these roles ahead of time, it creates a much better environment for true engagement and understanding. For example:
Is it OK to get angry at work?
When is it safe to share?
Should we hold back?
"And keep in mind that these rules don't always apply to every meeting," Adams said. "They can vary based on who is participating and what the topic or tasks are."
She said setting "positive" team norms will go a long way when convening a meeting to have tough conversations because those in the meeting will feel more comfortable about sharing.
Adams said building and sharing a wide emotional vocabulary can help. There are dozens of emotions, so team members should not always rely on the more common "angry, frustrated, happy." Come up with more pointed variations that everyone understands, such as "unsatisfied, confused, elated." Other tips:
Use open forums.
Engage in egalitarian conversations.
Share gratitude.
When Bias Gets in the Way
Emotional expression bias is another factor that can hinder positive office culture.
"People who carry emotional biases will make them read others 'wrong,'" she said. "We can't expect others to respond emotionally to things based on what they look like.
"For example, women who are strong, passionate and speak directly in meetings will be received a lot differently than men who express themselves the same way," Adams said. "EI is understanding where those emotions come from in an individual."
Emotions are data, and that is very important, Adams said. She suggested that workers track their emotions daily and then look back to see what results and actions came from them.
"Seeing that you reacted a certain way about a certain task or situation will help you realize what it is about the job that you like or dislike doing," Adams said. "Figure out what this is telling you about yourself."
Finally, understanding how to leverage the dimensions of emotional intelligence, develop the skills necessary to build relationships and lead teams through emotional challenges is critical for every human resource professional and business leader in the modern workplace.