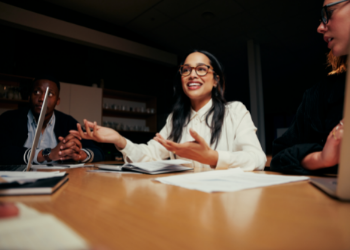 StratfordProductions/Shutterstock
In the last decade, there have been far too many discussions about faculty candidates' "fit" during the interview towards hiring process. These discussions dramatically challenge most higher education institutions' published statements and verbal proclamations of their commitment to inclusion, diversity, equity, and access (let's refer to this henceforth as IDEA). Administrative leadership and human resource units have a twenty-first-century responsibility to provide the training and guidelines to move search committees beyond traditional "fit" discussions predicated upon decades-old institutional "fit" hiring practices.
So, what's the IDEA?
Training, and oversight of the implementation of the training, must be revised. Put another way, if colleges and universities intend to hold on to "fit" as a rationale for hiring, it becomes imperative that training is conducted during every hiring cycle. Regardless of search committee members contending that they just had training last semester, last year, and the like, HR must continue to train more so than ever as several higher education institutions are marginalizing their own efforts in IDEA and facing legal actions of inequity in faculty. hiring, promotion, and tenure processes. While these legal actions are worthy of further detailed discussion, in this article I focus on 'institutional cultural addition versus institutional cultural fit' in the academic intelligentsia selection process, also known as faculty hiring.
So, what is this 'fit' that is all too casually a part of the discussion in search committee deliberations? How many times, as part of a search committee, have you heard some version of the following statements:
"Dr. XYZ seems highly talented/qualified but we just don't see how he will fit within our department. He has such a heavy accent."
"I really like Dr. ABC! She will be an excellent fit for our department. She has family in the area and will fit right in with our faculty and students."
"Why would Dr. LMN move here? They will not like it here because it's not at all like their present/last institution. They just will not fit into this area. And, by the way, everyone, should I use the pronoun " they" when referring to Dr. LMN?"
While most human resource professionals will agree that hiring persons who can navigate the culture of the institution is not holistically unsound, focusing primarily on fit presents a list of questions and considerations that have equal employment opportunity risks. For example, does staying tightly within the 'fit' mode for faculty hiring limit diversity – the very difference that many colleges and universities proclaim as foundational in their hiring practices?
What of inclusion? Are higher education administrators not looking at the diversity needed in their faculty if, truthfully, inclusion of diverse students is sought and encouraged? How will the diverse student population succeed with faculty that 'fit' a narrowly scripted definition of who belongs and who does not belong? If there is a significant minority student population at a college and/or university [let's use 20 percent as an example] and the composition of minority faculty representing that minority student population is less than 5 percent how does this present within an IDEA framework?
Did the institution's focus on new hires fitting into the culture negate their necessary work to not only bring IDEA to the student population but also to faculty hiring? Where, then, is the cultural addition beyond cultural fit?
Here again, human resource professionals need to train faculty, particularly search committees and lead administrators (chairs, deans, vice presidents, and provosts) to develop clarity on hiring for institutional cultural addition versus institutional cultural fit. More specifically, using the institution's tools – its employee handbook, collective bargaining agreement, organizational structure, and position descriptions – HR can assist academic leadership and search committees to synchronize their mission, vision, and value statements with legally based approaches, moving beyond vapid rhetoric. to reality in their faculty hiring practices.
How does a primarily monolithically structured faculty (eg, race, gender, et.al.) see beyond bias in the faculty search review process? Again, HR professionals can begin to explain how cultural fit can still play a role in hiring while clarifying what elements of 'fit' may be detrimental in an equal employment opportunity landscape.
So, what is the 'fit' that is tossed about in search committee discussions? The ability to work well in collaborative efforts? The ability to seek and garner external funding? The capacity to build the major/program and increased student enrollment based on relevant research, publications, and national/international recognition?
These questions can, and should be, addressed by HR to support faculty search committees avoiding 'fit' discussions and hiring decisions that suggest a focus on 'non-fit' based on race, color, religion, age, sex, disability, national origin , and genetic information.
So, what's the IDEA?
Cultural addition must be central in the discussion during HR hiring practices training. Cultural additions move beyond cultural fit in beneficial ways. Suppose you fit into the college or university's faculty culture. What does that mean? Are you easy to get along with? You embody the same pedagogical practices? You don't move outside the current way of thinking and acting of the current faculty?
Imagine this…Cultural additions to your faculty who are highly qualified in their discipline. These newly hired faculty bring experiences, training, research, and connections that move beyond that of the current faculty. Thus, strengthening the very diversity of the curricular platforms that IDEA seeks in providing greater student learning outcomes and overall institutional strength. Cultural additions beyond the decades-old cultural fit must be the new training work of HR in supporting faculty hiring in revising higher education's promise of excellence.
Imagine that…