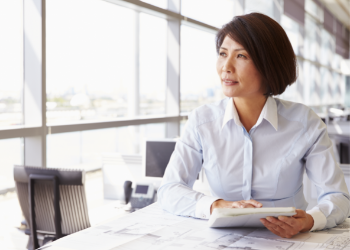 Monkey Business Images/Shutterstock
Women's Equality DayAugust 26, 2021, marks the 101St anniversary of the ratification of the 19th amendment, securing women's right to vote. This year's occasion is bittersweet, as pandemic complications have challenged women on multiple fronts.
The pandemic has been economically brutal for women. Oxfam International reports: "The COVID-19 crisis cost women around the world at least $800 billion in lost income in 2020, equivalent to more than the combined GDP of 98 countries." Men suffered too: 3.9 percent of the world's male population lost their employment. But the world's women, already paid less for their work, lost more jobs. According to Oxfam's report, 5 percent of the world's women lost their employment in the pandemic's wake.
The Oxfam report notes that internationally, women lost more than 64 million jobs when their roles were dissolved, they became unworkable due to pandemic challenges, or for other reasons. In the US, 1.8 million women left the labor force.
Dr. Sylvia Ann Hewletteconomist, author, and academic who has long studied the barriers working mothers face, recently tweeted: "Two million mothers quit jobs because of the pandemic childcare crisis. More left the fast track. . . US employers penalize those who can't deal with 'the intensive margin' of professional jobs; however brief their fall, most working mothers never recover."
Women's Equality Day is our opportunity to evaluate how the higher education industry creates equity in the workplace.
Women in Higher Education
According to the American Association of University Women (AAUW), female students and professionals have a commanding presence in the professional and academic community: "Women make up more than half of the US workforce and they receive the majority of university degrees at virtually every level."
Still, women aren't assuming leadership roles like their male peers. AAUW notes that women make up 32 percent of full professors, 30 percent of college presidents, and 16 percent of medical school deans; only 5 percent of college presidents are women of color.
While qualified female candidates are plentiful, males continue to have an edge. AAUW explains: "Men still surpass women in having the networks to learn about opportunities and find mentors and sponsors to champion their advancement."
Fostering Leadership
A recent report written by Elizabeth Howard and Jonathan Gagliardi for the American Council on Education (ACE) explains that female leaders tend to be exceedingly well-prepared; still, fewer earn top leadership positions. "Data show that women may be in some ways more prepared than men to advance to the presidency, with greater percentages having served as an interim president, earned advanced degrees, and participated in formal leadership development opportunities — yet it is reasonable to infer from their numbers in the presidency that they are less likely than men to be placed in the position."
When women do serve as presidents, they are most highly represented in associate colleges rather than universities that grant doctorates. "Women are more likely to serve as presidents at institution types where they are responsible for overseeing educational outcomes for often marginalized populations of students, including post-traditional learners and students of color." The ACE report explains"They represented 35.8 percent of the presidents of associate institutions, the highest percentage of women presidents among types of institutions represented by survey respondents. Associate institutions serve a large percentage of post-traditional students, who are more likely to be women than the typical student population. The success of women presidents in that role may have implications for the success of female students more broadly, feeding back into a pipeline that holds the presidents of the future."
Perhaps today's female leaders, then, sponsor and champion those women who are currently earning their degrees, becoming that essential institutional link currently giving male candidates their edge. The report explains: "A possible area for additional investment by institutions is in internal pipelines, which the data suggest are helping to position women for the presidency."
Dr. Bree Cookvice president of academic affairs and chief academic officer & accreditation liaison officer for Pacific Oaks College (PO) in Pasadena, California summarizes her ascent: "I started at PO as an adjunct with very limited higher education teaching experience. I was able to progressively move into more permanent positions at the college and in 2019 was appointed to my current role of vice president of academic affairs & accreditation liaison officer. Over the past 10 years, I credit the support I received to explore these opportunities to the women in leadership positions . Without them literally making a way for me to move upward and onward, I do believe I wouldn't have been this successful."
Getting Real About the Wage Gap
According to Power Gapa 2021 study written by the Eos Foundation's Andrea Silbert and Christy Mach Dubé, while 60 percent of higher education professionals are female, only 24 percent of the industry's top earners are women; 2.5 percent of them are women of color. On the other hand, 76 percent of top earners are males.
The report notes that more than 90 percent of top earners are in STEM fields, economics, or business, traditionally male-dominated disciplines. Dr. Susan Ramlowsenior lecturer within the departments of physics and mechanical engineering at the University of Akron clarifies: "Although administrators often blame disparities related to discipline differences and, thus, differences in faculty compensation, these alone do not explain gender differences when it comes to the overall differences in pay for full-time faculty. Additionally, contingent faculty (gig economy workers in that they are temporary and may be part-time (eg adjunct faculty)) have a greater likelihood to be female. These contingent faculty do not have job security and are significantly lower paid than non-contingent faculty."
Dr. Ramlo was among the University of Akron's tenured faculty who were laid off in 2020. She points out that women were disproportionately imparted. Now referring to herself as a "gig worker," Dr. Ramlo explains: "The College for All Act Promotes the idea of ​​creating a more equitable workplace in higher education by reducing the number of contingent faculty. This act calls for 70% of an institution's faculty to be tenured/tenure-track. There is no doubt that a national approach to making higher education employment more equitable for faculty is necessary."
Higher Equity
As an industry, higher education still has work to do. Dr. Cook explains: "higher education has many flaws, and equity for women and BIPOC people is a huge issue we need to continue to fight. I had fearless leaders who were unapologetic in their support of women and BIPOC. I too carry that torch, but in just me acknowledging that, draws attention to the fact that there are major hurdles we face. Currently, Black women in higher education are either leaving higher education completely or leaving positions at institutions where they do not feel supported."
The first step to real change is honest reflection: "What women bring to the table needs to be valued and then acknowledged." Dr. Cook points out. "Pay equity is just one way this can and should happen. Institutions need to make sure that women are well represented and reflect the make-up of the student body. There needs to be support systems and groups to develop women, but there also needs to be opportunities created for women. We also need to be willing to take a hard look at how we treat women in these systems. Once we can acknowledge and accept the current state of affairs, we must do something about it."