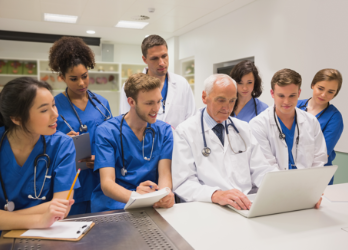 wavebreakmedia/Shutterstock
In 2015, The College of St. Scholastica was awarded a federal grant with the goal of creating an innovative model to increase veteran enrollment in, and graduation from, the bachelor of science in nursing (BSN) program. The program is called INVITE. Among the various programming measures that were implemented, the veteran cohort model has been the most significant in promoting student success. We have been working in this program since 2016, and in this article, we share some observations about the cohort model and why it has been an effective structure for fulfilling program goals.
Background
The College of St. Scholastica's nursing program is five semesters. Each semester students have simulation labs and clinicals. Typically, students have a new group of classmates and a different instructor each clinical rotation. In contrast, INVITE students are placed together for their labs and clinicals and stay together with that group for the duration of the nursing program. Additionally, instead of changing clinical instructors each rotation, students have a dedicated clinical liaison who is also a military veteran. This clinical instructor also serves as the academic advisor for students.
It is important to note that while we have implemented this model in nursing, it can be applied to any academic program in which students progress through the same courses each semester.
Teamwork and Accountability
As we know, service members are taught the importance of teamwork while in the military. This mindset is something that we have seen carried over into the academic environment. INVITE cohort members work together and do not let each other fail. For example, when there is a student who is struggling in a particular course, the other students will set aside time to go over the course content with that student. Similarly, if a student excels in a course, we have seen them lead study sessions with their peers. When National Guard students need to miss class because of drill or another obligation, the other students will help get the student caught up.
These students are not content simply doing well themselves. They have truly adopted the mindset that "if someone fails, we all fail." That, in large part, is why the cohort model is conducive for student veterans. They value the importance of working together as a single cohesive unit.
Additionally, we have seen instances in which cohort members hold each other accountable. If there is a member that is not putting in the necessary effort and dedication, the other students have no reluctance addressing it. We have noticed that this intervention is particularly effective coming from peers instead of faculty. The students do this on their own initiative, with no direction or encouragement from program staff or faculty.
Instructor-Student Relationship
During the course of a five-semester program, our veteran faculty/clinical liaisons get to know students extremely well. This leads to a couple of clear benefits. First, they gain a deep understanding of the strengths and weaknesses of each student. For example, a student might have great practical skills but a need for improvement interacting with patients. The instructor can identify the areas of needed improvement and subsequently emphasize them while educating the student.
The continuity of having the same instructor with a military background also leads to a heightened sense of trust and comfortability. This, in turn, leads to students more eagerly approaching faculty for support if they are encountering any challenges. Rather than struggling in silence, INVITE cohort members seek assistance when needed.
Culture and Camaraderie
The common background and cultural similarities among the cohort members has led to a strong sense of camaraderie among INVITE students. They are able to discuss things and confide in each other on a level they likely would not be able to with their traditional peers.
Even factors that may seem minor — like using military acronyms and speaking a common language — have helped create a strong connection. Following program completion, many students expressed that having this support group for both academic and non-academic life factors was a big benefit.
Conclusion
The cohort model of the INVITE program has been an effective structure to promote student success. To date, the program has had a student graduation rate of 96 percent. This model can be extended to other academic areas and serve as a low-cost measure to greatly benefit student veterans. As students make the transition into the academic environment, they can play a huge role in supporting each other.