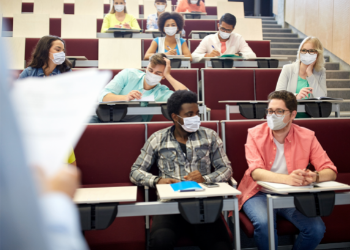 Syda Productions/Shutterstock
The US Department of Education, Office of Planning, Evaluation and Policy Development has released the "ED COVID-19 Handbook, Volume 3: Strategies for Safe Operation and Addressing the Impact of COVID-19 on Higher Education Students, Faculty, and Staff."
The list of recommendations and strategies for higher education institutions from the handbook has been summarized here. More information on each individual recommendation is available in the handbook.
Recommendations and Strategies Regarding "Safe Practices for In-Person Learning"
Offering and Promoting COVID-19 Vaccination
Consistent and Correct Use of Masks
Physical distancing
Handwashing and Respiratory Etiquette
Cleaning and Maintaining Healthy Facilities
Testing for COVID-19
Contact Tracing in Combination with Isolation and Quarantine
Recommendations and Steps for "Supporting Higher Education in Navigating Online Learning in a Pandemic"
Invest in professional development opportunities focused on digital learning.
Explore different models of delivery.
Leverage technology to promote student engagement.
Invest in digital learning records to promote student mobility.
Recommendations for "Increasing Student Access to Broadband and Devices"
Conduct ongoing needs assessments.
Expand Wi-Fi and broadband access to students and faculty.
Support students with disabilities by collaborating with internal and external partners to ensure accessibility of online learning platforms for all courses.
Offer scholarships or funding to defray the cost of internet service for students who may have trouble affording access.
Develop free technology lending programs for students.
Aggregate a school system's buying power to leverage cost savings on hardware, software, or service procurements.
Leverage federal broadband funding to connect students and campuses.
Join state-level broadband conversations to advocate for college students' access needs.
Expand the array of communication tools and methods.
Recommendations and Strategies for Continuing "Basic Needs Supports for Students"
Recommendations on "Emergency and Financial Aid"
Make emergency aid available to all students.
Ensure emergency aid applications are streamlined.
Provide leniency.
Provide a wide range of services.
Give flexibility to students in providing reasonable documentation of disability.
Recommendations on "Food and Housing Insecurity On- and Off-Campus"
Provide clear information.
Establish food pantries.
Go beyond food.
Make pantries and other resources accessible.
Provide food for those in isolation or quarantine.
Recommendations on "Supporting Students Experiencing Housing Insecurity"
Refund room and board costs.
Prioritize students with the greatest need.
Partner with the community.
Provide transportation support.
Provide resources for those in unsafe environments.
Provide clear information.
Expand access to supports.
Recommendations on Supporting "Health Centers and Partnering with the Community"
Access to free and affordable health services.
Utilize Medicaid as a potential resource for students.
Well-being supports.
Recommendations on Supporting "Student Caregivers"
Provide increased support to student parents through innovative child care supports and additional emergency grant aid to student parents.
Extend services year-round and increase child care worker wages.
Connect students with community resources.
Implement an emergency child-care program.
Extending access to the surrounding community.
Recommendations for Supporting "Mental Health Needs of Students and Staff"
Increase availability of mental health and counseling services.
Partner with the community.
Expand virtual services.
Work with states to understand licensing portability requirements.
Provide more flexible grading.
Provide resources to marginalized students and be responsive to reports of hate crimes.
Recommendations for Continuing "Commitments to the Community"
Provide testing and vaccination.
Be conscientious neighbors.
Encourage students to take an active role in COVID safety.
Available Federal Funding and Flexibilities
The handbook also includes a breakdown of HEERFI(CARES), HEERFII(CRRSAA), HEERFIII(ARP)and the GEER Fund to name a few.