by Dr. Cobretti D. Williams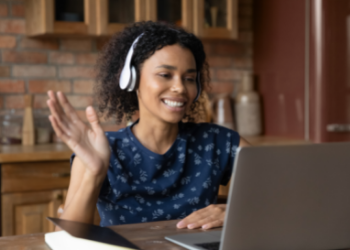 fizkes/Shutterstock
The culture of work has become increasingly remote, and virtual and traditional onboarding processes have changed as well. Instead of attending in-person orientation sessions and learning about institutional benefits and resources, many new hires are encountering email instructions and pre-recorded webinars for new employees. For professionals that value interactive engagement with colleagues, this can be a chilling way of starting a position or new career — however it does not have to be. In the span of a year, higher education organizations and institutions have implemented numerous tools and strategies to create an onboarding process that engages new, remote hires. Here are four emerging best practices and strategies that have proven helpful and may just change the way we work in the future.
Prioritize access to technology before an employee's first day.
Seemingly obvious, access to the internet and appropriate computer equipment is central to remote work. It cannot be assumed that all employees may access the technology needed prior to beginning their position; Thus, institutions and companies must consider how to deliver and ensure access to all of the resources a new employee may need that would otherwise be available in their office or computer desk at work. At Linkedin, IT managers automatically ship laptops to employees upon hire and schedule a consultation to ensure the employee has the proper network privilege and credentials for their work. During the pandemic, IT managers were crucial in the transition process to remote work, and they are essential to new employees that will conduct a majority of their work virtually.
Ensure new hires understand the work culture and expectations of the institution, in-person and virtually.
Beyond the immediate concern of an employee's role and responsibilities, employers have to find creative ways to expose and inform new hires of the cultural norms, traditions, and expectations. When onboarding employees virtually, HR Daily Advisor asserts that, "One of the most concerning aspects of working remotely is the uncertainty that can come with it. Eliminate this fear by laying out everything your new hires need to know to be successful in their new role. Set expectations around meetings they need to attend weekly or monthly, what collaboration tools they'll need to communicate with the team, the hours they are expected to work, how to participate in daily standups, and anything else that's expected of them." Furthermore, it is important to detail how these expectations differ between virtual and in-person work environments in the event that all employees return to campus. Hybrid work environments may be a possibility in the future, but in any case, you want to be prepared for all scenarios.
Develop a peer-based cohort experience for networking and relationship-building.
Normally, a typical first day on campus would involve introductions among new employees, coworkers, department liaisons, and fellow professionals that welcome new employees. Although there is no way to mimic the relationships and networking formed in-person, there is still an opportunity to facilitate engagement among new and current employees. Developing cohort-based experiences is one of the most effective ways to build this engagement. According to FastCompany.com, "Establishing relationships across divisions or functions through these cohorts can also create a foundational colleague network your new employees can call on throughout their time at the company." Colleges and universities are full of vibrant and diverse communities of professionals with wide-ranging skill sets, disciplines, and expertise; When there is an intentional effort to build these communities among peers, there is no telling the collaborations and partnerships that can come from this curated community.
Consider a mentorship program to help employees network with important stakeholders.
In addition to peer cohorts, a mentorship program can be beneficial, especially when new hires are matched with seasoned professionals in their area of ​​expertise that understand the role and the stakeholders they will need to know. The Harvard Business Review also suggests assigning buddies to help employees through the early stages of their new role at the institution. In the article, Mary Driscoll and Michael Watkins, two experts and leaders in human resource onboarding strategies point out that, "you must take care to choose buddies who have the time, ability, and inclination to help, and you need to brief them on how they can be of most assistance. Typically, they should not be in the new leader's chain of command; they should be peers or others with the 'big picture' understanding necessary to be of real help." This particular approach has multiple benefits including relationship building across departments, insight into institutional culture, and additional assistance to make sure they are successful in the early stages of their role.
Inevitably, some of us will return back to in-person work environments and relish the opportunity to meaningfully engage and collaborate with colleagues in a way that was not possible this time last year. However, it is also fair to say that the pandemic has fundamentally altered the way we transition and learn the work culture and expectations of a new institution. There will be some professionals who remain remote indefinitely and, understandably, deserve just as much intention and engagement in the onboarding process as if we were all physically present for their first day of work. These best practices are a step in that direction, and hopefully the methods and strategies implemented by human resource officers can elicit the "first day of work" jitters we all know too well.