by Robert A. Scott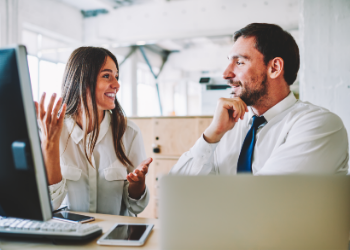 GaudiLab/Shutterstock
Over the years, I have been asked about the essential elements of leadership. Having served as president at two higher education institutions for 30 years, I have not only read about leadership and observed leaders but also have reflected on incidents that have both challenged and informed my understanding of it. In each case, the abilities of reflection and listening have loomed large.
One of the most important goals of education is to learn how to reflect, how to learn from our experiences. A favorite question of mine during my years in leadership was to ask those assembled, "What can we learn from this?" The question might be posed to my senior staff colleagues following a student protest or a scandal at another institution. The point was that through reflection we could better prepare for the future. This is not to say that history repeats itself. It is instead to suggest that we can deepen our "well" of understanding and can draw upon past experience when facing new challenges, even if they are of a different sort.
A companion to reflection is listening. As leaders, we are called upon to speak, to comment, to opine on all manner of topics. So, being able to speak and write compellingly and with clarity and coherence is important. But listening with our eyes, as well as our ears, is essential to know what to reflect upon and what to speak about.
An early experience that has stayed with me was finding small wooden signs along the paths of the camp I attended when nine years old. The signs were about three inches by seven inches and had the word "Others" carved into the wood. They were intended to inspire those walking the paths to be considerate of others, welcome others, and listen to others, no matter what their station in life. The signs with the word "Others" inspired conversations as well as consideration.
Years later, I mentioned this memory to a colleague at Adelphi and he decided we should have similar messages on the campus paths, this time using rocks. We soon heard students, faculty, and staff commenting on the messages.
As leaders, we have opportunities to be a mentor to others. One of my mentors was Jim Perkins, the former president of Cornell University. While president of Ramapo College, I would visit him at his Princeton retirement office, and we would discuss higher education and whatever was on our minds. I recall with enthusiasm his advice: "Bob," he would say, "secure your footing before you extend your reach. This is good advice for life as well as for mountain climbing." I listened, reflected, and often acted with his words in mind.
Another memory with meaning concerns working with secretarial staff. The first was Erma Gustafson at Bucknell University, where I worked after my Navy tour. Erma taught me that titles do not equate to knowledge or intelligence. I learned that my treating her with respect and respecting her dignity brought benefits I had not sought. She taught me about people in ways that I had not experienced in earlier positions. I also learned that secretaries and executive assistants are among the most knowledgeable people in an organization.
This lesson proved to be especially valuable when I was at Cornell and was asked to join a group of IT professionals in evaluating a student information system at another university in a distant state. We were greeted enthusiastically by the host IT staff and they proceeded to present their product to us. While I knew a bit about computing, having co-written an admissions system while at Bucknell, I found the presentation too technical. So, I excused myself and went looking for the secretary to the Dean of Arts and Sciences. I introduced myself, explained why my colleagues and I were on her campus, and asked how she thought the student information worked.
Well, she unloaded: the system assigned priority course registration to football and basketball players, leaving even seniors with difficulty in signing up for needed courses. I thanked her, went back to the presentation room, and asked about the priority-setting algorithm. When my Cornell compatriots heard the answer, we politely thanked our hosts and left for the plane ride home. The lesson is obvious; the secretary heard about problems from students and she was willing to answer my questions about the system.
Reflection and listening. I reflected on the complexity of the course registration system being described and asked about it so I could listen to how it worked.
Listening. I remember an occasion at Ramapo College when I sent a question to the CFO. When we were in a meeting a day or two later, he asked about what inspired my question. I explained that the chancellor of higher education had visited the campus and when I walked him to his car I said "hello" to his driver. I then explained that the driver had offered a suggestion about parking and signage. I had thanked them and then sent the suggestion to the vice president. He did not comment on the quality or practicality of the suggestion: he wondered why I would listen to a chauffeur.
Others. Respect others. Listen to others, no matter what their station. Reflect on what they say. It may help solve a problem you never thought about.