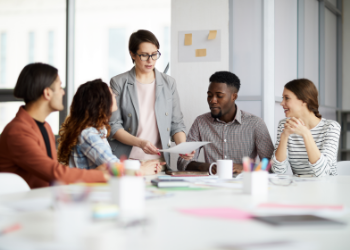 SeventyFour/Shutterstock
Do you want to manage people in higher education, but you don't have experience supervising anyone beyond a student worker? If so, pursuing that first job with direct reports, whether it's a dean, director, or other middle-level administrator, can be a difficult transition to make in academia. But with the right intention and preparation, convincing a hiring committee that you're ready to "climb the ladder" doesn't have to be a struggle.
The problem with managerial transitions in higher education has to do with exposure and lack of formal training, according to two managers who recently completed doctoral dissertations about these types of transitions. Derrick Lindstrom, dean of the School of Liberal Arts and Cultures at Minneapolis College, studied community college faculty becoming deansand Sherri Watson, director of success coaching and the Center for Major Exploration at Old Dominion University, analyzed student affairs professionals becoming managers.
"For most faculty, their career goal is to become a tenured faculty and teach in this discipline that they love and enjoy, so exposure is a real obstacle in even getting faculty to think about other work within the university or college setting," Lindstrom said. . "There's never a thought about being plucked out as a leader, or asking themselves, 'What's the next step?,' and what that entails."
For those emerging from subordinate staff positions, the obstacles include lack of training, especially when it comes to relating to others.
"Higher education is one of the few industries that doesn't have comprehensive management development programs," said Watson, comparing academia to large corporations that are more intentional about promoting from within. "It also can be very political and navigating that can be a huge barrier for those who want to move up."
Asking 'Why?' Before 'How?'
There are, however, some inherent benefits in higher education to help overcome these obstacles, but you must first approach these hurdles with a good "why?" and not just a "how?"
First, ask yourself why is leadership right for you? The academy is hierarchical with faculty promotions and tenure and staff fitted into organizational silos. But just because there's a step above doesn't mean you should take it.
In Lindstrom's research, the faculty-turned-deans he interviewed had varying reasons, including those who realized they had a valuable skillset, those wanting to impact people on a grander scale, or those recognizing that the faculty voice is not being heard in the administrative ranks. Lindstrom also said faculty have to do the math, relative to working days, salary, and other incentives, to determine if the step is even worth it.
For staff, there's often a false assumption that high performers should be elevated into management roles. To borrow the maker/manager dichotomy coined by Tech investor Paul Graham, "makers" often don't continue to perform their craft when they become managers — and if they do, they're overextending their schedules or their subordinates' patience with their meddling. Makers don't always "make" great managers either.
The managerial transition involves another dimension of how vs. why, where as a manager you are not primarily needed to tell subordinates how to do their work but instead why it's important.
"I like to call (middle managers) the movers and the shakers," Watson said. "We're serving two groups of people: senior leaders, and understanding their vision for the university or for the department, and then translating that for our employees so they understand what's happening while also motivating them, because we need them to be able to carry out the vision. Sometimes it's hard because those two groups have competing interests."
Prioritizing "why" over "how" in both instances is a good place to start. As Lindstrom said about prospective deans, "If you're curious about it, you're on the path already."
Filling the Gap
Next, focus on how to become a manager. If you're discouraged by your lack of managerial experience, know that you're not alone: ​​many candidates for mid-level manager jobs have this same gap. Additionally, the higher education work environment provides opportunities to fill that gap by sharpening skills and taking on related roles.
According to Lindstrom, roles such as department chair, faculty senate, or curriculum committee member can provide leadership experiences, although rarely with opportunities to evaluate colleagues.
"Even working on a committee, you've got to work to build consensus and work with people who can be difficult, but you can highlight that (as a candidate) in terms of how you can see yourself demonstrating managerial experience," Lindstrom said. . "Teaching is also interpersonal business. You're managing learners and you're managing learning outcomes."
"There are other skills that you can highlight that show how you can be a manager, even if you haven't directly supervised people," Watson said. "What are some other ways you've built quality relationships across campus? Especially in the academy, because it's such a complex organization, being a manager is all about partnerships. Talk about these experiences and show (a hiring committee) how you would navigate difficult situations within or outside your department."
Finding Solutions
In his 2016 The Chronicle of Higher Education article, "So You Want to Be a Dean?" Dan Butin identified three characteristics central to the role of academic dean: strategic thinking, risk management, and compromise. People in higher education are trained thinkers but managing risk and compromising takes more practice. You have to make decisions without all the information or without a balanced ledger of benefits for all parties.
"Even in the classroom, you have to make decisions based on a limited amount of information and make the best judgment for the whole class," Lindstrom said. "Oftentimes, a dean's job is to take a problem with as much or as little evidence as you have at the time and try to make the best decision."
"A lot of it is on-the-job training," Watson said. "It's trial and error and sometimes you miss but you have to correct yourself."
Saying "I'm ready to learn from mistakes" won't help you in a job interview, but you can learn from other people's mistakes and build those lessons into your narrative about how you would manage.
"Talk to someone who's in that role and have a candid conversation with them," Watson said. "To be an effective manager, you need to have political savviness. (Workplace politics) doesn't always have to be seen as negative; it's knowing which relationships you need to cultivate and at what time to cultivate them."
Sharing Your Vision
Problem-solving and compromise as a manager don't mean you will become a glorified switchboard operator for your team. You need a vision for what success looks like for your department and institution — and explain that vision to a hiring committee.
"Academe is about ideas, and a dean is the representative of a vision," Butin wrote. "Deans should never see their jobs merely as making a system run smoothly, as if the institution were producing widgets. (…) Academe is about knowledge production and dissemination, and deans are supposed to have a vision for what that means and how it looks. in their fields."
Watson called middle managers "unheralded heroes" in the title of her dissertation.
"(We are) because when these big initiatives come out of higher education, a lot of times it was the people in the middle that really made it happen," Watson said. "We're connecting the dots for the university and the administration."
You might not have the experience of actually drawing the lines, but you can tell your hero's story to a hiring committee with the dots you already plotted. All it takes is them offering you the job for the dots to connect.