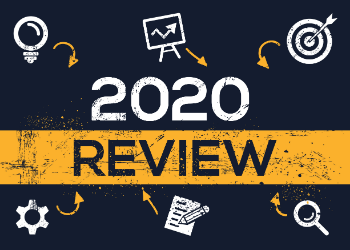 khaleddesigner/Shutterstock
While we might want to leave 2020 behind and never look back, this past year will certainly go down in higher education history.
The year 2020 challenged higher education in many ways. As job seekers, many found themselves asking What happened in 2020?, subsequently revamping their interview skillsets and learning how to be effective in virtual interviews. Institutions worked through contingency plan after contingency plan and considered How Campus Leaders Can Fight Pandemic Fatigue. Students and faculty were asked to adjust to virtual learning, and 'old dogs' had to learn new tricks.
Over the year, you may have struggled with Overcoming Burnout and Compassion Fatigue in Higher Education or How to Impress Remotely. Maybe you even contemplated Leaving One Academic Position for Another. The past year may also have helped you revisit your true goals and dreams and you contemplated the 4 Reasons to Turn Down the Job Offer. You may have also learned How to Help a Friend Who Has Experienced a Job Loss.
Oh, and there was a presidential election that inspired us to reexamine How to Have an Argument About Politics at Work or to Avoid One.
If you were looking for a new job in 2020, you learned How to Use Cue Cards for Your Remote Interview and mulled over the Five More Words Candidates Should Avoid Using.
The year 2020 also helped higher education address racial, social, and systemic injustices. Higher education revisited Anti-Racist Hiring Practices and Serving Native American Students on Campus and ruminated over The What of It All: Understanding Words and Meanings in Fighting the Nation's Pandemic of Racism.
As The Class of COVID-19 moves on and the next year of graduates forges into the new year, let us work towards Successfully Supporting Diverse Students at Community Collegessupporting those who are Called to Serveand Engaging the Larger Campus Community in Military-Connected Events on Campus.
Let us move away from "Mean Girls" in Higher Education and embrace The Gift of Goodbye.