by Ned Khatrichettri, MA and Alexis Tai, MS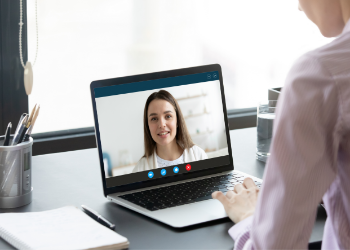 fizkes/Shutterstock
""Unprecedented" and "uncertain" are two prominent and recurring terms that students and career service professionals have been using to describe the era of COVID-19. The global pandemic has forced employers to make significant adjustments as they facilitate interviews and onboard new hires. virtually in adherence to social distancing safety protocols. COVID-19's impact on the US economy is distressing, but in light of the numerous and rapid changes, aspiring professionals still have agency, and it is critical that each of us focuses on our area of ​​influence during these challenging and uncertain times.
The competition for entry-level roles was fierce prior to the pandemic; however, Entry-level jobs have decreased sixty-eight percent Since June 2020, and it is fair to infer that competition now is even greater due to the current high unemployment rate.
As career service professionals, the authors have noticed students rely on expressions of enthusiasm — "I'm excited about this opportunity," "I am committed to and passionate about this kind of work," "I'm really interested in your company." " — during mock interviews. Enthusiasm is always appreciated, but empowering students to reframe their approach is even more imperative for soon-to-be professionals swimming in today's larger and stronger applicant pool. There is too much at stake, too many qualified individuals, and too little time to waste; Employers need to know what students, as potential employees, can do for them. We hope the suggestions below are helpful in developing a guiding framework that can assist new, or seasoned, career service professionals to empower students to clearly articulate their value to employers. Students must:
Research – In preparation for an interview, read through all the information on the potential employer's website (mission statement, annual reports, diversity and inclusion statement, blogs, etc.), find material that has been written about the employer in other publications, and be familiar with their social media accounts. The following questions can help students parse through the information they uncover:

What are the major themes or characteristics?
Who is the audience?
What is the area of ​​focus?
How do their competitors vary?
This approach requires both discipline and engaged reading. Shortcuts are nonexistent, and when individuals are competing against a hundred or more applicants, it is critical to focus on the details and leverage the acquired insights during the interview to distinguish themselves from everyone else.
Identify common denominators – If students know who will be interviewing them, suggest researching the interviewer on LinkedIn. This demonstrates due diligence on their part and can create opportunities to forge stronger bonds with the interviewers; after all, students are investing time learning about the interviewer's professional trajectory.

What does their tag line and summary tell the student about their strengths and motivators?
Do students have similar educational backgrounds, interest groups, or mutual connections with any of the interviewers?
How can students leverage this information in the interview?
Communicate individual value – Ask students to consider their strengths, transferable knowledge, and skills they bring from their current or previous roles. What is their approach to problem-solving or engaging with people from backgrounds and identities unlike their own? What is their experience with project management? It is important to have several (at least 3-5) concrete and concise examples prepared for behavioral questions, because they provide interviewers a clear indication of an applicant's capacity to perform. One significant and often overlooked area for most aspiring professionals is discussing their accomplishments from school (academic or social) and how they translate to the intended role.

Have students studied or written about this employer or one of their competitors? If so, this is a great chance to highlight their knowledge about them and the industry.
Any leadership roles in sports teams, clubs, civic organizations, etc. are always worth bringing up. Such roles prove that students have the necessary political acumen to effectively deal with people and resolve issues in a way that satisfies multiple parties.
Even collaborative groups or research projects can be discussed in interviews, if applicable. After all, students had to deal with numerous personalities to arrive at a common solution. What was their approach and outcome, and how does the experience connect to the potential position?
Follow up – Encourage students to send a 'thank you' email within twenty-four to forty-eight hours of completing their interview. If they have not received a response about their status after two weeks, encourage them to send a friendly, but brief follow-up inquiry.

Follow through when a role does not work out by requesting an event debrief. This approach can afford students with an invaluable learning opportunity to understand what happened and how they can improve for future interviews.
Furthermore, interviews are inherently a form of networking and it is important to keep in touch with individuals that accommodate these kinds of engagements. If the employer has another vacant role in the future, they may reach out and encourage the student to apply.
These suggestions are gleaned from our participation in more than fifty interviews over the past six years, plus countless other interviews seen through the eyes of search committees, as well as through facilitating mock interviews for students. The aforementioned suggestions are from our lived experiences navigating the job search process prior to COVID-19. Even then, getting professionally situated was an unpredictable, turbulent, and exhausting process. We, however, focused on preparation and building connections with our interviewers.
Whether our interviews took place over the phone or virtually in real-time, dialogue filled with humor and spontaneity was attainable and each person's idiosyncrasies were also visible, especially if it was conducted in-person. With the strong momentum behind pre-recorded interviews, however, applicants are frequently asked to answer questions also pre-recorded by interviewers, asked either by an automated voice or written out. The question that warrants consideration for career service professionals in these challenging COVID circumstances is, how do students engage the interviewers and the content of the questions in such a context?
Our answer is to inform students that they still need to be authentic. They need to understand that interviews can be viewed as nuanced theatrical performances, and they need to grasp the unspoken, assumed understandings surrounding attire, formal etiquette, and protocol. The onus is on the student to manage human dynamics while exuding confidence and limiting arrogance.
Whether it is in front of trusted friends, a mirror, a career coach at school, or even in a self-recorded video, Rehearsing common interview questions can provide students with confidence and stronger self-awareness, in turn ensuring a higher likelihood of professional success. A simple mantra may help: practice, practice, and when you are sick of it, practice again!
So even when interviews are conducted online in a pre-recorded format, the basics have not changed. If students follow the guidelines suggested above, their performance in this highly competitive market may improve substantially.