by Charles R. Middleton, Ph.D.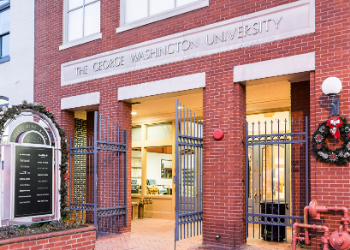 Kristi Blokhin/Shutterstock
This time of year, as the fall term draws to a close and the holidays approach, was always one of my favorite periods in the rhythm of academic life. So much to look forward to in every institution in which I worked, public and private, flagship campus to regional comprehensive university. Even the prospect of grading all those term papers and final exams in a limited period of time never dampened the broader joys of the moment.
These days what was then the normal experience, year in and year out defined by three largely independent but interactive celebratory occasions, seems remote and certainly not replicable. They will return but it may be useful to define them a bit to preserve our memory of happier days.
The first of the celebratory drivers is that December is the month in which many faiths acknowledge and give thanks for important moments in their history. These take place side by side in mutually complementary ways on campus and in the surrounding community.
Second, December commencement exercises have become, over the years, a central feature of academic life. When I started, the norm was a May/June commencement supplemented in most colleges and universities with a smaller end of summer ceremony, the latter for students who might have been a course or two short of completing their degrees in the normative eight terms. There were more of them than I had imagined when I was a student.
By the 1970s, however, increasing numbers of students needed nine full terms and preferred to finish mid-year. The tradition of asking them to wait until the following May/June meant, in practice, that few had an opportunity to experience the joys of having their family and friends see them receive their degree. This was not good for alumni development, among other negative aspects. So, December beginnings began and they are a happy feature of the holiday season.
Third, much as I loved these traditions and avidly participated in them, for me the best holiday experiences were to be found in the myriad of formal and informal celebrations held over the whole campus, from academic offices to support units. The creativity of these occasions always truly amazed me.
You may be wondering how all of this is related to leadership. It was the principal time when one could lead by shedding titles and joining in the celebrations democratically. This enabled me to establish different kinds of relationships with colleagues in all walks of life. An example will show what I mean. While serving as an associate dean, I baked six dozen oatmeal raisin cookies for our open house. This surprised the staff, especially since the cookies were a great hit and I had to provide many folks with the recipe. I exchanged cookies and other recipes with folks and chef Middleton was born in the public eye!
It's also a time when socializing with students actually becomes possible, even for a president. One year, the student government intended to raise money for a local homeless shelter's holiday dinner later in the month. One of their ideas was to sell strips of tape that could be used to strap me in a chair attached to the wall in the main dining facility. Would I do it? Of course! I sat perfectly still for two hours as layer upon layer of tape was applied to me from head to toe so that only my eyes and nose remained uncovered. It was a hoot and they raised over $500 on a goal of $250 – at 25 cents a strip, although some students bought a whole roll of tape for $20 a pop. It was great fun.
Other traditions around this time of year include pot lucks hosted by the chief financial officer for all the employees in her division. My presence and participation in karaoke (which I never did elsewhere) and bean bag tosses, among other games, were annual important events in the lives of those employees without whose dedication the institution simply could not function. I wanted to make it clear to them that I appreciated their hard and intelligent work on behalf of the faculty and students. This was one way to say so in-person to each of them and to be just another inept guy singing and playing games alongside many others; except that many of them were really good at it.
Perhaps most enjoyable were the big formal occasions sponsored by the president's office in all institutions. These might be buffet lunches or, if the weather permits, barbecues held outdoors on a Friday afternoon. Or they might be an open house in the president's office where I personally scooped ice cream once for two hours or so. That brought people in whom I rarely saw, up close at least, and gave me a chance to wish each of them personally a happy holiday season and to thank them for their service.
My favorite, however, was the annual dinner/dance that one institution then sponsored for all employees. The dancing was the best part as we could all just get out there on the floor and enjoy ourselves. I danced with employees, their spouses, and even my own life partner without regard to anything other than having a good time.
Effective leadership, in my view and experience, is enhanced by leaders being both seen and experienced as another person not just one with authority. To me, December was one of the moments (there are others periodically throughout the year) when the democratic spirit could be expressed. These moments were remembered when tough issues were afoot and helped provide ways of dealing with them that might otherwise not have been available.
It's sad that this December we are generally unable to maintain these holiday traditions. But it is beginning to look like this will be a unique experience and that in 2021 these traditions can and will be resumed. Let us hope so.
In the meantime, what are you doing as a leader to recreate these festive and entertaining events this holiday season in a creative and safe way?