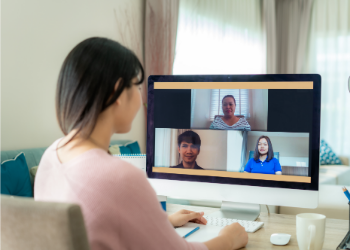 Travelpixs/Shutterstock
Asking good questions is important for candidates whether the job interview occurs in a pandemic or more stable times. But there are a few types of questions that are especially incisive when there's more uncertainty and when many employees are working remotely.
Not included on this list below of pandemic-related job interview questions are those that explicitly serve the candidate's needs and get into workplace policies and procedures. Yes, you should ask about working from home if, say, you have to provide childcare on certain days, or if you want to know what the institution will do to reduce your exposure to COVID-19. These are reasonable requests during a public health crisis and should be asked if you're a finalist or if you are considering an offer.
However, you should lead with questions that will inform you about the stability of the institution and its work environment, as well as inquiries that will strengthen the hiring committee's belief that you are a good fit. Because, let's face it, during this pandemic there are no sure things and people are either desperate or overcautious to have their career and personnel decisions remedy their "uncertain times."
Here are four questions to ask in your next job interview:
What is your institution's/department's top priority right now?
Don't let hiring committees skate by with platitudes about mission statements or "student success" when asking about priorities. Really get to the challenges or opportunities by emphasizing right now when asking this question. Be specific and follow up by seeking intended outcomes.
Just because a university is hiring doesn't mean it's not in financial peril, so if you get answers about hitting their enrollment numbers or securing grants and donations, you'll get an idea what will drive your efforts, at least until the end of the pandemic.
If you've done your research and you have a hunch what the answer will be, asking this question will tee you up to add evidence about how you, the perfect candidate, will solve the problem and address their top priority.
How has the workplace culture evolved with people working remotely?
Again, you don't want the interviewer deferring to abstract things like values ​​or the institution's ideal culture. Asking about culture during a specific time like the pandemic, and how it changed, will inform you about how adaptable the institution is and if its leaders are even paying attention to the process, or if it's only about the results.
Be intentional on how you phrase this question. Notice the question is not "How do you support your remote workers?" or "What have you done to maintain workplace culture during the pandemic?" The workplace culture should be the subject. The interviewers might explain what the institution has done, with specific examples, or they might talk about what the employees have done to take it upon themselves to shape the culture.
Follow-up questions by the candidate should focus on process and how often, and by which methods, managers communicate with their teams. This question is a good place to start to see if you will be supported or if you'll just be given an email and Zoom account and told to get work done.
What have you learned about your institution/department during the pandemic?
Work environments since the onset of the pandemic have been compared to a "triage," which minimizes work in hospitals where that might literally be the case. This question will help you understand to what degree employers are willing to think deeply about thriving or simply surviving the circumstances everyone is facing.
This is also another opportunity to set yourself up to share what you can do, especially if you omitted something about yourself that you didn't have a chance to share earlier in the interview. For example, if the interviewer responds to this question with an enormous challenge that presented itself during the pandemic, then quickly add what you can do to help. If the interviewer answers with a good thing, such as how well the faculty worked together to make the switch to online classes, then use that as an opportunity to share your success doing likewise at your current or previous institution. This will help convince the hiring committee that you'll fit right in.
Any question that shows your long-term interest.
Even in good times, a chief concern of hiring managers is offering a job to someone who is going to stick around. This is amplified when candidates are more desperate and think they lack options when fewer institutions are hiring. Hiring managers are even more suspicious of loyalty in higher education where the profile of an institution correlates with its employees, offering them a bump in reputation and career currency simply because of their letterhead. If you have a Ph.D. from an elite institution, and you're interviewing at anything less than an Ivy League or R1 institution, you better make a case that you're not going to jump at the next offer just because you need a foothold during the pandemic.
Ask why employees stay there so long. Ask about plans for the next 5-10 years. Ask about opportunities for you to develop within the institution, and not what kind of exposure you can get outside of it. Ask about developing a curriculum, a capital campaign, or anything else that takes years to complete. Most importantly, ask about relationships and how collaboration is rewarded.
The right mix of questions that address right now, what's changed, and what's next, will go a long way during a job interview and have a lasting effect — perhaps even getting you a job that will last longer than this pandemic or the next one. .