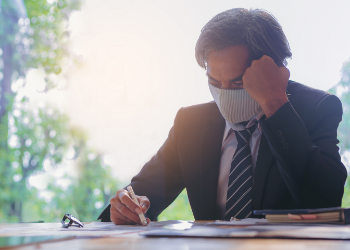 Panumas Yanuthai/Shutterstock
Everyone knows, by now, that the COVID-19 pandemic is a marathon, not a sprint. Back in the spring, however, many of us were only prepared for a sprint. The adrenaline that came with the threat of a global health crisis and the sudden dramatic changes to our daily lives was flowing and most of us eagerly followed health guidelines and created a new, safe, and isolated life for ourselves and our families. All of this in the hope that our diligence and sacrifices would lead to an end of the pandemic in the near future. Now that we're in the throes of the third wave of the pandemic and an increasing number of educational institutions are going back to remote learning because of high community spread, it seems safe to say that people have run out of steam. We sprinted and never got to the finish line that we so desperately wanted to reach. To guide our institutions, and most importantly, our students, staff, and faculty as safely and responsibly as we can to the end of the pandemic, a marathon mentality needs to take hold.
So how can campus leaders help their community keep going and not let their guard down? Or put differently, how can leaders keep their followers following when everyone's endurance is being tested?
Lead by example. It's important that campus leadership sets the tone from the top as to how to maneuver through this crisis professionally and personally. It goes without saying that college and university leaders, and their teams, need to adhere to the safety standards and rules they set. They have to model the calm, vigilant, and hopeful behavior they expect from members of their community. This means following mask-wearing and social distancing guidelines — as Aristotle famously said, "He who cannot be a good follower cannot be a good leader" — but it also requires approaching responsibilities and interactions with a "we got this" attitude to discouragement disheartenment.
Focus on silver linings and resilience. Keep spirits high by focusing on the opportunities for positive change that emerge during crises — both for the institution and its people. It is not only necessary but also invigorating to think about all that is possible in a world that has shifted our priorities and changed how we live and work. When so much has become impossible and seems out of control, we have to remind ourselves that we are still in charge of shaping our future. One of the clear silver linings of the current crisis is resilience. Leaders should help their students, staff, and faculty understand how resilient they are — based on experiences of overcoming adversity earlier in their lives and during the pandemic — and thereby tap into their sense of agency. Resilient people don't dwell on misfortunes and disappointments; they move forward and can see that the sacrifices we make now are intertwined with a brighter future.
Let followers lead. During an all-hands-on-deck crisis, we want followers to do a lot more than follow. Whether this means going the extra mile to get the school's online learning technology up to speed, developing new cleaning and sanitation protocols, re-envisioning fundraisers, and other major university events, that were previously held in-person as engaging virtual happenings, or holding dormmates accountable whose behavior increases the risk of spreading the virus, we need all members of the community — no matter their status and position in the institution — to take ownership and go beyond what is expected of them during non-pandemic times. other words, campus leadership needs to help followers see themselves and act as leaders. When we are faced with a situation that calls for what Ronald Heifetz and Marty Linsky coined "adaptive leadership" — and the pandemic is an adaptive challenge if ever there was one — the leader can't provide all of the solutions. The current complexity and uncertainty call for collective problem-solving with input and effort from all corners of the institution. Realizing that one's voice and actions matter has an energizing and motivating effect, and by encouraging students, staff, and faculty to lead, they become better followers.
Count on community. A newfound appreciation of community is another silver lining born out of the pandemic. In our personal lives, we saw our communities shrink but also become stronger, more intimate and meaningful. The communities we are a part of can be a tremendous source of strength and inspiration, and one could argue that this is especially true for college and university communities. The task for campus leadership is to enable genuine human exchange whenever and however possible, which includes sharing personal and honest messages from the top. Not only are we building a stronger community when we bond over our shared experiences, find ways to connect on a deeper level, and learn from each other (never underestimate the wisdom within your community), but we are also strengthening community members' sense of responsibility towards each other.
Be transparent and communicate often. Thoughtful and frequent communication, that balances reality with hope, is everything during times like these. All of the previously mentioned strategies depend on leaders who know how to connect with their community and instill trust. By being straightforward and open — which includes sharing both good and bad news — while offering future-oriented messages of hope, leaders give their campus communities something they can rely on and rally around.
Given the demands and constraints of the past eight months, it is understandable if people are experiencing signs of pandemic fatigue, and leaders are, of course, no exception. However, giving in to those feelings of being exhausted and "over it" is not an option for campus leadership. It really can't be an option for anyone. The possible consequences are too detrimental to oneself and others. The mission of campus leaders during this excruciating marathon is to pace themselves and help their "followers" make it all the way.