by Robert A. Scott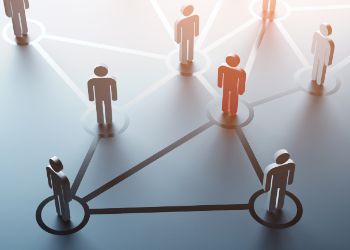 Peshkova/Shutterstock
Are boards of trustees ready for the spring semester?
The requirements for campus shutdowns, social distancing, and mask-wearing have made normal means of campus communications complicated and difficult. Campus leaders cannot easily meet in person with trustees; faculty, staff, and students; alumni, donors, and fundraising prospects; campus neighbors and local officials; and finance, audit, legal, and insurance relationships. Yet, they must communicate in order to describe the local as well as the national context for higher education, discuss what steps are being taken to manage during the crisis, and ask how colleagues and partners are keeping themselves and family members safe and healthy.
Boards of Trustees
It is particularly important to keep trustee boards informed as they are charged with fiduciary responsibility and bear the public trust for the institution. In order to work as a team in governing, individual trustees must have the confidence of fellow members, something that benefits from personal interactions that are difficult when the common method of meeting is by Zoom or a similar technology. Board discussions of plans, strategies, and progress require active participation as well as preparation, not so easy when face-to-face meetings are not possible.
Deliberations about fiscal responses such as possible layoffs of long-term and loyal employees, pay cuts, 403b policies, furloughs, changes in investment policies and spending, and program and service cancellations require deep knowledge and attention to shared governance. It is important to know what peer, neighboring, and aspirational institutions are doing in order to learn from others and avoid unfortunate comparisons. In addition, the board must be cautious in setting tuition and fee rates as well as the financial aid schedule using tuition discounting. The goals are to maximize net revenue even as campus leaders are mindful of students' financial constraints.
Also, the board must be cognizant of the culture. The temptation to reward the president for excellent performance can undermine the leadership so admired. Reductions in compensation should be allocated equally or distributed in a manner that favors those who are lower paid, even when the responsibility for results is not.
Similarly, the board must decide whether some instructional programs and research projects requiring labs, such as nursing and the sciences, that are not so easily taught or studied remotely, can be on campus and in-person, whether residence halls can be open at all , and whether the athletics schedule must be changed. Animal labs are a special challenge. Decisions about these issues can have a major effect on student retention and faculty development.
In addition, boards should interact with faculty and students as well as with the president and senior staff. This was easier to accomplish when committee meetings were in-person and lunch or dinner gatherings could bring the participants together in informal settings.
Finally, the board should ask for a thorough debriefing of what went well and not so well during the spring, summer, and fall terms. The next semester is coming up and plans should benefit from recent experience on campus and in higher education more generally. The board's role, after all, as stated by the late David Riesman, is to save the university of the future from the actions of the current day.
The President
If ever the campus president is called upon to be the "Chief Purpose Officer," it is during a crisis. He or she is the leader who keeps the focus on the institutional mission and reason for being. The president is the chief communicator and communications are never so important; He or she is the curator of culture, and culture is the foundation for communications and trust. Student, faculty, and staff health and safety are urgent concerns if trust is to be maintained.
Disaster preparedness and crisis communications plans require an organizational chart to indicate who is responsible for which aspects of the plans and response. There should be a single spokesperson designated for answering inquiries even as the president is the chief communicator with internal and external constituents. Campus leaders must avoid unclear and isolated command structures, multiple and conflicting commands, and uncooperative offices. Confusion not only limits the ability to deal with the crisis but also leaves the team vulnerable to other threats, such as the undermining of cybersecurity. The president's job requires clarity, coherence, and competence.
Faculty
Starting in March 2020, most faculty members had to pivot to remote teaching and advising. The requirement for these responsibilities left less time for participating in shared governance at a time when it was under stress. The stress, of course, was due to the need for prompt actions to ensure health and safety, continuity of instruction and research, and fiscal controls. The role of leaders is to acknowledge these difficulties and do what they can to help overcome them.
In order for faculty members to fulfill their obligations under shared governance, they need to be able to review current circumstances and discuss proposed alternatives. For example, most may know little about debt covenants, yet these instruments are important considerations in decision-making. Keeping the faculty in the dark just magnifies mistrust in the moment and for the longer term.
Faculty also are concerned about compensation policies, hiring, promotion and tenure, post-tenure reviews, and sabbatical procedures during an institutional crisis. It makes sense to keep them informed and involved if they are to be cooperative in planning and decision making.
Students
Students and their families need to be kept informed about their financial obligations as well as campus health and safety measures. One of the reasons for lawsuits seeking tuition refunds this past spring was that colleges did not adequately explain the costs associated with remote teaching and learning and added health services. Many in the public believe that distance education is less expensive because they read about MOOCs and similar approaches. But these ventures assume tens of thousands of students, not turning classes of twenty or thirty into online courses taught by faculty requiring expert help with the technology.
In addition, students deserve active communications about grading, advising, career counseling, club and organization activities, and commencement ceremonies using remote techniques. They do not want to give up the total campus experience that attracted them in the first place.
Administration and Staff
During a crisis of any kind, it is essential to keep administrators and staff members well informed. They are on the front lines when it comes to questions from parents, prospective students, alumni, and neighbors. They are the people who help run the day-to-day operations of a campus at the front desk and in the financial aid office; they keep the buildings safe and the grounds in good shape. Their actions help underscore the commitment to excellence throughout, not just in the classroom. They, too, need to know how and whether the crisis will change the institution's approach to performance evaluations, promotion, and compensation.
Administrators are most likely to be the persons in regular contact with accrediting and state agencies as well as with high school and community college admissions counselors. These too are constituents who should be advised about conditions and how they are being managed. They also need to be informed about any changes in financial aid approaches and admission requirements such as standardized tests.
During normal times, the campus leader can talk with these staff colleagues by walking the hallways and paths. During COVID, this is not easy to do. Therefore, new methods of communicating with administrative and staff members are required.
Alumni, Donors, and Fundraising Prospects
These constituents are also suffering in lockdown. They are relieved when shown concern for them as individuals, in addition to any interest in them as advocates and gift-givers. They are the ones to approach with the 4 I's: "Interest" them, "Inform" them, "Involve" them, and gain their trust to "Invest" time and treasure. During times of institutional duress, they will want to know how leaders are handling the issues and will welcome a request for ideas, especially suggestions on how best to communicate with other alumni and friends.
If the institution is in the midst of a capital campaign, the general advice is to keep it going. Yes, Zoom and other methods will be used instead of face-to-face meetings, but fundraising and friend-raising cannot stop the virus. There will be a tomorrow.
Campus Neighbors and Local Officials
The news about campus virus outbreaks during COVID and the spread of infections to those nearby can exacerbate already tense town-gown relations. Therefore, it is imperative that campus leaders communicate clearly and often about safety protocols and how the campus is following public health rules. An investment of time in these communications can pay dividends in the post-pandemic period when the institution needs a zoning approval or relief from a PILOT (payment in lieu of taxes) charge. Good communications are not only tactical but also ethical and strategic.
Finance, Audit, Legal, Insurance, and Other Business Relationships
Campus leaders should be certain to keep banking, finance, audit, legal, and insurance relationships up-to-date on campus initiatives to maintain safety, to curtail expenses, and to generate net revenue. It is well-known that colleges and universities have lost tuition and fee revenue during the summer and fall, but not that the aforementioned debt service and operating expenses for residence halls, student centers, and recreational facilities continues. Therefore, the wise campus leader will be sure to communicate fully with these relations. In doing so, the leader can reinforce confidence that the campus is taking the situation seriously and doing all it can to preserve the quality of education, control expenses, and preserve future prospects.
Furthermore, just as with the federal CARES Act, the institution's audit firm can be helpful in interpreting federal and state tax and benefit policies.
Conclusion
It is a given that every campus should have crisis communications and disaster preparedness plans. Nevertheless, the next crisis or disaster may be different from any anticipated. Most campus leaders think of bomb threats, building takeovers, an active shooter incident, severe weather damage, and scandals, among other events causing instability. But rarely does anyone think in terms of a pandemic affecting the daily lives of a campus. In addition to scenario planning and learning from their own and others' experiences, campus leaders need to develop operational and communication plans for almost any kind of crisis, because surely another will come. Good planning and clear communications are essential for effective governance and leadership.