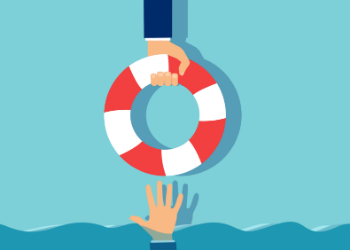 FGC/Shutterstock
It's a hard time in higher education. Like all businesses, universities and colleges are trying to continue their work under difficult conditions while retaining as much of their talented staff as possible.
In a September letter to lawmakers, the American Council on Education requested additional resources: "As our country's colleges and universities enter the new academic year, it has become increasingly clear that earlier estimates of both the financial impact of the COVID-19 pandemic and the costs associated with resuming classes were far lower than what institutions and students are now experiencing. . . Regardless of an institution's status, costs have rapidly multiplied as colleges and universities adapt to the particular circumstances they're facing." No additional funding has yet been approved.
It is an emotionally complex time both for those who have lost their jobs and for those who continue to work in higher education. Many are looking to assist their friends and former coworkers who are searching for new roles.
How can you help in meaningful ways — beyond token offers of assistance? Consider these tips, for truly supporting the higher ed job seekers in your life.
Be a Good Listener and a "True Supporter"
Sometimes we just want to fix things for our friends. Coming up with a quick fix solves our problem of having a hurt friend, but it doesn't solve our friend's problem of having a head full of worry, fear, confusion, and self-doubt. These are complex feelings to sort through. Let your friend lean on you however she needs to. Listen, without trying to shut your friend down by sharing fixes that solve your "hurt friend" problem, but don't solve her "head full of chaos" problem.
Losing a job unleashes big feelings. There's no easy solution for those. Be with your friend in her pain, and remain a presence until she is ready to pick up the pieces and move forward. Give her space, but make sure to check in. When you do so, lead with open-ended questions. "How are you?" can be a more supportive question than "How is the search going?" It gives your friend room to field the question however she needs to; this way, she stands to feel cared for and not pressured.
In their bookCareer in Transition, 101 Lessons to Achieve Job Search Success," brand marketer and Rutgers professor Mark Beal Teams up with technology business executive and career expert Frank Kovacs. The authors emphasize the importance of supporters: "Align yourself with all of those individuals who show genuine support and will deliver value in the form of assistance. When it comes to your supporters, it will be a case of quality over quantity. Ten quality supporters will deliver greater value, counsel, and positive mojo to you than 100 acquaintances. Surround yourself each and every day with your true supporters." Be the kind of supporter that your friend needs now.
Lend Your Talent
Volunteer your talent to assist your friend. If you have experience reviewing resumes and cover letters, offer that support. If you've conducted interviews, offer to help your friend rehearse some questions. If you know what it takes to position great lighting, background, and tech for a seamless remote meetingoffer up those skills.
But when you share your talent, allow your friend to direct the use of those services. Part of your friend's challenge is that he is, at the same time, mourning a loss and aiming to initiate a new beginning. Allow him to dictate what he needs and when he needs it. Recognize that your friend is in a vulnerable place. Let him call the shots when it comes to moving forward.
Connect
Connect with your friend on LinkedIn, and endorse him for all the skills and strengths that you've observed. Also, consider writing a LinkedIn recommendation for him. Take your time and be thoughtful in your comments, recalling projects you've done together and focusing on professional skills.
Beal and Kovacs emphasize the importance of including language that highlights those positions that the person for whom you're writing the reference is pursuing. Keep that in mind as you write your comments. Use relevant job descriptions to guide your remarks if that helps, speaking only to those qualities to which you have honest, firsthand experience.
Writing a reference for your friend helps on two levels. It serves an important professional function, and it also helps your friend on a personal level. Even if his job loss is the result of a layoff that isn't rooted in performance, it's still painful. It's hard on the ego. Reading positive performance feedback helps build that confidence back. It reminds your friend that he comes highly recommended by someone who truly knows him and his work.
Networking Gets the Job Done
Think about who you know, and who your friend should meet. Networking is a vital conduit when it comes to employment decisions. "The world we live in is all driven by six degrees of separation. We are all connected. In your job search, it's all about maximizing, and leveraging those connections to deliver success," Beal and Kovacs assert.
Your friend's network is an important source for job leads; adding your network to hers maximizes that impact. "Applying to jobs today requires a one-two punch combination, but most applicants only rely on the initial jab by submitting their resume online, and never follow-up with the counter punch. It is the counterpunch of following-up your formal submission by reaching out to your network to learn who can make a call on your behalf to a decision-maker on the inside that will enable you to bypass the robots," Beal and Kovacs explain.
Be that call to a decision-maker for your friend. If you are not positioned to do so, share her resume with your network. You may know someone whom it would benefit her to know. Helping to make that connection is huge.
Be a Cheerleader
Everyone can say: this is not your fault. You didn't cause this. But it's hard to hear that when you've lost a job and you're searching for a new one. Remind your friend how awesome she is; champion her talent. The longer her search goes on, the more your friend will need you in her corner and in her fan club. Keep telling her the story of who she is, independent of this experience, which is currently dominating her narrative.
Karma Sees Kindness
Professional karma is real. Helping another professional deal with the difficulty of job loss is a wonderful act of service, and it has a way of coming back around. Beal and Kovacs assure: "Your investment in time and resources to help someone else will only help you somewhere down the road. That's why you never forget karma, especially positive karma." Your friend is lucky to have you.