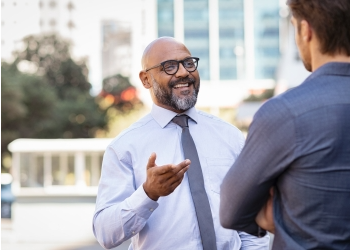 Rido/Shutterstock
Many have said the divide between faculty and administrators continues to grow. Instead of working towards shared goals, faculty and leaders often find themselves at loggerheads over resources, requirements, and even results of their institutions. If budget cuts and shared governance issues over the last few years weren't enough to expose this rift, COVID-19 and the difficult decisions leaders have had to make in response to the crisis have certainly created a canyon of differing views.
A variety of reasons could be given for this divide. New pressures for faculty to be more efficient and for administrators to be more accountable has strained the abilities of both sides. As institutions have become more complex, a new culture of corporate management has also taken root that makes it increasingly harder for the one hand to understand and communicate with the other. Whatever the reasons, trust is the ultimate victim.
While both sides have responsibility for this trust gap, how can senior leaders be proactive in closing it? In their book, "Bridging the Divide between Faculty and Administration," James Bess and Jay Dee call for leaders to create more "authentic discourse" as the cornerstone of improved communication and trust between the two sides. Consider these five examples of gap-closing efforts by campus leaders around the country to increase understanding and communication with faculty at their institutions.
Faculty spotlight program. One provost of a public doctoral university in the mid-Atlantic region found it strange that faculty members at his institution were known nationally and internationally for their craft but not well-known on their own campuses. He created a regular forum to showcase faculty members individually and give them an opportunity to speak about their scholarship, motivation, challenges, and life experiences. Similarly, another provost at a master's college in the Northeast saw that her faculty's research was not getting shared on their home campus. She created a colloquium series in which faculty members who have completed a major research project present their work followed by a discussion of how to apply the work to their local context.
"Faculty Fellows" program. Some institutions have found success creating part-time faculty exchange programs with administrative offices on campus. At the University of Kansas, for example, select faculty are paired with administrative offices like the center for teaching excellence, the graduate studies program, and the office of first-year experience to explore a pressing campus challenge and contribute possible solutions. Faculty receive a small stipend in exchange, but the true payoff comes with greater understanding of the challenges that administrators face and a closer working relationship between the two sides.
Faculty/board dinners. One persistent source of distrust on campus is the fact that administrators have direct access to the institution's board of directors or regents, while faculty are largely left in the dark on these interactions. One provost at a private baccalaureate college in the Northeast worked with her board chair to organize regular dinners between board members and rotating segments of the faculty to get to know each other throughout the year. This led into more formal retreats between faculty and board members centered on understanding what shared governance means and how to implement it on their campus. The provost saw that faculty and board members both came away with better understanding of each other and a greater commitment to work together for the common good.
"Lobby" hours. Attending open office hours with a senior leader on campus can be intimidating and inconvenient for faculty, so why not have leaders bring their office to where the faculty are? One leader who has served twice as provost and once as dean at private baccalaureate institutions in the Midwest shared her practice of scheduling roving coffees in buildings around campus. She made herself available to faculty, staff, and students on a regular basis and invited anyone to meet with her in a low-stress setting. This helped her keep a pulse on happenings on campus and increased her approachability among faculty.
Department interviews. Another provost found it challenging to meet with each faculty member one-on-one, so she scheduled a department-wide interview and created a questionnaire for each faculty member to complete ahead of time. It included three questions: "What are you most proud of at your institution for the last five years? What would you like to see the president and the vice president for academic affairs working on over the next five years? And, what do you see yourself doing to help us accomplish this work that we've identified?" She then analyzed all this data and arrived at six themes that she shared back with campus and integrated into the strategic plan. For her, this practice opened a channel of communication with each faculty member, but it also allowed her to see which faculty had the willingness to step forward to help the institution achieve its goals.
Each of these practices is aimed at raising awareness, building trust, and increasing understanding. But a leader need not always create a new initiative. Trust can be built in small consistent acts. One dean at a private master's college in the Northeast talked about her approach to building trust through being present and recognizing the work of her faculty. She visits the dining hall, sends lots of personal notes to faculty, and prioritizes showing up for campus events featuring faculty members. She said, "You just can't substitute all those little acts of letting people know that you know them and recognize their value." Each leader will have moments when they need to draw from this bank to make difficult decisions.
What programs, initiatives, or practices have you seen as helpful in closing the gap between faculty and administrators?