by Dr. Gina Ann Garcia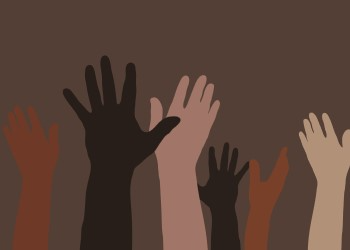 sonofpromise/Shutterstock
The racial justice movement in higher education has finally arrived — perhaps 400 years too late — as colleges and universities across the United States actively engage in conversations about race, anti-racism, and anti-Blackness. College presidents, chancellors, and provosts have released statements about their commitment to the Black Lives Matter movement, postsecondary institutions and educational advocacy groups across the country have hosted Zoom webinars to talk about the current state of race and anti-Blackness within educational institutions, white people have started book clubs to talk about how to be co-conspirators in the movement, non-Black people of color have emerged to stand in solidarity with Black folks, and educators have called for immediate changes to the curriculum to include more voices of color. , and specifically Black voices. As we enter the fall 2020 semester, amidst a global pandemic that is proving to affect communities of color disproportionately, the call for change in higher education must move to action.
But what does action look like? How do we undo 400 years of higher education where whiteness is normative? As an organizational theorist, I urge educators committed to the racial justice movement to roll up their sleeves and start dismantling the organization as a whole. We know institutions of higher education were not built for Black, Indigenous, and People of Color (BIPOC) (or any minoritized person), which leaves us with two options for creating racially just organizations: (1) start over from the ground up and center race throughout the process of building; or (2) dismantle current colleges and universities and disrupt the normative whiteness embedded within them. In this post I focus on option two, stressing that in order to become racially just organizations, we must disrupt the way we organize and educate within colleges and universities. Although I have laid out various dimensions of the institution that we should tend to as we seek equity, justice, and liberation for BIPOC (Garcia, 2018), in this post I focus on the mission as an important starting point.
The mission of a college or university should highlight its purpose, answer questions about the people it serves, define the focus of its work as an educational institution, and reflect the current needs and challenges of society. It is a philosophical guide that includes micro- and macro-level meaning and direction for the institution, and evolves over space and time (Austin & Jones, 2016). In specifically talking about the mission of Hispanic-Serving Institutions (HSIs), which are some of the most compositionally diverse colleges and universities in the United States, I suggest that the mission be grounded in anti-racist, anti-oppressive, and decolonizing ideologies. , while centering Latinxs and BIPOC students, who are enrolling in HSIs in large numbers (Garcia, 2018). Specifically, I call on institutions to move from simply stating that they are committed to diversity and inclusion, which is quite common in the mission statements of colleges and universities in the 21st century, and instead state that they are committed to justice and liberation for BIPOC. . A focus on justice in the mission should include the goal of dismantling the power structures that have been in place since the founding of the institution and that have historically oppressed BIPOC people. It should also include steps for redistributing resources within the institution so that they are equitable. Moreover, there must be a focus on not only centering BIPOC, but working towards their empowerment.
So what should the mission of colleges and universities be in 2020 and beyond? An organization that is committed to racial justice must include it in the mission statement. It is not enough to make a one-time statement that Black Lives Matter. If Black lives actually matter to the institution, then it should be embedded in the mission statement. Importantly, racial justice work cannot be race-neutral. In other words, the institution must name race in the mission in order to be fully committed to racial justice. Moreover, race should be included in all values ​​and strategic purpose claims about the organization because race-neutral statements often mask racial inequities. If the institution's mission is "to provide students from the region with high quality education in the arts and sciences," it should become, "to provide students from the region with high quality education in the arts and sciences with a focus on racial justice. " If the organization values ​​"diversity and inclusion," the focus must be shifted to, "we value racial diversity and seek equitable outcomes and experiences for those from racially diverse backgrounds." The specific focus on equity, justice, and liberation for racially minority groups is necessary.
As noted by Austin and Jones (2016), the mission should be more than a written statement; instead, it must guide the governance of the institution. Moreover, the mission must be used to assess the institution's overall pursuit of its academic and liberatory goals and purpose. As such, the mission is only a starting point to racial justice work within higher education, but a necessary first step.