by Dr. Cobretti D. Williams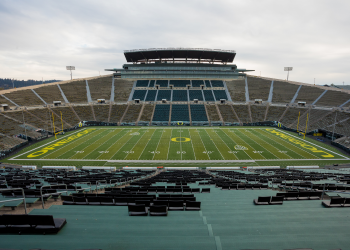 Joshua Rainey Photography/Shutterstock
Going into summer, although institutions were feeling cautious about fall reopening, there was some optimism when it came to college sports. The NCAA was front and center in these efforts and released a series of resources and guidelines to prepare college sports programs for the possibility of resuming play. However, that hope quickly changed over the last couple of months as multiple states experienced increases in COVID-19 cases. Adding fuel to the fire, both the Big Ten and PAC-12 athletic conferences decided to Cancel fall sports and postpone until spring 2021. Undoubtedly, these events will shape the future of college sports, especially college athletes. Given the varied state of fall resumption plans for higher education, it is worth revisiting how college athletes across the country are experiencing this situation.
Prior to the postponement, college football programs had begun workouts this summer to prepare for a return to fall play, part of which included expanded testing for athletes during summer workouts. Additionally, the NCAA made a number of exemptions for divisions and conferences to extend the eligibility period for college athletes, create flexibility for scheduling season games, and allow nonphysical virtual activities to operate. Unfortunately, the optimism of these measures has been met by the reality of the ongoing pandemic that has gripped the United States since March. Recently, schools such as Michigan State and Notre Dame reported players with COVID-19 and some programs have halted training to assess public health concerns. Health advisors and doctors of the NCAA emphasized alarming conditions for players that contract the virus and grim outlook for the fall 2020 sports seasons. This ultimately led to a meeting between the Power Five conferences – to discuss the vitality of a fall sports season – with or without fans. Shortly after, both the PAC-12 and Big Ten conferences decided to cancel the fall season and look to resume play in the spring.
Undoubtedly, this decision and previous decisions made by the NCAA create a host of implications for the recruitment, funding, and well-being of college athletes. Prior to the announcements by the Pac-12 and Big Ten conferences, college athletes expressed concern about what they felt was a lack of preparation on the part of the NCAA and conference leadership. As part of the #WeAreUnited movement, college athletes from the PAC-12 released a list of demands to ensure equal treatment of players in light of public health and social justice concerns in the United States. Specifically, the letter states, "#WeAreUnited in our commitment to secure fair treatment for college athletes. Due to COVID-19 and other serious concerns, we will opt-out of Pac-12 fall camp and game participation unless the following demands are guaranteed. in writing by our conference to protect and benefit both scholarship athletes and walk-ons." Part of these demands were the option to play, but as conferences mull over cancellation of the fall season, it is uncertain whether this will be possible for all athletes. Following the decision, Pac-12 athletes wrote another response that stated, "Nothing underscores the reason we chose to unite together and demand systemic change more than what we have endured in the attempted return to football."
In the midst of these concerns, members of Congress including Senator Cory Booker share similar concerns to college athletes and are looking to propose a Bill of Rights framework to ensure equity for students playing college sports. Additionally, the NCAA just implemented an emergency hotline for college athletes to report health concerns as well emergency legislation to provide minimum protections for college student-athletes that are impacted by COVID-19.
It is important to note that some schools and conferences have yet to decide on the fall sports season other sports must now consider their ability to play safely during the upcoming academic year. Colleges must now react to these series of events and much is still unknown about the state of funding and future eligibility for college athletes, and the fate of their athletic careers after college. Much like the course of this year, the ability to return to normal is unpredictable and unfortunately, college athletes must continue to advocate and wait for what comes next.