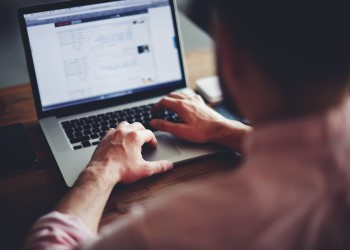 GaudiLab/Shutterstock
We don't always get a second chance. But this fall, if you are teaching at one of the increasing number of institutions around the United States opting back into online learning, you are eligible for a do-over. With pandemic online learning 2.0 fast approaching, how will you update your next version of online teaching?
The first round of online teaching for many faculty in spring 2020 could easily be chalked up as "emergency" instruction: hastily recorded lectures, thrown-together discussion boards, and tossed-out course standards and grades. All of this was to be expected given the circumstances. But this time around, the same buffers likely will not exist. Faculty have had time to revamp courses, participate in course redesign exercises, and get additional training. Moreover, students — who have largely viewed their online learning as sub-par — are demanding a more interactive and engaging experience this fall and even Suing to get it.
With just a few weeks to go until launch, here are a few small changes you can make to create a more interactive, engaging, and personal online learning experience:
Pass on the Passive
Passive learning barely works in the classroom and hardly works at home. Pre-recorded lectures, static content, and reading assignments are only part of the menu of online pedagogy available to instructors. Active learning can happen in both synchronous and asynchronous environments using tools like scenario-based learning, debates, role plays, group projects, and guest speakers. This is your chance to flip the classroom by asking students to watch your lectures off-line and use class time to engage with you or solve problems together. Better yet, ask your students to create their own lectures, videos, or podcasts to teach their classmates and then spend your time providing feedback and integrating the learning.
Connect Before You Collect
It may seem like less one-on-one contact is needed in a virtual space, but in fact more frequent touchpoints are required to keep students engaged in online learning. Increase your presence with students through chat rooms, SMS threads, and social media apps. If your institution offers them, text messaging platforms like Reminder or Slack can be employed at scale to increase dialogue within a class. Simple, low-cost interventions like text messages can have an outsized impact on academic outcomes compared to high-cost learning management systems.
Discussion Bored?
Text-based discussion boards on most LMS systems work for some students but can be a chore for many others. Try engaging more of the senses of your students by using VoiceThread or other LMS plug-ins that bring audio and video texture to their comments. Or, have your students drop the discussion boards altogether and blog or vlog their weekly responses to discussion questions, which might improve the level of thoughtfulness in responses. Assigning students to hold small-group synchronous discussions each week can also increase the depth of conversation when students aren't otherwise able to meet in person.
A 'Just Right' Amount of Structure and Support
Because of the rampant distraction in online learning, students can easily get off-track. Online-only institutions like Western Governors University have been able to thrive by providing clear structure and support systems for remote students. For example, WGU mentors follow a consistent communication protocol with all new students at various checkpoints in the curriculum while still allowing them to move through at their own pace. This "Goldilocks" level of structure and flexibility focuses student energy while preserving student agency. Your institution may not be able to follow this exact model, but perhaps there are ways you can create a system of checkpoints to assess progress in your course while giving students more choice in how they complete the work.
Call in Reinforcements
Keeping online students engaged and on track shouldn't fall only to teachers. How can the non-teaching personnel at your institution be mobilized to support online learners? Some institutions have found success tracking which students are not logged into and engaging in course content early in a semester and providing advising, counseling, and other support interventions. Most LMS platforms provide robust tracking data to help understand these trends.
Leverage Local Learning
Students will be completing their coursework in all different locations, including their home cities, states, or countries. While the campus won't be the same without them, there is a silver lining to this cloud. Teachers can adapt their courses to help students gain more real-world experiences and meet community needs in their local areas. For example, rather than handing out class surveys to peers or roommates, why not have students venture into their community to learn about local needs? Instead of visiting the campus career center, encourage students to interview successful local professionals. In lieu of on-campus jobs, advise students to pick up online "micro-internships" using platforms like Parker Dewey and Ripen that offer virtual work projects for national organizations. All these experiences will build students' social capital and may unlock a new life path or purpose, which is perhaps the most important outcome of higher education.
Whether you felt you did your best in your online teaching in the spring or there was something lacking, we all have a chance to make our teaching this fall a better version of itself. Let's make the sequel better than the original.