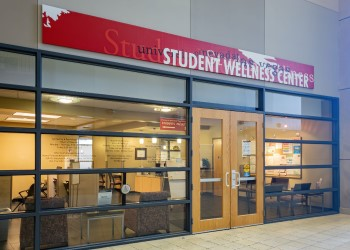 Kit Leong/Shutterstock
Student health centers will be in the crucible of higher education during the pandemic and beyond. As colleges prepare to open their campuses for the fall semester and adhere to new guidelines, what will these evolving needs related to student health mean for careers in higher education?
Like almost every industry, it's difficult to project what resources will be needed or even available in the coming months, especially as fiscal-year budgets, enrollment numbers and funding sources take shape during the summer months. Only about one-third of the 347 institutions recently surveyed by the American College Health Association had their student health services budget approved for 2020-21, but of those 105 schools only 18 percent increased their budget, despite far greater needs related to COVID-19.
"I would hope that we're going to see more job openings toward the end of the summer when colleges realize they're going to need people in place to provide services and that their current staffing may not be adequate," said Gerri Taylor. a member of the ACHA COVID-19 task force who is consulting student health center directors.
Taylor, a former associate dean and health center director at Bentley University, also regularly speaks with about 60 members of the College Health Association of Administrators and Nurse Directors in the Boston area. She said some schools are now beginning to hire nurse practitioners and testing services managers for the fall.
"(Institutions) need people to do testing and contact tracing and all of the things that we've been hearing about from public health experts," Taylor said. "If they're going to continue the services that they usually provide, such as seeing students with illnesses, injuries, and other conditions, they'll still have to do that and then everything needed if there's a COVID-19 outbreak. And there's also going to be COVID-related emotional issues for sure, with anxiety and depression, to go with the adjustments that you'd typically see for students who are coming to school for the first time. They're going to need either more staffing or to cut some of their services."
Among all schools surveyed by ACHA, institutions have already experienced unanticipated staff reductions this summer in medical services (29 percent), counseling and mental health services (20 percent) and health promotion services (18 percent). These are the results of furloughs and layoffs with no students on campus to serve, but schools are grappling with the decision to expand student health services staff only to see the potential return of remote classes and almost no residential students for them to serve.
ACHA has released guidelines for colleges and universities reopening during the pandemic, but according to Taylor, even before the pandemic there was no health staff-to-student ratio that was recognized as the standard. That's because no two student health centers are alike. Although almost all colleges offer students some form of health care service, they can range from first-aid centers to comprehensive health centers with specialty medical care and service models that include primary care, ambulatory care, urgent care, and emergency care.
When Taylor was at Bentley University her staff included three physicians and six nurses or nurse practitioners for 6,000 students, but other schools might have much fewer based on its service model.
Taylor said schools may have to resort to third-party resources, especially once there is a vaccine and student health centers could be relied on to immunize an entire campus.
So, what does this mean for professionals interested in working in higher education? Well, it depends on who you are.
Help from Health Care
If you already work in health care, colleges and universities will likely be seeking nurses and nurse practitioners with telemedicine experience, that is, caring for patients remotely, especially if campuses are going to practice social distancing or if all classes will be conducted online. This service was previously outsourced to providers who specialize in telemedicine but many primary care physicians and nurses gained this experience out of necessity during the pandemic.
"Telemedicine is going to continue to be here for a long time, if not forever," Taylor said. "That's going to be huge if you can get those after-hours experiences with a telemedicine company that offers that. You could easily transfer those skills to working at a student health center, or if you were doing night calls for primary care providers in the area, that will also be valuable."
New Roles in Higher Education
One area that will likely emerge from the pandemic are information technology professionals working in tandem with student health centers. Taylor said schools like Brown University have recently hired IT specialists just to handle the electronic medical records for health and counseling centers.
"This area has room for growth (for colleges and universities) in terms of dashboards and interfacing the testing results," Taylor said. "Those jobs are going to be in demand for someone who has experience in that area, especially for someone who specializes in the health area, to bring that expertise to a college."
Skills for Everyone
For the rest of us in higher education, contributing to student health needs will become a greater part of professional development. The same way student success has become an initiative for everyone from registrar staff to teaching faculty, institutions will want to know what their employees are doing to keep students healthy.
That doesn't mean everyone needs to become an epidemiologist or an expert in adolescent development, but employees will need a better understanding of the health resources available for students to make referrals. Proactively, you can collaborate across functional areas on campus to bring wellness-based outcomes to your department and for your students.
"People have to be really good at communication with other areas of campus and also be able to work well with families, because if a student is ill, you're going to be involved with the family as well," Taylor said.
Stephanie Hanenberg, senior executive director of health and wellness at the University of Colorado, Colorado Springs, recommends finding ways to incorporate wellness into current roles through policies, programming, events, advocacy, or any other means to help contribute to creating a culture of wellness. on campus.
"People should also look for opportunities to partner and collaborate with student health, counseling centers and wellness promotion to help them gain a better understanding of those areas," Hanenberg said. "Given the growing mental health demands being seen across our country, I encourage employees to consider participating in QPR training or mental health first aid training, staying abreast of current health issues and public health guidance related to their areas, as well as guidance that will have a major impact on their campus as a whole."