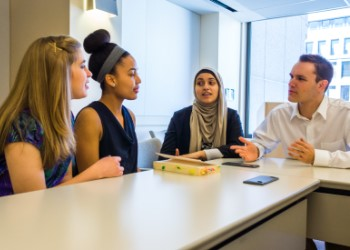 stock_photo_world/Shutterstock
The undergraduate students who graduated from the University of Chicago last month received an unusual welcome when they started their college journey four years ago. In A letter from the dean of students, they were notified that the university neither approved of trigger warnings and safe spaces nor of canceling controversial speakers. Reinforcing its commitment to freedom of expression, the letter made it crystal clear that students were expected to disagree and be uncomfortable during their time on campus.
Unsurprisingly, the dean's message received mixed reviews. It is safe to assume though that a good number of academic administrators around the country read the letter back in 2016 and wished they had the courage — and backing from their administration — to convey a similarly blunt and principled message on the issue of free speech on college campuses. In fact, several schools, including Princeton University, Michigan State University, Georgetown University, Kansas State University, Arizona State University, and George Mason University, adopted principles presented in a report by the University of Chicago that had been released the previous year in response. to incidents that had put higher education's commitment to open inquiry and civil discourse into question. The Chicago Statement's principles pushed for a more tolerant and challenging academic environment that fosters students' ability to express disagreement intellectually and constructively.
Despite these and other efforts to cultivate free and civil speech on campus, the trend to inhibit diversity of thought — by disinviting or drowning out certain speakers or creating an otherwise unwelcoming environment for thoughts and ideas that are considered sensitive or morally wrong — continues. to be a challenge for higher education and, by extension, our democracy. At the same time, the question about how we can promote equality on campus in a climate that protects freedom of speech remains. If speech takes place that is discriminatory or divisive, how can we make sure that we empower and include those in the discourse who feel marginalized and unwelcome?
As schools across the country are bracing themselves for a fall semester unlike any other because of restrictions and safety measures related to COVID-19, they also need to prepare themselves for an increasingly challenging climate for upholding principles of free speech and practicing civil discourse. To ensure that sensitive topics — such as ethical behavior, inequity, and experiences of loss in times of a pandemic, the Black Lives Matter movement and our country's history of systemic racism and white privilege, or the 2020 United States presidential election — are examined and discussed intellectually, respectfully, constructively, and without undermining inclusion, many colleges will need to further change their ways.
First and foremost, college leaders and faculty must model civil discourse. If they are not willing to have difficult conversations and encourage the exchange of diverse viewpoints with an open mind and empathy, it's unlikely that students will be comfortable to speak up and respect opinions that diverge from their own. We need to teach students to effectively listen and explore different perspectives. According to the recent Gallup-Knight 2020 First Amendment on Campus report, a vast majority of undergraduate students (81 percent) want to learn on a campus that exposes them to all kinds of speech, including speech they perceive as biased or offensive. However, almost the same number of students (78 percent) are deeply concerned about inclusivity and welcome safe spaces to protect groups from threatening behavior and speech.
At the beginning of an undergraduate course we teach at Tulane, we assign a text titled "The Dying Art of Disagreement" by the American conservative journalist Bret Stephens (who perhaps not coincidentally is a University of Chicago alumnus and has himself engendered many a controversy with his writing) to convey to our students our desire — or rather our responsibility — to create a space in which diversity of thought can flourish, in which students can safely voice opposing views, and in which arguments for or against something, not someone, should be based on facts and understanding. These are neat ideals and the reality is, of course, messier. On campuses across the country, classroom discussions on controversial issues frequently turn personal, political, and one-sided and risk losing their intellectual footing. Perhaps worse, those who feel they hold unpopular views are excluded because they never muster up the courage to contribute their thoughts or consider their participation pointless.
A number of institutions offer inspiration when it comes to strengthening the practice of civil discourse. Among them is the University of California, which famously became the birthplace of the student-led Free Speech Movement in the 1960s. A few years ago, UC launched the Washington, DC-based National Center for Free Speech and Civic Engagement to provide programs and resources that advance the practice and policies of free speech on its campuses and beyond. At the University of California San Diego, leaders of all student organizations are required to complete a workshop developed by the center that fosters respectful, culturally sensitive communication and conflict resolution as part of UC San Diego's Galinson/Glickman Campus Civility Program. The school's commitment to civil discourse is anchored in UC San Diego's Principles of Community, which promote freedom of expression "within the bounds of courtesy, sensitivity, confidentiality, and respect" and encourage "the highest standards of civility and decency toward all." The American University Project on Civil Discourse at American University similarly focuses on helping students understand that they not only have the right to use their voice but also a responsibility to listen and use their voice as a member of a community that prioritizes learning.
In the words of former University of Chicago president Hanna Holborn Gray, "[u]niversities should be expected to provide the conditions within which hard thought, and therefore strong disagreement, independent judgment, and the questioning of stubborn assumptions, can flourish in an environment of the greatest freedom." The main challenge for all of us is to ensure this sense of freedom and empowerment for all in our communities, especially the most vulnerable among us. In times of crisis and unrest, we have to model democratic civility more than ever.