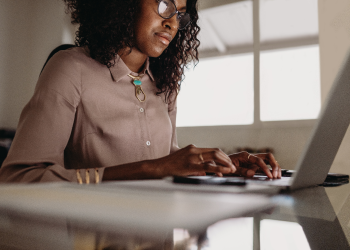 Jacob Lund/Shutterstock
In the United States, there's an assumption about the transition between school and work: it's distinct and quick. It might take you several years to earn a degree, but graduation day marks the transition into "adulthood" and working in your career field. You go to school. You graduate. You work until retirement.
Unless, of course, you're pursuing a Ph.D. and planning to work in a university setting. Or if you're already working at a university while you're in school, as Hannah Piechowski, Ph.D., did. Her transition from "student" to "employee" involved several years of overlap, which is common for Ph.D. students
Piechowski holds a Ph.D. in higher education and social change from Bellarmine University in Louisville, Kentucky. She now works as the senior student affairs officer at Missouri Western State University. But she worked full-time while she was in her Ph.D. program, an executive program for working professionals.
"It was an awesome opportunity. I got to explore higher education and all of the nuances of student affairs and managing a college while looking at issues of social justice and social change," Piechowski said.
While in school for her Ph.D., Piechowski worked as assistant director of housing and residence life at Bellarmine as well as similar positions at Midway College and Transylvania University.
Piechowski was hired in September 2019 as the associate vice president of student affairs and the dean of students at Missouri Western State University. Since COVID-19 started, the university has had to let go of some staff members. Since then, Piechowski's role has shifted to that of senior student affairs officer, a change that reflects the institution's decision to move student affairs from its own division to being housed under academic affairs. Now, the academic affairs division has about forty staff members and Piechowski's office oversees several areas, including health and wellness, career development, housing and residence life, student involvement, and multicultural education. Other areas, like services for international students and military members, are housed under different divisions.
Piechowski said her philosophy for helping students is: "If we're not communicating with the other people who are also in charge of student success, we're not going to do a good job." She said she makes a point to invite her colleagues from other divisions to meetings, to participate in professional development opportunities and to social gatherings. She assumes and demonstrates that the divisions can learn from one another. "So, I try to be inclusive," she said.
Even with the overlap between school and work, Piechowski felt a moment of transition when she began working on her dissertation. She had always done well in school, but the dissertation presented a new challenge. It wasn't formulaic like the course syllabi that provided a run-down of what was expected at the beginning of every semester. Instead, Piechowski said, "You have to find your rhythm and you have to find your pace and you have to self-regulate."
Gone were the days of having a professor lay out the plan for her learning. "I became a true learner," Piechowski says. "It's the most wonderful assignment as far as telling you, 'You now have to educate yourself. You now have the power and the privilege and it's been demonstrated for you through this process that you are now responsible for your education moving forward.'"
Working in student affairs requires a similar type of responsibility. Piechowski said she's reminded often that there's always more she needs to know as she constantly strives to do better at her job.
Piechowski offered advice to current doctoral candidates who are looking ahead to finishing their degree programs and then working full-time (if they don't already). She said, "Don't stop. You'll want to, but don't. Keep putting one foot in front of the other. And accept the fact that your brain's going to hurt a little bit."
She also advises Ph.D. students to take care of themselves and to make self-care and self-advocacy "a necessity, not an option."
For those ready to start job hunting, Piechowski suggested you start with your school's career development center. Their staff can help you translate the schoolwork you've done into what you can do out in the work world.
She also advised job seekers to be patient and flexible at this time. "Right now, we don't know what things are going to look like," she said. Some institutions will be posting jobs again shortly while others won't. Every state is different in terms of the financial help they're able to give to institutions of higher learning at this time.
She went on to say that job seekers can help the process by being experts at multiple things, which she admits goes against what they've done in their Ph.D. programs. "It may look like multiple part-time jobs in different areas. It may look like shifting to working online," she said.
While acknowledging that sacrifices need to be made at this time, she also warns against taking a position that is not a good fit. "If you know that something's not your strength or it's going to be unhealthy, don't do it. Be true to yourself," she said.