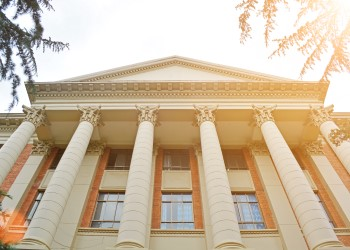 Lyu Hu/Shutterstock
In this interview, Andrew Hibel speaks with Sarah Morris, a seasoned development and fundraising professional, who now serves as the assistant vice chancellor for regional and global advancement for the University of Illinois. Sarah shares insight on her career path and advice for those looking to enter the field. In addition, she comments on challenges major gift officers are now facing and speculates what advancement in higher education may look like in the future.
Andy Hibel, HigherEdJobs: Can you tell us about your background in higher education and what career path you have taken to reach your current role?
Sarah Morris, assistant vice chancellor of regional and global advancement at Illinois: I started out in higher education at my alma mater. I don't think it was an intentional decision to be in higher ed as much as it was to be a part of something that was so important to me personally. Clearly it stuck! I held roles in corporate and foundation relations (CFR) for the first 10 years before transitioning into major gifts, which I knew was an important step in continuing to progress in my career. While major gifts is the 300-pound gorilla in advancement, CFR has a discipline to it that major gift officers can stand to adopt, namely, the importance of communicating outcomes, sustainability, and impact to our donors. I am thrilled to be where I am and grateful for all that I have learned at each stop along the way.
Hibel: You specifically chose an international work experience as part of your career path. Can you share the thought process that led to this choice and what would your advice be to others considering a similar choice?
Morris: The decision to move overseas was both personal and professional. There was a whisper of an opportunity to go to Beijing with my husband's job in 2008, and while that did not pan out, the idea never completely left us. When I was approached about the position in Singapore, I knew that it would be a tremendous professional experience; the wealth creation in Asia, combined with the fact that philanthropy is still a newer practice there, meant that this would be a unique and valued experience for me as a fundraiser. Personally, my husband and I are avid travelers who love experiencing different cultures and fell in love with Asia on a trip to Hong Kong and Japan years ago. We knew this would be a life-changing time for our family. To be clear, it was a wild leap — going over, my husband didn't have a job, and actually never ended up finding full-time work — but we have no regrets. Interestingly, I found out about the position through a professional connection that dated back 15 years to my Ann Arbor days. The US's world-leading higher education system means that there are global opportunities for American higher ed talent, but it is important to keep an active professional network because you never know how and when opportunities will arise. I highly, highly recommend living internationally.
Hibel: You manage a sophisticated regional and global advancement team. Many of us are now familiar with what working in a COVID-19 world is like in the United States, but you also have colleagues who work globally. What have you learned from these adjustments to your work and what can we be learning in the US from around the globe?
Morris: My global colleagues and I have been thinking about COVID-19 in a very concrete way since late January, when it blew up in China. My colleague who travels to east Asia had to cancel a trip to Shanghai and Hong Kong long before the virus was tangibly on our radar in the US, while in contrast domestic work continued through the first week in March. So, activity in Asia died down earlier and quicker, but interestingly, we have seen alumni engagement tick back up since April, and have had some notable fundraising wins coming out of the region since that time. I believe this is in part because they dealt with the ramifications of COVID-19 so much earlier and are now in a place where they can and want to help. This reinforces the notion that timing is everything. I am optimistic that this will be our experience in the US, but it will probably take longer because we didn't shut down as swiftly or definitively as other countries did.
Hibel: What are the biggest challenges Major Gift Officers (MGO) are now facing and how are they facing those challenges? How are they connecting with their donors?
Morris: Major gift officers rely on in-person meetings to advance relationships with donors and that ability vanished overnight, so that's a huge challenge. That said, my team covers Chicago, numerous states, and eight or nine countries, and most of our prospects can't easily get to Champaign-Urbana for an in-person, on-campus experience, so we were never really able to rely on-campus engagement as an essential component of the cultivation process. So, this challenge is actually an exciting opportunity, particularly since our entire profession now acutely appreciates this predicament. The virtual cultivation and engagement strategies that we collectively develop will benefit every aspect of advancement — major and principal gifts, annual giving, alumni relations, donor relations — now and in the future.
In lieu of traveling to meet with donors, MGOs are offering virtual meetings via phone, Zoom, or any other platform a prospect is most comfortable with, and this has been a fairly smooth transition for prospects already in the pipeline. We have been able to hold joint visits with campus partners which would have been extremely difficult to line up in person. Globally, the shift to a virtual environment has provided us with access to prospects that have been hard to get in to see on one of our 2-3 trips per year to a country. And domestically and globally, our experience is that virtual meetings are more efficient, with all parties focused on getting down to business.
Beyond portfolio activity, it has proven to be much more challenging to reach cold prospects. From a major gifts perspective, our outreach needs to be completely focused on donors; now is not the time to convert non-donors into major gift donors, no matter what the capacity. We can't stop qualification altogether, but in the next year, it will be an uphill battle to establish new relationships.
Hibel: Thomas Grabau in "Major gift metrics that matter" asserts that choosing metrics that matter can vary greatly depending on an institution's strategies, values, and desired outcomes. In your opinion, what are the essential metrics?
Morris: Like most fundraising leaders, I believe the essential metrics are solicitations and new business. At Illinois, our metrics are tailored to meet an individual officer's situation (college/unit, portfolio, tenure in position, and experience in advancement.) This custom approach makes a lot of sense in our large, matrixed environment. It is very balanced and fair.
The visit metric has been secondary for some time, and it will stay that way, particularly given how difficult it is to secure meetings in the current environment. So, we are going to need to think about how we measure effort. I expect our MGOs to attempt to reach at least the same number of people that they did in the pre-COVID days, so perhaps attempted contacts makes sense. We are also looking at portfolio penetration as a measure of productivity. This next fiscal year is going to be very challenging for all universities and we will have to adjust our goals and expectations, but we also know that MGOs are hard-wired to be metric-oriented so we can't inadvertently de-motivate them by conveying that the metrics don't matter.
Hibel: What do you think will most shape advancement in higher education in the coming years?
Morris: COVID's impact on our ability to be with donors in person has already had a significant impact and will continue to shape the field in the years to come. Online education was here pre-COVID, we have seen it grow quickly in response to the pandemic, and it will continue to take off. In advancement, this represents a challenge for us as it is so often the community and connection rooted in an on-campus experience that leads to the affinity necessary for a major gift. At Illinois, we have started inviting online students to our regional alumni engagement events which has been a great way to connect them to our Illini family and further demonstrate the value of the university. U of I's Gies College of Business dismantled its traditional MBA last year in favor of an online program, really on the forefront of the trend, and I met two iMBA students at an alumni event in Singapore who, due to the program's online format, might not have known each other if it weren't for the event. Our colleagues are working hard to find ways to bring online students into the fold and build affinity among these cohorts and that innovation, coupled with ours, will pay dividends down the line.
Hibel: What advice would you give to someone who is currently working in, or is planning to work in, advancement in higher education?
Morris: Align yourself, formally and informally, with leaders who will help facilitate your professional growth. This is particularly important when you are starting out but holds true throughout your career: who you work for is at least as important as, if not more important than, what you do. Fortunately, this is a supportive field in general but when you are looking at roles, you should absolutely be evaluating leadership as much as they are evaluating you as a candidate.
Hibel: What have you personally learned through navigating COVID-19 that you will take with you into your future as a higher education leader? What is something you will leave behind?
Morris: I know that higher education advancement is forever changed by COVID-19, and for the better. We are never "going back to normal;" We must embrace a combination of in-person and virtual cultivation and engagement so that we are able to reach as many potential donors, on their time and terms, as possible. Although we all desperately miss travel and will welcome select opportunities to be on the road again when it is safe to do so, I am leaving behind the notion that face-to-face is the only way.