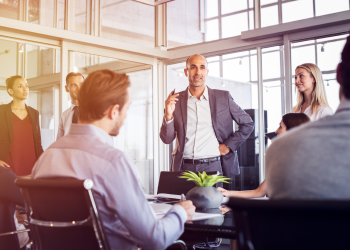 Rido/Shutterstock
Since the onset of COVID-19, articles on helping faculty enhance their online teaching abilities, on transforming the residence life experience, and on changing the narrative for future student recruitment have overwhelmed many other higher education topics. Over this same period, we have read fewer articles about the new models of leadership that will be necessary to return many campuses not to normalcy but simply to a fragile stability.
As the summer begins, the question on the minds of many trustees is, 'What does effective university leadership look like now?' And if this is the question challenging boards, it is the same one presidents and provosts will be answering every day going forward. Both groups agree that what leaders cannot do is let their institutions fall into the decision patterns of dying colleges and universities. As presidents and provosts are caught between strategies that may have worked last year and untried experiments, their schools veer from side to side rather than move forward as conflicting plans are sometimes pursued simultaneously.
While it may remain far from the minds of some leaders now under pressure, the benefits of hiring interim administrators for key positions this fall are being realized by an increasing number of trustees and cabinets. As COVID-19 produces permanent changes in the ways that public and private institutions do business, an experienced interim provost, CFO, dean of students, or even president, can lead collaboratively without the burdens of campus feuds, loyalties, or entrenched expectations. Yet, for many college and university leaders, the adjective 'interim' continues to connote images of either static place-holders or last-ditch solutions. In reality, choosing an experienced interim president or CFO is now a more intentional, strategic decision, even for highly-ranked universities, and is gradually dispelling many of the former stereotypes about the concept.
Today, successful interim leaders are less likely to be drawn from friends of the board or cabinet or an internal cohort of administrators seeking to advance their careers. Rather, these outside leaders are drawn from a pool of experienced professionals who have succeeded in the same position at other institutions. They are not aspiring to the position; they have already held it, perhaps two or three times previously. This model of leadership moves beyond the familiar default option of looking internally or locally and appointing someone who has the potential to succeed but who has no prior experience in the role.
An important consideration in the appointment of an interim is proof that the person has succeeded in the role previously. He or she is pre-vetted and available on short notice, and it is standard practice that the interim will not be eligible as a candidate for the permanent role, eliminating the possibility of those who seek to "audition" for the eventual position. Moreover, this allows the interim to operate above political tensions and provides greater flexibility and independence in addressing immediate institutional needs. As COVID-19 undermines and even nullifies personnel planning at many institutions, this new model of leadership can provide an efficient one- or two-semester solution for a school not ready to make a long-term hiring commitment.
Interim leaders are currently expected to work remotely from the point of hiring and to transition to campus-based responsibilities as soon as the institution implements new protocols. Additionally, since an interim's service can be concluded with a 30-day notice, this flexibility provides expertise that will not interfere with the longer-term search for a permanent administrator.
Still, hesitation sometimes exists even at fragile colleges to engage an interim because of dated stereotypes and perceptions. Even more surprisingly, then, may be the emergence of a strategy to employ multiple interims simultaneously on one campus. In prior decades, this would have likely been viewed simply as a pre-closure endgame. Rather, it is increasingly viewed as an opportunity, when feasible, to provide the college with a team of veteran leaders to help design a turnaround, understanding that a new president will then have the free hand to choose a fresh team of permanent leaders.
Finally, as leaders maneuver through the pandemic's continuing impact on budgets and personnel, an experienced interim is often the smoothest way to address the unanticipated openings that will inevitably occur this fall and winter. Rather than expect an already busy manager to add a second or third set of responsibilities with little warning and orientation, a veteran interim with prior, hands-on experience can be in place within a few weeks if circumstances are urgent.
Trustees and presidents should consider the multiple ways that interim leaders are erasing stereotypes and succeeding in challenging circumstances. We look forward to providing future updates about how interims can also drive strategic change against short timelines when needed.