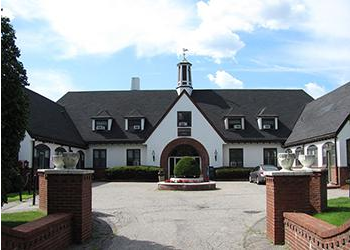 Holbrook Hall, Mount Ida College
Photo by: John Phelan [
CC BY 3.0
]from Wikimedia Commons
Two years have passed since Mount Ida College closed its doors and Roberta Steinberg still laments not seeing the handwriting on the wall. She had worked at the private school in Newton, Massachusetts, for more than 30 years, including two decades as the English/Humanities department chair.
Even with the current pandemic and potential financial crisis threatening the existence of some institutions, faculty and staff are conditioned to deny that their institution will close. You might even think the very title of this article doesn't apply to you, but at least keep reading to heed Steinberg's warnings.
"Up until the very end, most of the faculty had no idea that we were about to close," Steinberg said. "We were being sold a bill of goods because our retention was up, our enrollment was up, we had the biggest class we've had in five years, and there was overflow in the dorms."
On Wednesday, April 7, 2018, the Mount Ida faculty and staff received an email that Saturday's Accepted Student Day would be postponed. Then on that Friday came an email announcing the school's closure. The news came as a surprise to Steinberg, even though she was aware that a Mount Ida committee had been discussing a merger with a neighboring institution, but those talks stopped at least two months earlier.
The reason for Mount Ida's demise was a "confluence of factors," according to Steinberg, which included high-interest loans that school officials weren't able to refinance, as well as property acquisition that was blocked, and, of course, the failed merger with Lasell College. But those are just details now, especially for anyone looking to gain insight on what to do if their college is teetering on the brink.
Just because your institution might choose the nuclear option, that doesn't mean your career will be cratered from the collateral damage. Here are some lessons from Steinberg's experience to help you prepare for a career after a closure.
Do Some Research
First, get a sense if your institution is really in danger of closing. This can be tricky because it's not like you're going to call up the president or chief financial officer and ask.
"They can't tell you the truth because they're still trying to make a go of it," Steinberg said. "They're still trying to hit the numbers and if the word gets out that you're an institution in danger, students aren't going to come."
There are still tactful conversations you can have with your supervisor or colleagues in other departments without coming across as a rumor-monger or a snoop. Then become aware of your institution's circumstances in the context of external data.
Even before the pandemic, there was an ed-tech company called Edmit that developed a financial-modeling tool to determine which colleges are in peril and how long it would take for them to run out of money and close. The list was never published after a few of the 946 colleges threatened legal backlash. Also, according to Inside Higher Edthe model was too conservative in some cases, as even Mount Ida was "projected to last indefinitely."
Still, it's important to understand the market stress, which the book "The College Stress Test"Attempts to help readers do with a stress test score that gauges whether an institution is potentially at risk of considering closure or merging with another school. Unlike Edmit's tool, the stress test score isn't assigned to individual colleges, but the book's co- author, Robert Zemsky, upped the percentage of schools facing severe risk from 10 to 20 percent since the book's pre-pandemic release. "If this crisis is going to take out all of next academic year, that bottom 20 percent may never come back, " he told "The Chronicle of Higher Education."
News sources like "The Chronicle," which published warning signs of a college's "death spiral," are helpful, but so are recognizing patterns in hiring freezes and furloughs, from scanning job postings, blogs, comments sections, and other user-generated content. For example, readers of the Professor Is In blog have been updating a Google Doc with a running list of school's hiring freezes after author Karen Kesley's original post on March 24, 2020.
"(People) should be more vigilant than I was," Steinberg said. "I really thought that we were solvent. I knew that there were issues, but if I had done more digging and seeing what a precarious position we were in, I could have started looking earlier."
Network with a Purpose
Looking for a job starts with networking. Networking is always beneficial to career development, but in times of potential fallout it helps to reach out to colleagues at institutions that are merger candidates for your college. When Steinberg caught wind of Mount Ida possibly merging with Lasell, she reached out to people in Lasell's English Department. Although that merger never happened, higher education professionals need to be preemptive when networking.
The approach can be very different for faculty and staff. If the acquiring institution does not have a certain academic department, a faculty member could be forced to find a job elsewhere. However, such similarities could be a problem for staff because their role might be seen as redundant. Instead, they will need to find ways to contribute with a new specialty or fashion themselves as a Resourceful generalist.
Designate an Emergency Fund
Next, you need to develop a contingency plan. Networking, updating your resume/CV, and starting a job search are obvious, but also put thought into how long the job-search process will take and how long you can sustain yourself during a transition.
Depending on your contract, you could be offered a severance package, but it is typically not required or even negotiable. You can forfeit unemployment benefits if you don't accept severance, and how the payments are spaced out can affect when you become eligible for unemployment. There is also the WARN Acta federal law in the US that mandates employers give at least 60 days notice of an impending layoff or closure.
For Steinberg, she was paid for the remainder of her contract that expired in the summer, along with three months severance pay. She did not file for unemployment because she was hired as an adjunct English instructor at Boston University and Suffolk University the following fall semester. Steinberg said adjuncting was a sensible route for her because of her age and the pay adjuncts earn in the Boston area is relative to other areas.
The duration of your job search can be based on your experience and luck, but the average job search takes about five months. Of course, a looming global financial crisis and the hiring cycles in academia can stretch that longer. That said, it's important to save money in an emergency fund. Experts say you should have enough money to cover expenses for at least six months, or three months if you split expenses with a partner who earns a wage.
Continue Delivering Value
Finally, look beyond the enrollment numbers, balance sheets, and revenue streams that indicate financial health for a college or university. As a higher educational professional, you engage in the intellectual commerce of helping students and colleagues. By doing so, you build a type of career capital that shows up on other ledgers, like resumes and CVs and in the minds of people with hiring influence. Those investments will pay off. As long as you're delivering value to others, you are open for business.