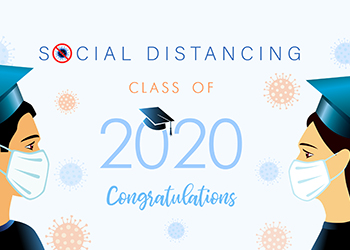 Koltukovs/Shutterstock
We are all members of the class of 2020, but we will be remembered as the class of COVID-19. We contacted friends who are graduating from both large and small institutions across the US We wanted to hear how the pandemic has impacted what they originally envisioned, how they are now living, and their next personal and professional stages of post-college life.
As we, impending graduates of the class of 2020, began our final semester, many of us imagined the long-awaited senior spring that we had worked towards. Some of us spent time working, occupied with senior theses, while others had preemptively prepared for a lighter spring workload. However, one thing remained intact, a collective certainty that there would be the necessary time to reminisce and reflect, spend time with important friends and faculty, and prepare to move forward and onward. This universal assumption, of the time still available for approaching graduates, was swiftly replaced with disillusionment and rapid updates of the spread of COVID-19.
Asking our friends about their initial thoughts when receiving the news about transitioning to remote and virtual learning, this notion of "time lost" was the common thread. Our friend at Bates College, in Lewiston, Maine, recalled an unshakeable disappointment as he realized, "…we will not be able to celebrate our 'full' four years." Another student at Wake Forest University remembered the unexpected acceleration of time, saying, it was "…as if somebody flipped the hourglass over and said, 'your time starts now.'" Ultimately, one of our friends at Colby College reflected on feeling as though he was watching future moments and memories slip away "with a group of people [he had] come to love as if they were [his] own family." These sentiments, reflections of the social and emotional pain of time lost, seem to be many graduating seniors' first feelings regarding the pandemic.
Yet, as remote learning began, the feelings of sorrow with time lost and irretrievable future memories among friends seemed to be replaced by disappointment. Whether it be a liberal arts education or one promised in a much larger university setting, the principles of an enriching and fruitful learning environment appeared to be primarily dependent upon the social, in-person intellectual interactions. One of our close friends recalled "[struggling] to motivate [himself] to get schoolwork done while being away from academic peers and professors." He deemed virtual learning as "boring beyond belief." Similarly, in Masha Gesson's article "How the Coronavirus Pandemic Has Shattered the Myth of College in America," she notes another interview with a student where, "The descriptor she used perhaps most often in our conversation, in fact, was 'boring.'" This is another brutal reality regarding seniors' final experiences in college: that many institutions were equally as unprepared to transition to remote learning as were their students. We do not highlight this to point a righteous finger in blame towards institutions of higher education; instead, we simply underline it as another unavoidable impact from the pandemic.
Despite the feelings of emotional and mental strain combined with collective unpreparedness among students and universities alike, many individuals have found, and continue to find, silver linings as they adjust to life in quarantine. As Facebook photos and social media timelines importantly project images of essential workers and those on 'the frontline,' many students' feelings of pain looking inward have shifted to more hopeful views outward. Our friend who regarded his "boring" experience in quarantine discussed that "as time went on…[he] knew [he] had to do something with [himself]and understand that what [he] was going through couldn't compare to the devastation that families are feeling all around the world." Now, he is working as a 'contact tracer,' seeking to help with the recovery effort in Massachusetts. The student at Bates College claims that " One of the biggest reflections [he] had over this time in quarantine is how privileged [his] family is" and now he is searching for ways to do his part as well. Our friend at Wake Forest University emphasized his recent revelation that he does not want to, and cannot, return to life outside of quarantine with "the regret of not doing more." We feel this is among the most crucial shifts in perspectives for graduated seniors in quarantine: the reevaluation of our feelings of discontent as minor, but not insignificant, byproducts of a much more serious, life-and-death reality. These are some of the buoyant and positive realizations among graduating seniors that were, and are, shining through the painful fog of COVID-19 and their "time lost."
As we were conducting our remote interviews, one of our friends turned the questions around on us and she asked, "What will look better like?" We had, and still have, no real answer. Although, we recognized that many seniors' perspectives, including our own, that suggest "going back" to retrieve that time and reverting to the way things were before will not be enough. The goal now seems to be, as many of us understood before but in a very different context, to move powerfully forward. She added that there should be no excuses, for us and anyone, "not to do the thing that your heart is telling you to do." She, nor do we, mean this to be taken as taking risks within quarantine restrictions or simple loafing. The devastation caused by COVID-19 is apparent and unrecognizable. The goal for us graduating seniors should be, and is, to perceive our time lost as moments gained to find and help establish what that "better future" will look like in the small and large ways that we can.

Nick Martin, Colby College '20, will be earning a master's at UPenn while working as a teaching fellow at The Lawrenceville School this fall. Rory Martin, Connecticut College '20, will be earning a master's at Sotheby's Institute of Art in New York City.