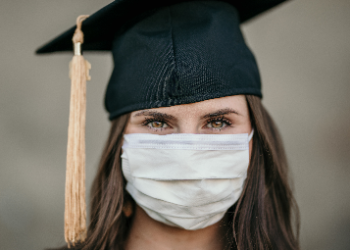 SEWatson189/Shutterstock
These are undoubtedly strange times for everyone, but for college seniors who were supposed to put on their regalia and accept their diploma under the proud, teary eyes of loved ones this time of year, the current situation is a tough pill to swallow. They are being deprived of the pinnacle moment of their undergraduate life. Not to mention that the thought of graduation day had motivated them during the stress-filled, work-intensive stretches of senior year. The traditions and celebrations that they were supposed to remember and cherish for a lifetime, poof, they were gone with the announcement that classes would be moved online for the remainder of the semester and graduation would be canceled (or postponed or held virtually, depending on the school).
It's understandable that college seniors have been feeling short-changed, frustrated, and sad. This is not how their undergraduate experience was supposed to end and their life after college to begin. But what if this change of plan is actually a great lesson in leadership?
Hidden under the disappointment may very well lie an incredible opportunity for learning and growth that will empower this current generation of college graduates to become exactly the kinds of leaders we need in an ever-changing world. It's important for us in higher education to get this uplifting message across to our graduates during these anxious times. In addition to expressing our heartfelt congratulations on completing their undergraduate education and appreciation for being a good sport about the sudden shift to remote learning, we could tell them this:
Dear Graduates,

This may go against every emotion you've been feeling these past two months, but you should consider yourselves fortunate to be part of this cohort of graduates whose senior year experience got cut short amid a pandemic that has upended our world. As horrifying as this crisis is, the implications led you to learn and grow in ways you never could have imagined, which is the foundation of leadership.

First, you grasped the critical concept of resiliency. Being resilient entails focusing on what you can control during turbulent and uncertain times. It means pushing past the impulse to view oneself as a victim. Demonstrating agency is exactly what you did after you recovered from the initial shock. You adjusted to the new normal you found yourselves in by establishing a new routine involving online classes and virtual socializing and by forming new habits that helped you stay organized and sane. Making the most of the situation, you learned to be adaptable and proved that you can pivot and take ownership under demanding circumstances. Being resilient is one of the most important attributes leaders can have. Any seasoned leader will tell you that the experience of overcoming setbacks is a source of strength. Furthermore, roadblocks and disappointments often mark the beginning of a new, better path.

Second, you learned to embrace the power of change. Leadership is all about change and your ability to look beyond the here and now. Over the past two months, you have become increasingly more comfortable with change and may even have experienced change as transformative. As we look at the various approaches leaders all over the world have taken to combat the current crisis, we are reminded that whether leadership is effective or ineffective depends in part on a leader's ability to offer hope while being transparent about the challenges to be confronted. Truly effective leaders can empathize and provide comfort by imagining what is on the horizon and helping others work towards a common vision of change.

Third, chances are you are well on your way to being the best version of yourself. As the world around us slowed down and our individual lives became smaller, you most likely started engaging in plenty of self-reflection. Maybe you learned to use time more constructively and meaningfully. You certainly had the opportunity to reconnect with what matters to you. Being aware of and acting in sync with our values ​​is fundamental to the notion of authentic leadership, which aligns with the idea of ​​being one's best self.

Fourth, this experience taught you the importance of communal commitment. Acts of kindness, of responsibility towards one another, and of human connection are what have been getting us through this. And this brings us to a key insight into the practice of leadership: Leadership is not an individual pursuit; it's always a team effort, and in its ideal form, leadership is a collaborative, mutually beneficial endeavor. Realizing and cherishing that you are part of a community and have a role to play as a member of that community may seem straightforward and not exactly novel to you, but it truly is the origin of great leadership.

If, despite these optimistic interpretations of your current reality, you should still feel a sense of bitterness or grievance, consider the words of the 17th century poet George Herbert: "Living well is the best revenge." Isn't that why you went to college to begin with? It's the end goal to go out and live a good life — for yourself and others. By the way, no one will remember you for what you did for yourself in life, they will only remember you for what you did for others.

No matter the obstacles and detours, don't let anything discourage you from living up to your potential and ideals. You now know how to be your best self no matter what. Not only are you ready for the world, you are ready to be the change you want to see in the world.