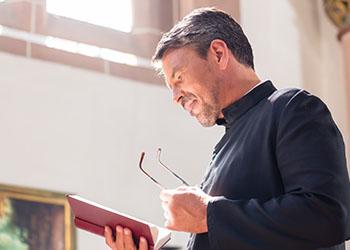 Kzenon/Shutterstock
If you're thinking about a religious vocation on a college campus, there are a number of unique considerations you'll have to make. For example, do you prefer campus ministry or college chaplaincy? Within the Christian tradition, campus minister positions are usually funded by a denomination, and the job description tends to focus on serving students of that denomination, though not exclusively. College chaplaincy positions, on the other hand, are funded by the institution and these roles tend to be responsible for working with all students on campus.
Whichever area of ​​religious service on a college campus interests you, there are some important things to keep in mind about the work itself and about the application process. This article will walk you through one person's experience applying for and working in a college chaplaincy position on a small, liberal arts campus.
Emily Miller is the director of spirituality and religious life at Transylvania University in Lexington, Kentucky. In this role, she wears many hats. She works with students, faculty, and staff members of the university as well as individuals from partner organizations within the larger community.
Miller provides pastoral care by providing counseling for her campus community. And if it's clear that someone would benefit from seeing a professionally licensed counselor, she refers them to one of three licensed counselors on campus.
Miller also works with student religious organizations at Transylvania University and helps them become recognized student organizations. These groups start out under the auspices of the Spirituality and Religious Life Office, with the goal of becoming officially recognized. "They'll still be religiously-based," Miller said, "and as long as they're meeting all of the criteria of the Campus Engagement Office, they can get funding from a lot more sources." Miller has worked with a number of student religious organizations, including the Muslim Student Association, the Trans Catholic Organization, and CRU (Campus Crusade for Christ).
Miller has also helped develop a Spirituality and Religious Life Organization Policy, which governs the conduct of off-campus professionals at Transylvania University. As a private institution, the university determines the appropriate conduct of anyone who visits the campus from the outside community. Miller's work with the new policy helps to ensure that off-campus constituents understand the requirements of the Title IX Office and Disability Services, as well as the reporting structure at the university.
"We work really well together with our off-campus partners at Transy, and I'm really grateful for those relationships," said Miller.
She also plans programs for students, faculty, and staff, like an inclusive Christian service called "Wake Up Wednesday." And she helps connect her campus constituents with off-campus resources, such as local religious communities.
Miller offers advice on three types of resources that are invaluable to anyone considering a career in either campus ministry or college chaplaincy: denominational resources, mentors, and professional organizations.
She also stresses the importance of inner work and identifies some important questions to ask oneself when considering a religious vocation on a college or university campus. They are:
Do I want to work with an interreligious population?
Do I feel called to specialize in working with a particular religious group?
"I think it's really important to do some inner work and see what you're thinking and how you're feeling. If you're really passionate about working with people across religious lines, chaplaincy might be a really good option. Campus ministers will do interreligious work, but for chaplains, it's part of the job description to work with people of all faiths," Miller said.
When it comes to finding mentors, it's ideal to start while you're still in school. Miller started doing campus ministry when she was in college and benefited from a strong relationship with her mentors.
Another way to find mentors is to attend conferences put on by professional organizations such as the National Association for College and University Chaplains (NACUC) or the Association for College and University Religious Affairs (ACURA). She notes that these organizations are merging soon and will have a new name. Last year, they hosted a joint Conference.
Miller also suggests that readers check out the Chaplaincy Innovation Labwhich "supports research, teaching, and the provision of spiritual care in a range of settings."
If you're a member of a Christian denomination, you can check with your denomination to find resources for aspiring campus ministers or college chaplains.
When Miller applied for the role of director of spirituality and religious life at Transylvania University, in addition to her resume, she also included her personal information form or PIF. A PIF is a document that "asks a lot more in-depth things about my beliefs as a pastor, so they got to glimpse at that before I even got an in-person interview," Miller said.
She said it's always important to know your audience when you submit materials for consideration in any position. In this case, Miller is an ordained teaching elder in the Presbyterian Church (USA), while Transylvania University is a Disciples of Christ institution.
Initially, Miller did not know if the university would even consider her application. "Some institutions won't," she said, "unless you're affiliated with their denomination." She clarified this issue by calling the supervisor for the position, whom she had met some years before. She told him, "I'm not Disciples of Christ, but this is the work I feel called to do. Would you be open to me applying?"
They were receptive to her application and she got the job in January 2019. She said it's important to ask questions if you're unsure about the application guidelines for a specific institution.
Miller sums up her approach to vocational exploration, saying, "making connections is half of professional life." As her experience shows, a thorough commitment to exploring the possibilities of a religious vocation on a college campus can pay off, and the resulting career can be quite rewarding.