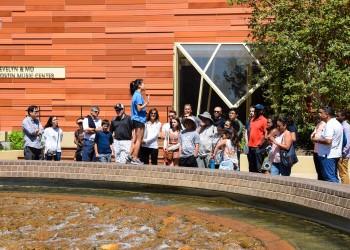 Due to campus closures, students and families aren't able to tour campuses this year as they have in the past. (Photo: UCLA Tour by David A. Litman/Shutterstock)
Spring. It's usually a time when college campuses across the country are bustling with visitors. Seniors in high school flock to the colleges to which they have been admitted hoping to get a glimpse of campuses before they decide which one will be their home for the next four years. Juniors embark on college tours, trying to narrow down their college lists before the application season begins in a few months.
But this April, college campuses are ghost towns. Shuttered due to coronavirus precautions, most current students have left campuses and are taking classes online, and many schools are not accepting visitors. Official tours and information sessions are canceled for the foreseeable future. And students are not able to rely on the in-person guidance they typically get from counselors at their high schools to help them decide which school is the best fit.
All this begs the question: will students be able to commit to a college — many of which carry a more than $70,000 per year price tag — without ever having seen it in person?
The answer involves being more creative with resources that are available, and not dwelling over ones that aren't, according to Jeff Schiffman, director of admission at Tulane University.
"Colleges are going to painstaking lengths right now to create really cool virtual spaces," he said. "Take advantage of it."
Seek out virtual college tours and information sessions. Scour schools' websites for resources about how to connect with current students, many of whom are overeager to talk to prospective students now that they are home and may have more time on their hands. And if you need more help, reach out to your local admission officer, many of whom are likely more accessible now than ever before, he said.
Although the inability to schedule official college visits is causing anxiety, another top concern from juniors is what to do with the newfound unstructured time now that they are not physically in school. Now more than ever, context will be important when admission officers are reviewing the next round of applications. Admission officers understand that the transition to online learning may impact grades and that extracurricular activities, which many schools that have holistic review processes consider, will be affected, given that high schools are closed.
"Do what feels right to you" during the unstructured time, said Schiffman, who has also written about the coronavirus-related admission impact in his blog. Learn a new language, take an online class or workshop, take up a new hobby. "The last thing you want to think about is 'how will this affect my application?'"
There is already evidence that the coronavirus outbreak may shape students' college choices and behaviors for a long time to come. A recent poll by Niche, an educational research group, surveyed more than 45,000 students nationwide and found that the coronavirus has the potential to significantly impact college choice. Eighty-eight percent of seniors and 82 percent of juniors surveyed were now more concerned about their ability to pay for their education due to financial insecurities caused by the pandemic. Over one-third of seniors and 41 percent of juniors said they were now considering a college closer to home.
Not only is the pandemic altering student behavior, it is forcing colleges — many of which are dependent on tuition revenue — to rethink how they will secure their incoming classes. Many colleges that require a May 1 commitment from seniors have extended that deadline to allow students more time to decide or to figure out finances. A growing list of others that require standardized testing for admission are waiving that requirement for the upcoming admission cycle, due to the cancellation of recent administrations of the SAT and ACT. More than 1,100 schools nationwide are now test-optional in the admission process, according to FairTestan organization that tracks such policies.
For students, all these changes can seem overwhelming. But resources such as this new searchable databasepublished by the National Association for College Admission Counseling, can help families find which schools have changed enrollment deposit deadlines and explore virtual visit options without having to visit multiple college websites to dig for information.
Becky Bolby, college access counselor at Lower Merion High School in the suburbs of Philadelphia, Pa., said she has seen many trends during her 30 years working in college admission roles. But the coronavirus has the potential to create fundamental shifts in the admission landscape, especially when it comes to standardized testing requirements.
"I think that there will be more colleges and universities going test-optional, since that trend has already started," she said. "Whether it is just for this year or they keep it permanently remains to be seen, but I think it is the right thing to do to alleviate stress" for students.
Zoom or telephone meetings have replaced in-person meetings with students and families to discuss post-secondary plans. She also sees the opportunity for college admission representatives, many of whom would be visiting her school this time of year to meet with interested prospective students, to do more virtual sessions in lieu of in-person high school visits.
"That adds a more personal aspect to the process and makes the student feel more special and connected, which is important now in this new age of social distancing," she said.