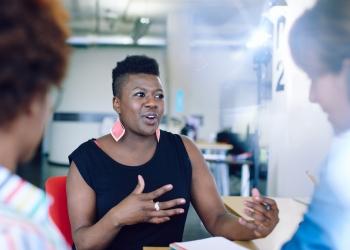 ESB Basic/Shutterstock
The 2020 Administrators in Higher Education Annual Report from the College and University Professional Association for Human Resources (CUPA-HR) confronts and evaluates the pipeline for leadership positions in higher education.
As more universities aim to create diverse leadership climates, the report gathers that women currently represent 32 percent of higher education presidents and racial/ethnic minorities represent only 14 percent of higher education presidents.
The two most common previously held positions for current presidents are president and provost, with a majority hailing from a different institution and nearly one-third of presidents being promoted internally.
Considering that forty-five percent of provosts, 57 percent of vice provosts, and 45 percent of deans are women, but only 13 percent of provosts, 14 percent of vice provosts, and 16 percent of deans are racial/ethnic minorities, the data reveal that increases in the representation of women in presidential roles in the future is more likely than increases in the representation of racial/ethnic minority presidents.
Women and racial/ethnic minorities are well represented in lower-level leadership positions. However, in almost all administrative positions, women are paid less. The report identifies that age is a factor in the salary gap between men and women in leadership roles, as the salary gap is generally higher at older ages compared to younger ages.
The report consists of data from 50,690 administrators at 1,160 higher education institutions, with 202 leadership positions surveyed. Included in the survey are top executive officers; senior institutional and chief functional officers; institutional administrators; heads of divisions, departments and centers; academic deans; and academic associate/assistant deans.
More information on salaries, demographic comparisons, and detailed trend information are available in the full report.