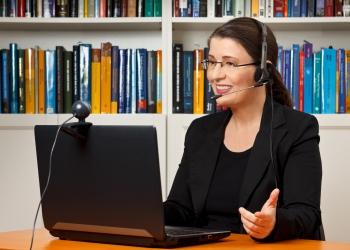 Agenturfotografin/Shutterstock
Baseball great Vernon Law said, "Experience is a hard teacher because she gives the test first and the lesson afterward." Over the past month, faculty have had to learn online teaching the hard way — thrust into the situation with limited notice and only one or two days of training. As recently as 2019,
less than half of college faculty
had taught an online class before. Now, most faculty affected by COVID-19 are working remotely and teaching a student body that is increasingly dispersed from campus. In these unprecedented circumstances, faculty need support and development to succeed in their roles.
But another group is also adjusting to a new reality. Academic leaders in charge of training and managing faculty are largely unprepared to provide meaningful support to an online workforce. Being more senior members of the faculty, leaders may not have prior experience teaching online or being a remote student. Academic leaders have also traditionally not been trained in data science, analytics, or management of the digital space, which are key to monitoring and assessing online teaching and learning. Given that most leaders have not had time or training to organize this transition in an ideal way, how can they best support faculty?
At the outset, it should be noted that temporary actions of leaders to navigate the current crisis may be different from the strategic, long-term decisions needed for sustained online programs. However, principles of sound online teaching, program design, and faculty oversight can still be applied even under less than perfect circumstances. After all, Rome may not be built in a day, but settlements may well turn into cities and ditches into aqueducts in the long run.
These 5 principles can help academic leaders effectively manage, develop, and support their faculty in online teaching.
Understand perception versus reality in online teaching. Leaders run the risk of being misperceived in their roles. In a study of secondary online principals, Sarah Quilici and Russell Joki found a large discrepancy between how teachers perceived leaders and how leaders perceived themselves in the online space. Online teachers wanted leaders to focus on supporting them and fostering innovation rather than managing instructional issues. Similarly, faculty and leaders often see the need for resources differently in online learning. Many case studies show that leaders underestimate the time and resources required to stand up and run an effective online program. Being aware of these perceptions will help leaders in guiding and supporting their faculty.
Set expectations for interaction and communication. The open-endedness of online learning means students and faculty can complete their work at any time. The flexibility is valuable for both groups, but it can also lead to negative responses. On the one hand, faculty can become unresponsive to students, or on the other, faculty can feel unnecessary pressure to always be on call. Establishing standards for communication and responsiveness within academic units can alleviate miscommunication and create helpful boundaries for faculty life. For example, one university established a policy for teachers to return emails, phone calls, and texts within 24 hours on weekdays.
Link practices to established quality standards. The full use of rubrics such as Quality matters may be a bridge too far for many institutions currently. But these metrics contain excellent best practices to begin instilling in an online teaching environment. Rubrics are most helpful in aligning learning outcomes, activities, and assessments. For example, the Quality Matters rubric has a scorecard to assess each online course, and leaders may wish to choose just one item in each section to prioritize this semester and build more elements into future semesters as experience with online teaching grows.
Offer professional development — and model using it. Centers for teaching and learning are running at full tilt supporting the online transition. This is an excellent opportunity for leaders to also embrace professional development, both for their own growth and as a sign of acceptability to junior staff. When leaders and senior members of the faculty attend professional development, it signals to junior, non-tenured faculty it is OK to receive help. And, not surprisingly, professional development works! Faculty who are trained in integrating technology into their course are more likely to use it in their teaching.
Learn what we can to better prepare for next time. Bob Hails, director of the eCampus center at Northeastern State University, recalled working for a state system of higher education during the H1N1 flu crisis. They spent significant time putting together a playbook for responding to the next crisis. He stated, "I think that's the same thing we're going to do here. We have to train more teachers to teach online and help get more of their courses adapted online… We also need to ensure support services like financial aid, counseling, the registrar's office, and everything that supports whatever students need, are more amenable to distance students."
Supporting faculty in their transition to online teaching is not simple and will vary from institution to institution, but the outcomes are worth the outlay of time and effort. Hails continued, "I think we're asking faculty and students to do some extraordinary things right now, therefore we have to be able to do the same in support of our faculty." The good news is faculty who take up online teaching often learn new methods or tools to enhance their traditional classrooms. Thus, if leaders effectively support their faculty in this period, they will lay the groundwork for progress in both arenas for years to come.