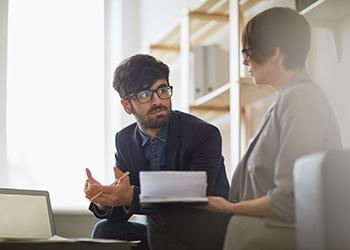 Pressmaster/Shutterstock
When your employees think of career development, they might think back to when they onboarded with your school or about workshops that your office offers each semester. But there's a lot that goes into development and making your school a workplace that employees will want to continue to invest in throughout their careers.
Of course, employee development goes far beyond workshops and onboarding, although those are important elements. For Brian Buford, the director of employee development and success at the University of Louisville, employee development is about engaging staff throughout their career, "From the moment they get here, [we're] thinking about onboarding and how [we] bring people into an organization all the way through retirement, how do we celebrate and create meaningful rites of passage for people when they are ending their experience here," and everything in between.
Buford has been with the University of Louisville for thirty-two years, eleven of which he served as executive director of the LGBT Center. Now, he oversees a variety of programs designed to support employee success.
"We're still a new program at the university," says Buford, "but we're moving quickly, and we have the commitment." And it shows — the program produces a training catalog each semester where staff can sign up for experiences like supervisor trainings and their new training for success program. "It's given employees the opportunity to feel like there's someone on campus who supports their development, helps them, and cheers them on in pursuing their goals," Buford said. His office is also launching a peer mentoring program and staff fellowships — similar to student internships, but they provide a career path so that employees can track their learning and growth.
Certified by the Gallup Association as a strengths coach, Buford provides one-on-one coaching for employees to help them think about where they are, where they want to be, and what strategies they can use to get there. According to the Gallup Association, people feel the most engaged when they get to do what they're good at. Coaching helps people learn how to do that in the workplace.
When determining the success of their programs, the employee development office at University of Louisville relies on feedback they receive from employees from formal program evaluations and from attending meetings organized by campus constituency groups such as the Staff Senate, the Staff Association of Arts and Sciences, and the Commission on the Status of Women.
Two major goals of the development program are recruitment and retention of talent. Buford's office works to create a welcoming space and a campus community that reflects the broader community. He's committed to creating a workplace where people want to invest themselves and stay throughout their careers. Buford compared his development work with what he did at the LGBT Center, saying, "That's the intersection, for me, of diversity, equity, and inclusion work."
Buford's role, director of employee development and success, was created out of a strategic plan to make the University of Louisville a great place to work. For other schools wanting to do the same thing, Buford offers some advice: "It's tempting to start thinking about the lack of resources. It's often a challenge to find funds for development. But there's so much that we can do that has a high impact that doesn't cost money."
He cites peer mentoring and employee coaching as two areas that have a minimum financial burden for institutions yet can have a high impact. The goal should be to make sure each employee knows that there's someone on their campus who is there for them. Setting up peer mentoring in each department is one way to cultivate early wins in a person's career, which encourages them to stay at your school as their career develops.
Buford also cites the importance of receiving support from university leadership officials. He said that for a development program to be successful, it's essential to have leadership that believes in it from the beginning — "…that's been the foundation for all of our success."
With strong support from campus leaders, campuses can begin to take steps to further their employee development initiatives. It's important to have a feedback system in place, to consistently create programs in tandem with what employees need. Even schools that don't currently have the resources to create a role like director of employee development and success can create initiatives with the resources they have in place.
With a commitment to ongoing employee development efforts, a college campus can become a great place to work for employees from the day they set foot on campus to their last day before retirement, and every day in between.