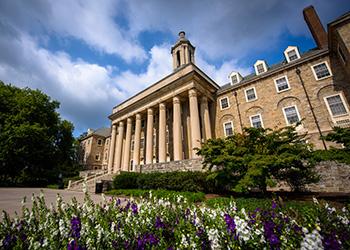 Christopher Kettner/Shutterstock
There's something thrilling about being on campus. The buzz of intellectual rigor is ubiquitous: undergrads deep in conversation about their latest assignments, grad students hustling to meet the demands of their new teaching roles, professors contemplating upcoming publications. College and university campuses radiate academic enthusiasm.
College towns foster some of those same characteristics that make campus life so special. College towns come in all shapes and sizes; they are as unique as the institutions they host. The notion of a college town may conjure a quaint picture, but the relationships between institutions and the communities in which they are situated are dynamic. They require diligent, strategic tending.
Recently published, "The New American College Town" by James Martin and James E. Samels & Associates offers background, insights, and advice about navigating the symbiosis. "Colleges and universities have always been part of larger civic and economic communities, and this book discusses how those relationships work and how they could be more effective." shares Greg Britton, editorial director with Johns Hopkins University Press.
Institutions of higher education are local culture influencers, robust employers, and important community partners. Refining strategy around these relationships and carefully nurturing them benefits higher education and community leaders alike. Britton shares: "Institutions can be major economic and cultural drivers for their communities. I hope "The New College Town" will spark productive conversations on campus and beyond the gates."
Big City Flavor
Those who staff colleges and universities tend to be a unique professional breed. It takes a certain skillset plus an appreciation for higher education to position oneself in a role to further its mission. While plenty of schools are located far from big cities, the college towns in which they're situated tend to have some of the same cultural appeal: they boast a concentration of highly credentialed professionals actively making strides in their respective fields. They often have stellar resources, which may include medical facilities. They value and promote diversity and inclusion. They have a large population of young residents who flock there to absorb the culture.
Regardless of their size or location, college towns often have a big city flavor. In their chapter exploring the college town job market, HigherEdJobs COO and co-founder Andrew Hibel and director of editorial strategy Kelly Cherwin explain: "The rural college town is becoming more similar to an urban college community than the community that surrounds it."
HigherEdJobs
In addition to culture, institutions of higher education have a tremendous impact on local employment. Hibel and Cherwin explain: "Today many colleges and universities are still significant employers in their communities. Institutions are the largest single private employer in eleven of fifty states, third after Walmart and healthcare."
A challenge these institutions may face, however, presents in the robustness of their local recruiting pool. They may routinely have to look outside the locale to conduct some searches. "Although many college towns are desirable locations in which to live, tighter markets could pose a threat to recruiting for certain positions, particularly faculty positions" Hibel and Cherwin point out.
Institutions of higher education then become talent importers, which grows and enhances the local community. "In our view, college towns reflect the college or university's ability to attract and retain the faculty and staff that make up its workforce." Hibel and Cherwin explain.
Not only do they employ and credential existing residents, institutions of higher education also bring in new populations, growing and revitalizing the community. It's another dynamic and ongoing dimension of the relationship between the institution and the community; one that requires oversight and strategy.
Britton explains that managing such complexities is detailed in the book: "This is more than a book just about how to work with the Chamber of Commerce or local town hall. It's really about thinking strategically about how colleges and universities can align programs that serve their communities; and how in turn, communities can work to support the myriad students, faculty, and staff associated with an institution."
Bolstering Local Brain Power
Having a college or university in the neighborhood is good for a community's local economy; In fact, Hibel and Cherwin point out that 53 percent of tourists who come to Ann Arbor, Michigan do so for reasons related to the university.
In addition to the business generated by tourist dollars, the work in which the university engages is likewise stimulating to local business: "60 percent of new companies launched by UM in the last ten years have remained in the Ann Arbor area" Hibel and Cherwin note. .
Residents are employed by those local businesses, and they are inclined to refine their credentials at local institutions. Institutions of higher education foster a robust climate for business creation that lawmakers tend to eagerly encourage.
"Policymakers are increasingly viewing colleges and universities as important engines of growth for their local areas. In addition to having direct economic impacts, these institutions help raise the skills of an area's workforce…This contribution is significant because regions with higher human capital — measured by the share of working population with at least a bachelor's degree — tend to be more innovative, have greater amounts of economic activity, and enjoy faster economic growth, and workers in these regions tend to be more productive and earn higher wages." Hibel and Cherwin explain.
Because of the many touchpoints between these institutions and their surrounding communities, it's imperative to handle the relationships carefully, regardless of how past administrators have overseen them. "A book like this works if it can start a conversation in a community. If I were the president of a small college, I'd start a book group with local civic leaders to discuss the ideas here. Those discussions will quickly move beyond an 'us versus them' binary when we understand that our interests are closely aligned." Britton advises.
Aligned Goals
"The New American College Town" examines the dynamic and complex relationship between a host community and one of its key cultural influencers, employers, and partners. It's imperative to continually revisit and refresh the approach leaders take to tending and strategizing around that relationship. Britton explains: "At a time when demographic and market forces challenge many colleges, it has never been more important that civic and higher ed leaders understand each other's needs. My hope is that this book can help deepen that understanding."
Interested in purchasing a copy of "The New American College Town"? Receive a 30% discount by using the coupon code HNAF at checkout.