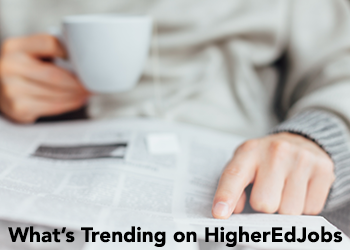 The month of November flew by. In case you missed it, here's a look at our must-read articles from November. From work group dynamics to tips on successful leadership to dealing with a job loss, there is so much valuable insight to gain.
What to Do When You Find Yourself in the Out-Group
Does there seem to be an in-group and out-group in your office? Dan Griffith discusses several ways to assess out-group situations.
What It Takes to Be an Administrative Leader in the Academy
Having effective leaders is crucial for the future of higher education. Scott Cowen and Heide Winston identify five leadership qualities that all leaders in academia should demonstrate.
How to Deal with an Unexpected Job Loss
A job loss can cause more than just economic distress. Eileen Hoenigman Meyer considers several ways to face the many challenges of an unexpected job loss.
Using Technology to Make College More Accessible for Veterans
With many colleges and universities experiencing declines in military-affiliated students on campus, Janet Kline discusses how higher education can provide resources for active-duty military and veterans.