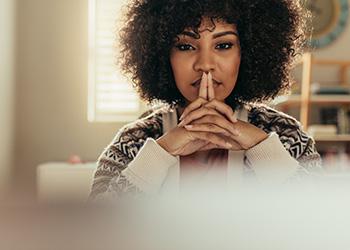 Jacob Lund/Shutterstock
All your years of experience as a higher education professional don't matter if you don't learn from them. As leadership author John C. Maxwell said, "Experience is not the best teacher… evaluated experience is."
With the end of the semester and the start of a new calendar year ahead, now is a great time to develop regular contemplative routines to reflect on your experience. That way, you will be better prepared for your next job interview, performance review, department meeting, or any opportunity to apply your professional knowledge, rather than relying on an empty boast about how long you filled a role.
An effective contemplative routine doesn't have to take up a lot of your time, but having regular check-ins with yourself will keep you motivated and focused on important tasks.
So, where do you start?
Determine how often you want to reflect. This may take some experimenting, but a good routine is with daily, weekly and semesterly check-ins, each with different levels of evaluation. Choose how and when you'll capture your thoughts by pairing it with another routine to make it a habit, such as writing on index cards you keep in the console of your car before you drive home from work each day, keeping a journal handy nearby your washing detergent when you do laundry each week, or having a calendar notification to access a digital file after submitting grades each semester.
To prompt your writing, come up with questions related to different goals and principles. These can be based on your job description or your institution's goals, mission, and values. Author Todd Henry, who writes about creativity, productivity, and passion for work, recommends having three types of goals — step, sprint, and stretch goals — and reflecting on your progress of each. A step goal can be your daily check-in: What will I do (and what did I do) today? A sprint goal can be your weekly reflection of progress made on whatever campaign you're waging during the semester, be it committee work or getting research published. A stretch goal can be your end-of-semester evaluation of measurable actions you've taken (or are going to take) to achieve your long-term career goals.
However, reflecting on progress made towards your goals should not be the only part of your contemplative routine. You must imbue meaning through the quality of your work, not just quantity. To do this, anchor your reflection to principles that are motivating you.
While interviewing author Ken Coleman on Henry's podcast"The Accidental Creative," Henry shared how his daily practices were related to ideas in Coleman's book, "The Proximity Principle," which can be summed up by intentionally focusing on what you need to learn, what you need to be doing, and the people you need to be connecting with.
"If you want to climb the career ladder: learn, do, connect," Coleman said.
Similar to these principles are the three psychological needs for motivation that Susan Fowler identified in her book "Master Your Motivation": competence, choice, and connection. According to Fowler, people should reflect on learning and connecting but also choice. What you choose to do with your day or your career can restore a sense of autonomy and mission that can be both motivating and illuminating.
Here are simple questions to ask yourself for five minutes at the end of each day that will help you develop your contemplative routine:
What did you do today that went well?
What did you do today that didn't go well?
What did you learn today?
Who did you connect with today?
Then, based on your reflection, ask yourself what you are going to change:
What are you going to do differently tomorrow?
What do you want to learn tomorrow?
Who are you going to connect with tomorrow?
Write your responses and review them at the end of the week to detect patterns and think about them in a broader perspective (think sprint or stretch goals, not step goals). Then, ask yourself these questions suggested by Sebastian Marshall, who was a guest on the Science of Success podcast discussing contemplative routines:
what's really going on?
So, what do I do about it?
What matters; What doesn't?
Even if you don't reflect daily, Marshall's questions are still a great weekly check-in. As you develop your contemplative routine, you can build more systematized tracking, such as using spreadsheets to rate your experiences and activity, to build up to a semester or annual review.
"If you just do monthly, that's still going to catch some of it, (… but) you've got to start studying your life, seeing what's going well and making sure it continues to happen," said Marshall, an author. , entrepreneur, and founder of Ultraworking.com, a research and development tech company. "I literally don't know anyone with a complex life that's successful that doesn't have regular routine intervals of introspection."
Remember, just as colleges and universities conduct periodic assessments, the people who work at these institutions should also manage their careers with intentional practices of evaluation.