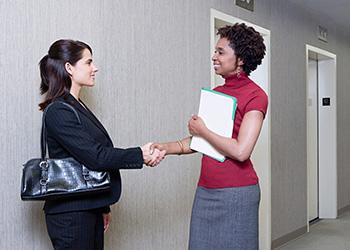 XiXinXing/Shutterstock
A job candidate you don't hire today may still be a viable — or even a top — candidate tomorrow. Savvy HR pros know this, but they still may not stay in touch with these candidates who don't get interviews or job offers.
"Today's candidate that you turn down may be tomorrow's candidate or maybe tomorrow's client or some other connection," said Jay Meschke, president of CBIZ Talent & Compensation Solutions, an executive recruiting and consulting firm based in Kansas City, Mo.
Candidates Are Talking About You
A survey conducted by Future Workplace on behalf of CareerArc, a social recruiting and outplacement company based in Boston and Los Angeles, found that candidates spend an average of three to four hours responding to just one job opportunity. Despite that effort, though, 65 percent say they never — or rarely — receive notice about the status of their applications.
"It's important that companies pay attention to that number because it can have serious implications," said Robin Richards, CareerArc chairman and CEO. "Among candidates who have had a poor recruitment experience, 72 percent have shared that negative experience online or with someone directly. The survey found that nearly 60 percent of employers have read online negative feedback about their hiring process." Worst of all, he added, "candidates who are not informed about their application are 3.5 times less likely to reapply to that company."
That's important data to consider the next time you make a hiring decision. It may change your decision about how to follow up with the candidates you didn't hire. When recruiting, doing a better job of connecting with candidates — all candidates — can make a big difference, now and in the future.
Humanize the Entire Recruitment Process
Steve Rothberg is the president and founder of College Recruiter, a job search website. The most common complaint Rothberg hears from Generation Z and Millennial job seekers who use his site is the lack of basic courtesy they experience in the hiring process.
"Candidates understand that they should not expect to receive a personalized response to every job they apply to, but they do expect to receive a personalized response to every job they interview for," he said.
The more time employers spent with candidates and the more interview rounds candidates have participated in, the more time an employer should spend to "courteously decline them," Rothberg said. "A great way of doing that would be to recommend, briefly, what the candidate can do over the coming months or years to better their odds of being hired. Maybe they should complete an internship or degree. Tell them."
Be candid
Being candid with candidates is important, Meschke said. Too often, recruiters, HR professionals or hiring managers aren't candid with rejected candidates about why they weren't a good fit. "We're all so nervous about saying the wrong thing," he said. But, he added, "the more information you can provide to a candidate, within legal limitations, the better." Great talent acquisition professionals "have a nose for talent to the point that they know 'we may not be hiring Jane Doe for this project, but I want to stay in touch with her.'"
Rothberg agreed. "Many recruiters are uncomfortable about the why [behind the rejection] and will use as an excuse the possibility that the why might generate litigation," he acknowledged. "The recruiter can easily paint a picture of the successful candidate by summarizing her work experience, education and other qualifications that caused that person to be hired over all of the others," he added.
Establish an Opportunity for Ongoing Connections
One of the first things Meschke does after completing a hiring project is identify all the top candidates and add them to his firm's database. He also reaches out to them through his own LinkedIn account and will introduce some of those candidates to others — even competitors in some cases.
He recommended staying in touch through newsletters and social media or by inviting top talent to various events. "A lot of times people don't walk that extra mile with these relationships," he said. "Once that one job is filled, it's out of sight, out of mind, and you move on to the next thing." Taking that extra step, he said, is what separates the good talent managers from the great ones.
Meschke estimated that only about 25 percent of talent management professionals stay engaged with candidates who aren't offered a position. The ones doing this, he said, "are the most admired companies—the ones you read about that have done a great job in talent development over the years."