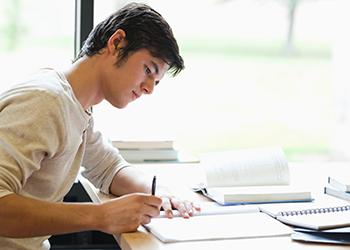 ESB Professional/Shutterstock
A few years ago, I read a column from a former admission director at an Ivy League institution who noted how one of the most impressive applicants stood out, not just because of outstanding academics and personal qualities but because of a letter of recommendation.
Written by a school custodian, the letter detailed the student's genuine thoughtfulness and noted that he took the time to learn the names of all janitorial staff, treated everyone with respect regardless of their position, and helped to clean up after his peers, even if no one was paying attention.
I loved this column because it highlighted how inspirational and kind today's youth can be. But I also dreaded what this was going to mean for my profession in the next year.
You see, as an undergraduate admission officer, who has worked at selective institutions for the last 11 years, I recognize that with the start of each admission cycle, comes the birth of more hysteria. New ideas are constantly circulating on the "magic formula" to "get in." In this case, I worried (only somewhat facetiously) that when this news about the janitor letter of recommendation hit, some applicants would start befriending school cleaning staff so they could boast about it in their college applications and make themselves stand out in a hyper- competitive pool of applicants.
This kind of behavior is more common than you might think. Some students have later admitted that much of their high school experience was shaped based on what they thought colleges would want to see on applications, and not what they were actually interested in doing.
My fear about a torrent of janitor recommendation letters, thankfully, ended up being unfounded, at least in my own professional experience. But the fear that applicants to the nation's most competitive universities have of receiving a rejection letter each year is real. In a world where more and more applicants with stellar transcripts and personal qualities are vying for spots at the nation's most selective institutions, it is becoming increasingly more difficult to distinguish these applicants apart from one another, at least based on what they share in the application .
Applicants are understandably, now more than ever, disillusioned and bewildered by all the college admission topics in the limelight making it seem like the odds are stacked against them. In a case that is still unfolding, federal prosecutors earlier this year charged dozens of people, including celebrities like Lori Loughlin, in connection with a scandal that involved standardized testing fraud and college coaches accepting bribes to designate students as recruited athletes even if they did not play the sport. The Ivy League continues to set record low admit rates each year, most well under 10 percent. A high-profile lawsuit against Harvard University alleges that it is biased against Asian Americans in the admission process.
While many of these statistics and stories seem mind-boggling, they don't paint an accurate picture of the admission landscape in its entirety. The average four-year college admits nearly two-thirds of those who apply. The most selective four-year colleges (defined as those accepting less than half of those who apply) received 36 percent of all applications but matriculated only 21 percent of first-time undergraduate students nationally, according to the most recent State of College Admission Report published annually by the National Association for College Admission Counseling.
An overwhelming majority of the 4,000 plus post-secondary institutions in the country are playing by the rules. They aren't involved in celebrity scandals or accepting unqualified students only because their parents donated the most money or bribed college coaches.
This is not to say that college admission reform on multiple levels is radically needed. It is clear that institutions need to — now more than ever — do exponentially more to restore public confidence in the process.
While colleges devise new ways to do this, applicants can do more to tip the scales in their favor and stand out in the application process — in the right way — by educating themselves about schools before application season and being more thoughtful about the institutions. to which they apply. While it may be tempting to scan the US News and World Report annual College rankings list, which was released this month, to narrow down choices, there are better ways to formulate college lists. One of the pitfalls of those rankings, in fact, is that they more favorably rank schools that have lower admit rates. But schools with the lowest admit rates are not always the best fit for an applicant.
A report by the Pew Research Center Estimates students apply to, on average, 6.8 schools. Some high school guidance counselors have told me that their students submit more than 15 applications. As I often tell prospective students, the more schools to which you apply, the harder it can be to spend the appropriate time on each individual application. Each year, I read application essays from applicants who mistakenly include the names of other schools to which they are interested in, or submit writing littered with typos and egregious grammatical mistakes.
More than ever, institutions are not requiring students to submit standardized testing (SAT or ACT) to be considered for admission, according to the National Center for Fair and Open Testing. Considering test-flexible schools can be a great option for students who feel their standardized test scores are not an accurate snapshot of their academic ability.
College costs will continue to balloon this year, but there are institutions that are bucking the trend by freezing tuition and experimenting with new financial aid models. One school has instituted an income-share agreement whereby students receive money upfront to cover college costs and agree to repay it as a percentage of their future income. Some states, such as Florida and Indiana, are requiring schools to send annual letters to enrolled students informing them in detail of the amount they've borrowed and their anticipated future monthly loan payment. Using a Net Price Calculator can help applicants narrow down their college lists based on prohibitive costs before they even apply. Asking the tough questions about financial aid upfront helps applicants have better control over the college application process later.
Visiting colleges with your son or daughter? Don't be afraid to let them ask the hard questions. What distinguishes this school from peer institutions? What is the school's graduation rate? What percentage of students get hired or enter graduate school (and with what certainty do they know that statistic?) What is the average student debt upon graduation? What is the average starting salary? I am continuously surprised each admission cycle that more families do not ask these questions.
It is clear that we are approaching a turning point in the need for college admission reform in the United States. But don't wait for higher education leaders to construct the future narrative. Applicants can take charge and be their own advocate in the college search, and that is the best way to ensure they will stand out the most in the application process.

Alison Herget is associate director of International Admission at Villanova University.