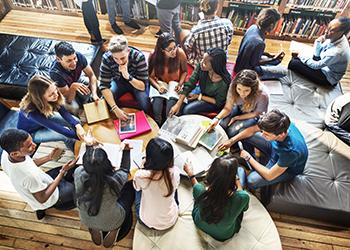 Rawpixel.com/Shutterstock
This interview with Gwendolyn VanSant initiates an ongoing discussion on the growing emphasis on Diversity, Equity, and Inclusion (DEI) best practices in higher education institutions. VanSant speaks from the vantage of her leadership role with Multicultural BRIDGE. Founded in 2007, BRIDGE (dba Multicultural BRIDGE) is a grassroots organization dedicated to advancing equity and justice by promoting cultural competence, positive psychology, and mutual understanding and acceptance. The organization acts as a catalyst for change through collaboration, education, training, dialogue, fellowship, and advocacy. BRIDGE is a minority- and women-run non-profit certified by the Office of Supplier Diversity of the Commonwealth of Massachusetts. BRIDGE connects vulnerable community members with key resources and networks, while also providing education to both local institutions and the community at large. The organization is located in Lee, Massachusetts., a town in the Berkshire Region.
In this interview, we discuss the growing presence of DEI executive-level positions at colleges and universities throughout the United States. This is the first in a three-part interview series.
Emily Allen Williams: Gwendolyn, thank you for speaking with me today about your work as a leading voice and empowerment agent in your work as a trainer and facilitator in diversity leadership, cultural competence, and coalition building for justice and equity. Please share what this work is about and what it involves for you (personally) and organizationally (Multicultural BRIDGE).
Gwendolyn VanSant: With BRIDGE, we wanted to create an organization that would "bridge" the gap in services for underrepresented individuals and communities in The Berkshires and create visibility to their experiences and contributions. We knew this would require training and education, community building, and advocacy work. We provide training in corporate, educational, law enforcement, and public health sectors and offer direct services for community-building programs. BRIDGE's work is rooted in the Berkshires, but we've also worked in Connecticut, Vermont, and New York.
EW: Gwendolyn, please talk a bit about the "rooted" work — the concentration points, if you will, for BRIDGE.
GV: It's important to me that BRIDGE's work is rooted in a poverty, racial equity, and gender analysis. For example, we have a "Women to Women" program comprised of three parts: a) local women welcome newcomers and offer community support and networking (stabilizing immigrant or otherwise under-represented women); b) women help newcomer women transfer their professional skills into a new US context; or c) women offer their services towards improving the equity and justice lens or professional skills of donors and allies. The "heartbeat" of this program (and of BRIDGE) is our immigrant women's group where they serve as wisdom council.
BRIDGE provides newcomers with all the supports they need to integrate successfully and holistically into our community. We have youth leadership and positive education programs like our "Happiness Toolbox" and "Real Talk" series that teach BRIDGE principles around community, trust, safety, and equity. And we partner with organizations that want to include diverse voices in their own program development.
EW: In the last decade and a half, a significant number of colleges and universities have included an emphasis on DEI in their mission statements and strategic plans. In doing so, new positions have been created such as chief diversity officer, vice president of diversity and inclusion, and other similar titles to foreground a commitment to increasing and/or establishing their DEI footprint. Why now, Gwendolyn?
GV: I've done a lot of work as an equity and inclusion consultant at schools including Bard, Sterling College, Smith, MCLA, Amherst, Clark, and UMASS, and I'm speaking at Rhode Island College in the fall. This work is just required now because the millennial generation has simply demanded that we wake up and be accountable to the values ​​this country promotes. We have also been challenged with this president. The advantage of living in this time is that it holds up a mirror to the glaring contradictions of the United States. Higher education needs to pay attention because we have taught a history that is false, and we've effectively brainwashed a generation or two into believing we are something we are not. We claim "liberty for all," but it's really only for some. Our institutions have been designed to reflect falsehoods and now need stewards to guide us towards a more effective analysis. We need to change systems and policies and change the hearts and minds of people who perpetuate unjust systems.
EW: Is the need for such an emphasis more urgent than in the 1970s and 1980s when — pervasively — these types of positions were not so prolific at colleges and universities?
GV: As a student of the '70s and '80s, my gut instinct is that we should not have rested with the Civil Rights Movement. Our urgency should have continued after the assassinations of our leaders in the '60s. July 2nd was the 55th anniversary of The Civil Rights Act. We should have kept working to create inclusive policies for social equity. Our country has been rooted in 400 years pillars of genocide, slavery, and war. We should have acknowledged this to shift policies and cultural norms. Instead, we slipped into a "colorblind" history that we are now trying to dismantle in higher education and beyond.
EW: People in these positions are coming from various backgrounds: student affairs, faculty (eg, those with specializations in sociology, psychology, education, et. al.) as well as people with some of the 'newer' degrees which focus more closely on racial and social justice. In addition to specific academic training/credentialing (degrees), what kinds of training should DEI professionals have in a fundamental sense?
GV: Many academic degrees serve as a good foundation to approach equity and inclusion work. I was an undergraduate art history major and social work student, and I cannot tell you how often my art history analysis, for example, applies to the work I do. But we also have to round out our knowledge base through anti-racism and diversity leadership training as well as training in cultural competence, which is really a framework about mutual respect. I spend quite a bit of time writing about and teaching cultural competence in many different organizational settings.
I've completed the People's Institute for Survival and Beyond training and the National Coalition Building Institute programs twice. I recommend the positive education network IPEN. This has been immeasurably valuable alongside my training at the Wholebeing Institute at Kripalu. I learn from my colleagues in the field at NCORE. I was part of The Leadership Institute for Political and Public Impact in Western, Mass. These opportunities for education and self-reflection are essential. Community organizing is also so important and there are many models to learn.
EW: Can you provide a bit of advice that both newcomers and more seasoned people in these positions might consider towards evolving in their work?
GV: Here's advice I'd offer as a coach: Do not be trained by your own people! I say this to law enforcement and to academics all the time. Partner with another group and step out of the institution you know for new perspective. Apply that. Systems are meant to replicate themselves, so if you are not careful, you become blinded by your bright spots and the ways in which your own institution perpetuates social inequities.
EW: Several colleges in the New England region have closed in the last three to four years. While most of these closures are based on financial exigencies and low enrollments [which heavily impact small, tuition-dependent colleges with 1,500 or fewer students]do you see the lack and/or limited attention to diversity, equity, and inclusion matters on campuses as having any impact on closures and low enrollments?
GV: Absolutely. I do work on how to integrate millennials into the workforce and they are looking for colleges and workplaces that care about social justice, including environmental issues. Out of integrity, they know that institutions need to practice what they preach, otherwise they add to social inequity. The price of education (and the appropriation of colleges and universities as huge capital ventures) leads to a few things: folks opt not to participate and accrue the debt of the generation before them; folks who cannot afford education find other routes to work, sometimes with comparable success; and, like in all industries, heavily endowed, well-resourced institutions prevail. This extracts from the student base at smaller places, online education becomes more of a credible option, and millennials choose where their "investments" go.
EW: How is the current status of the middle class in the United States impacting education and, specifically, the diversity, equity, and inclusion aspects of higher education?
GV: Students know that their attendance alone is an investment. Economically, we're also experiencing the erosion of the middle class. This provides less opportunity for future generations who aren't able to turn to banks and loans for their education.
Colleges and universities must figure out how to be student-centered, courageous forces for change to stay relevant. All of this takes cultural humility, another theme I explore quite often in my own writing and teaching. Alumni must look back and do some value-based investing. Colleges and universities should think about who they are trusting to lead the institutions and realize that this in and of itself is a barrier to change. Cultural relevance takes a collaborative, strategic approach involving faculty, students, administrators, alumni, and board members.
EW: In our next discussion, I would like to focus on discussing "how-to" value the voices and talents of college students in planning and implementing curricula and co-curricula programs that address diversity, equity, and inclusion. I believe opening this discussion is particularly important as colleges and universities prepare to welcome first-year and transfer students while reaching out to embrace returning students.
Thank you for this discussion.