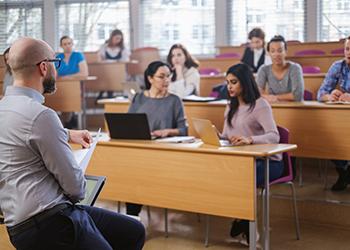 Nejron Photo/Shutterstock
"A successful man is one who can lay a firm foundation with the bricks that others have thrown at him."
-David Brinkley
Congratulations are in order!
You have acquired a college/university tenure-track position, which is not an easy accomplishment with many institutions slowing down on tenure-track hires due to the impact of the economy and low enrollment on institutional budgets. Now that you have stepped into an academic arena with the expectation of achieving tenure within seven years, let's slow down for a few minutes and discuss how to build towards the seven-year tenure victory by 'acing' your first semester as a newly minted tenure. -track faculty member.
By early October, you will have been on the job for about a month or slightly more, so you may still have stars in your eyes over the novelty of leading the way for impressionable minds in your role as teaching faculty. While your task looms large, it is quite different from your final days as a doctoral student and job seeker. You no longer face pressure-filled deadlines for dissertation rewrites, reviews, and defenses. You no longer daily engage in what seems to be an endless trail of applications to institutions for a tenure-track position.
You are free! Not quite…
Your life as a newly minted tenure-track faculty brings with it a new slate of expectations and timing points that are necessary for your success in the first semester. While any slate of recommendations to accommodate your new academic expectations may work better for tenure-track assistant professors at R1 universities as opposed to tenure-track assistant professors at smaller liberal arts colleges/universities, the following recommendations are offered as 'foundational-level' Guidance predicated upon my years of thriving as a faculty member, department chair, academic dean, vice provost of curriculum and assessment, and vice president of academic affairs.
Tailoring these recommendations under the taglines of things to do, 'Steps Forward,' and things to avoid, 'Steps Away,' keep in mind that your particular institutional needs will create your personalized platform of first semester strategies towards acing the entire academic year.
Steps Forward to Success
Develop a work preparation schedule that is realistic.

You have been provided with your teaching schedule. This is foundational in terms of planning your timing to come into the campus (or to sign in online). Further, using your teaching schedule as your foundation, prepare a tentative schedule (to be tightened/revised later) to include office hours, class preparation hours, grading hours, and research/writing hours. Such a schedule will prepare you for the certain yet completely new whirlwind of professorial activity. (You may find yourself with as many as four different class preps as a new faculty, so a schedule is very necessary.) Keep in mind that you will need to revise this schedule to accommodate your upcoming service obligations (committees, task forces, et .al.) that are an essential element of your tenure-track assistant professorship. While you have been hired to teach, as a part of most assistant professor's contracts, both research/publication and service are required as you navigate your new responsibilities.

Prepare and post your materials as required and on time.

As a new faculty member, you may receive pre-assembled syllabi for foundational level courses that you have been assigned to teach. Depending on the institution, you may or may not have the flexibility to alter syllabi content beyond the insertion of your name, location, office hours, and details specific to your classroom management. Whatever the case, adhere to the departmental and institutional guidelines and post the syllabi on the Learning Management System (LMS), well in advance of the start of classes and/or according to posted deadlines. Should you be assigned to teach upper-level classes, which enable your independent crafting of syllabi, check in with the department chair to determine if a specific template must be utilized. Also, before posting, ask for the department chair to review your syllabi, even if it is not a requirement of the unit. In all matters of preparation, schedule a time (prior to semester start) with your department chair to solidify procedures and timelines for start of semester work.

Build a relationship with the department chair.

One of the major responsibilities of your department chair is support of your needs as a new faculty member. Clearly, you have met with the department chair during the interview and hiring process; however, now the communication needs to move to another level of connectivity. While some department chairs will schedule regular 1:1 meetings with all faculty, others will not for several reasons, one such as a large number of faculty in the unit. If this is the case, you can start by asking the department chair for periodic meetings in your first semester; this 'ask' will show that you are genuinely concerned about making a substantial impact towards a job well done. Such a request will also indicate that you are genuinely concerned with not only following the guidelines but also in learning the academic culture of your institution.

Get to know your colleagues in [your] department and across departments.

If your goal is truly to secure tenure, your departmental colleagues will be with you for a long time. Introduce yourself and learn about their teaching and scholarly work. While you will not find yourself in regular conversation with all your colleagues, it is important to be collegial with both [fellow] junior faculty and senior faculty. Senior faculty will have an impact on your path towards tenure, so cultivate your relationships carefully and respectfully.

Create a synergistic relationship with the administrative support staff.

When you meet with your department chair, specifically ask what kind of administrative support you can expect from the department's administrative staff. This not only will assist you in avoiding missteps (as staff members are not personal assistants to faculty) but also provide you with the knowledge of where support can be sought for maximum efficiency. Departmental administrative staff can be true gold! They provide information and interface with university systems/people that you will have limited knowledge of in your newness. Administrative staff often lead in hiring work-study students and graduate assistants. They also provide assistance with grant submissions, room scheduling, media information, and related special requests. Please remember that administrative staff have many people that they are supporting, so your respect and support are key to a strong relationship. The occasional offering of a cup of coffee or tea is also a plus!
Steps Away from Success
Tardiness and frequent absences.

Come to work on time; Running late for your classes (whether face/ground or online) is not an option. Posting late and away messages on the LMS or asking administrative staff to do so for you in your first semester (on a regular basis) is one of the main ingredients in the recipe for new faculty failure. Fundamentally, your students and colleagues deserve better. If you are having challenges, speak first with your department chair and Office of Human Resources to secure assistance.

Failure to attend departmental and faculty meetings.

While attendance at these meetings may seem to disrupt your workday, these meetings are an essential and required part of the life-flow of the unit and provide overall institutional documentation of work processes moving as intended in unit and institutional strategic plans. Be present as your absence is more conspicuous than you might imagine and will impact you greatly at the time of performance evaluation.

Lack of engagement in the life of the institution.

Convocations, graduations, and award ceremonies are major activities in the higher education realm. Faculty who elect not to attend these [often] Contractually required events do much to diminish the impact of the success of these events for students, fellow faculty, administrative staff, and the wider community. Again, your absence is more conspicuous than you think and may have less than positive repercussions on your early academic career.

Avoid coup d'états.

Avoid being coerced into potential political battles within the department and across the institution. As a new faculty member, take the time to know 'Who's Who' and educate yourself on the lay of the land by reading policy manuals and having discussions with the department chair, as necessary. Early complicity with troublesome senior faculty [looking for fresh recruits] on institutional matters that surely predate your hire may curtail your longevity at the institution. Similarly, avoid using institutional email to send rants about faculty, staff, and academic matters that may be very specific to only you. You are creating a documentation trail that will prove unhelpful for your new academic life with potentially libelous outcomes.
As a newly minted tenure track assistant professor, remember that foundational planning and implementation are necessary for your success. Whatever strategies you ultimately embrace in your first semester, embrace the necessity to create a firm foundation for your new life built on academic intelligence and supported by ethical and moral approaches to your teaching, research, and service.
Best wishes, new tenure-track faculty!