by Susan D. Phillips and Kevin Kinser, Ph.D.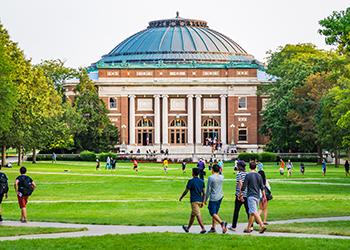 Leigh Trail/Shutterstock
We started this project with the observation that accreditation is on the edge. No one is happy — institutions feel burdened, policymakers are frustrated, consumers are unprotected, employer needs are unmet, and accreditors are under fire. We have a messy system… 1) that no one would have designed to begin with, 2) with little clarity about what quality is, who gets to say, and how it is measured, 3) that serves many, unaligned missions and many, contradictory masters, 4) that must move from obscure and private to transparent and public, 5) and that both stifles — and is responsible for promoting — innovation and change.
This, with a nod to Winston Churchill, could well be the worst form of oversight in higher education, except for anything else we have come up with. With all the obvious problems, embedded constraints, and lack of consensus, how do we set a path forward?
One option, of course, is to just accept the imperfections and carry on as before. This might be the path of least resistance but hardly addresses the concerns of those who assert that the time for the old system of accreditation has passed, and that the needs of the higher education system in the US will soon outstrip accreditation's ability to keep up. The path of least resistance also ignores what is likely very apparent in our discussion thus far: The interests of the many stakeholders in higher education are challenging to reconcile. The status quo satisfies few.
However, let's also recognize the merit in the current system: Accreditation reflects both the notion of traditional higher education autonomy and the more recent commitments from colleges and universities to support the knowledge economy. It sustains the value of providing a public good, while increasingly being justified by appeals to private gains. The US model has been an ideal that has inspired quality assurance models in other countries (despite being under nearly constant attack here at home). It has been repeatedly endorsed by policymakers as the gateway to accessing government funding, even as it resists becoming only a conduit to money and insists on emphasizing its institution-relevant and improvement-relevant actions.
It is not beyond the plausible to suggest that accreditation might well be the best and perhaps only structure with the capacity to enhance the transformation of higher education, re-envision its mission, and shape what a high-quality 21st century education system would look like. . But if we were to draw up a wish list of what such a system needs, we might be daunted in asking for a quality assurance system that…
Is trustworthy and trusted
Catches the bad actors
Helps those who falter improve
Makes room for new models and methods
Makes best use of the peer– and disciplinary expert– review process
Respects the uniqueness of institutional mission and also the common mission of higher education in the US
Encourages institutions to stay on their toes (but not necessarily listen to the same beat nor dance in the same way)
Recognizes and incorporates the increasingly global realities of higher education
Provides the public with the information about quality that helps people make their education decisions
Has clear and consistent responsibility and accountability for oversight across federal, state, and accrediting actors
Recommits us to mission, academic freedom, and institutional autonomy — while redoubling efforts to put student learning at the center of a transparent quality assurance process.
So, how do we get from where we are to that desired place? Recall our Jenga metaphor from the previous one blog: Moving one piece without consideration of the whole can destabilize the entire edifice. We would argue that the answer lies in how we approach reform. The path forward demands a reform process that understands the critical issues we have identified, recognizes why the system exists the way it does as a result, and offers solutions that acknowledge the trade-offs involved when the ideal is unachievable. Quality in higher education is more important now than ever, but consensus on what quality looks like — not to mention how to measure it — remains a distant goal. Accreditation serves many worthy purposes, but each defines a unique and often contradictory set of challenges to reform efforts. Serving as a gateway to federal student aid, for example, both demands a system like the current one exists, but also makes reform both required and risky. We need all kinds of information about quality for accountability, consumer information, and institutional improvement, but decisions about what information is most useful for each purpose must be strategically pursued. The trajectory of higher education reform provides a constantly changing front. Policy is challenged to find ways to stay ahead of the curve and offer opportunity for both risky experiments and management of risky outcomes.
The dilemmas we've outlined here illustrate well the frailty of the "Jenga" tower, and the likelihood that what might seem like the most appealing solution will raise more problems. For sustainable accreditation reform, we need to consider each of these dilemmas as a starting point necessary if proposals for reform are to be founded on a realistic perspective on how and why accreditation operates the way it does. As policy discussions unfold in the months ahead, we expect that the path forward will be best shaped by understanding of this necessary context and commentary to provide a solid foundation for accreditation reform.